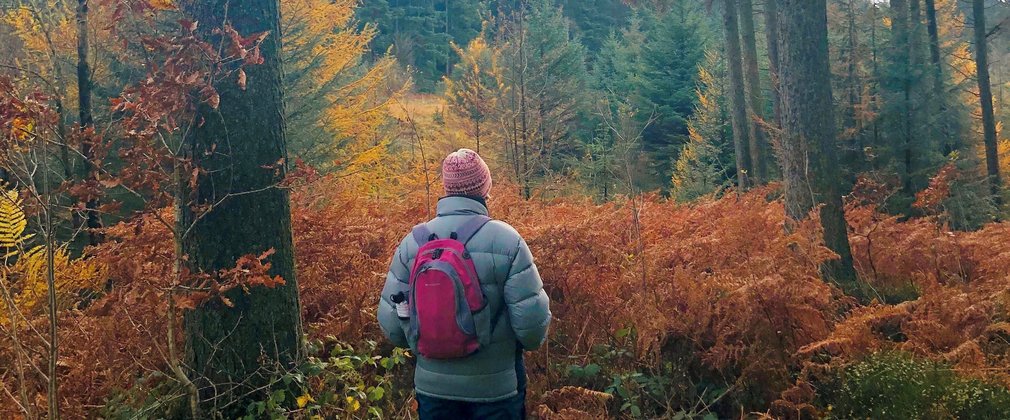 Turn 'Blue Monday' green with Forestry England
Feeling low this Monday? You are not alone. Monday 18 January has been named 'Blue Monday' as it's claimed to be the saddest day of the year and that's without a global pandemic to contend with. This year, to help turn your 'Blue Monday' green, Forestry England are bringing the forests to people's homes to help everyone stay connected with nature and give their wellbeing a boost.
Many of us cannot visit a forest at the moment yet we know spending time in a forest is good for our mental, physical and social wellbeing. Latest research has shown that trees and woodlands play an important part in supporting people's wellbeing under the very difficult circumstances of a pandemic. So how do we continue to experience the wellbeing benefit of trees and forests while following the important Government advice to stay at home and not leave unless necessary?
Well, the good news is that recent evidence suggests that connection with nature is more important for mental wellbeing than simple exposure to nature. Nature connectedness describes our emotional relationship with nature.
Ellen Devine, Wellbeing Project Manager, Forestry England explains:
"Being connected with nature is about feeling close to the wider natural world and seeing the beauty within it. Currently many of us are not able to visit a forest, so we need to focus on how we can connect with the natural world from home so we can still reap the wellbeing benefits that a forest visit brings."

"One simple method to connect us to the forest from home is to start practicing forest bathing. Our brains can find it hard to distinguish between something that we're visualising, picturing in our minds, and something that is actually happening. So, with enough practice we can transport ourselves to the heart of the forest for a moment of calm. "
It's not just adults that may be feeling sad this year, with schools closed across the country lots of children may also be feeling a bit blue this Monday. To keep the forest alive in the classroom, which is now home for many, Forestry England has lots of games and activities to keep the children entertained.
Sarah Wood, Learning Manager, Forestry England explains:
"Lots of children won't be able to visit the forest at this time but we want to ensure we can still bring the trees to them!"

"We have lots of games and activities to keep children entertained and busy and to hopefully inspire children to build a personal and lifelong connection with forests.
Whether you're looking for activities to entertain the children, tips to improve your wellbeing, or stories about forest wildlife, Forestry England are sharing everything you need to get your forest fix.
Images available here. Please credit Forestry England/Crown copyright
Forestry England manages and cares for the nation's 1,500 woods and forests, with over 235 million visits per year. As England's largest land manager, we shape landscapes and are enhancing forests for people to enjoy, wildlife to flourish and businesses to grow. For more information visit forestryengland.uk. Forestry England is an agency of the Forestry Commission.