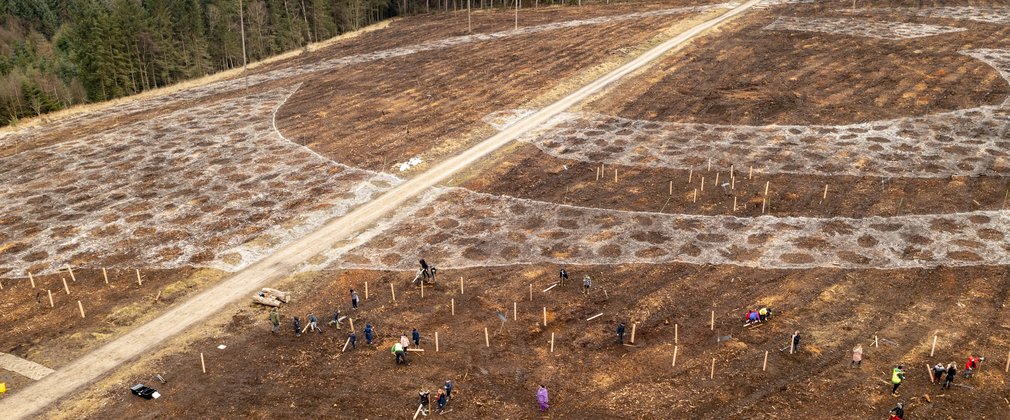 Unique Forest Eye living tree feature focuses attention on forests fighting climate change
Children today planted the first trees forming a giant forest eye in Dalby Forest, North Yorkshire, joining representatives from Forestry England, arts organisation Sand In Your Eye and the Environment Agency on a unique project set to create the largest living forest feature in England.
The 300-metre-wide eye will be planted with 5,000 beech, alder and maple trees in the shape of a child's eye marked out on an existing clearing in the forest. The Forest Eye is being created to focus attention on climate change and show the important role of resilient forests in tackling it, as well as highlight children's ideas for a flourishing future natural environment.
Working with Sand In Your Eye in a forest for the first time, the feature will be visible from the air in six years as the trees mature and will be carefully managed as an integral part of Dalby Forest. The forest covers more than 3,500 hectares in the North York Moors National Park and welcomes 450,000 day visits each year. The forest eye will engage visitors and spark conversation as it changes and grows, at a time when people are feeling the urgent crises of climate change and biodiversity loss.
The broadleaf tree species of beech, alder and maple which will create the eye shape have been carefully selected to grow well in the soils on the site and are expected to thrive as the climate changes. Once established, the forest eye will grow alongside the mixed broadleaf and conifer trees of the Dalby Forest landscape providing habitat for wildlife including bats, birds and small mammals, as well as capturing carbon, improving air quality and offering a beautiful place for people to explore and connect with the natural world.
Josephine Lavelle, Forestry England Director, said:
"Hearing some of the children's lively conversations today as they planted the very first trees to create this forest eye has reminded me of their deep understanding of the need to act now for nature's recovery and their immense enthusiasm to be co-creators of a better future. Having the gaze of a child growing in the heart of this beautiful and ever-changing forest is a powerful symbol of how we need to listen and respond to the needs and vision of future generations.

"As the country's largest land manager, we plan, plant and care for the nation's forests and woodlands, thinking way beyond our own lifetimes to ensure forest landscapes flourish a hundred years ahead for people, wildlife and a sustainable economy. This wonderful living artwork embodies this important idea of today's actions being guided by future needs."
Jamie Wardley, Sand In Your Eye Artistic Director, said:
"Our work is about prompting people to think deeply and respond emotionally to some of the biggest issues facing us all including the impacts of the climate crisis. We approached Forestry England and the Environment Agency to make an artwork that would combine climate science with art by using one of the very solutions, the physical landscape of the forest. The trees are our paint and one of the solutions to carbon capture. 

"The Forest Eye is looking out to the world and is around 300m across. Its scale is critical as it matches the scale of a second forest we plan to plant in the UK called the Forest of Humanity. It is our ambition to create the whole face of a young girl at the same scale, measuring 2000m across. Those trees that are planted in the Forest Eye are the very beginning of this and we'd love to talk to anyone interested in helping to create this movement."
Crystal Moore, Environment Agency Climate Resilience Deputy Director, said:
"Climate change is the defining issue of this century. It affects everything. Shifting the dial to create a low carbon economy is our shared critical mission. As we heard at COP26 in Glasgow just a few months ago, achieving this requires a radically strategic response from each and every one of us.

"Hope-filled regenerative actions, like the ones we've taken together today, help us to sense and comprehend the part we all must play. I'm eager to support and witness the chain reactions that will be catalysed from what we've started here." 
Dalby Forest is already home to important contemporary artwork including Rachel Whiteread's Nissen Hut revealed in 2018, and the outdoor exhibition of Earth Photo, the international competition and exhibition created by Forestry England and the Royal Geographical Society showcasing photographs and videos documenting the natural world.
The new forest eye feature will grow alongside permanent and temporary artworks across the diverse landscape.
Under Forestry England's care, the nation's 1,500 forests and woodlands are at the forefront of tackling the twin crises of climate change and biodiversity loss. Ambitious work is underway on planting new woodlands across England, using more tree species that will be resilient to future climate conditions, and continuing to provide a sustainable supply of timber to contribute to a green economy.
Notes to Editor
Media Contact: Naomi Fuller naomi.fuller@forestryengland.uk mobile: 07825 255618
Drone and ground-level footage and still images of the Forest Eye feature are available here. Please credit Forestry England/Crown copyright or Sand In Your Eye.

Forestry England manages and cares for the nation's 1,500 woods and forests, with over 296 million visits per year. As England's largest land manager, we shape landscapes and enhance forests for people to enjoy, wildlife to flourish and businesses to grow. We are continuing the work we have already started to make the nation's forests resilient to climate change and by 2026 we will:   
create at least 6,000 more hectares where we integrate wilding activities in our productive forests. 

increase the diversity of visitors to the nation's forests and have one million hours of high-quality volunteer time given to the nation's forests 

plant at least 2,000 hectares of new, high quality, predominantly broadleaf woodlands 
For more information visit forestryengland.uk. Forestry England is an agency of the Forestry Commission.
Sand In Your Eye, established in 2003, is based in Hebden Bridge, West Yorkshire.  They make sculptures from sand, ice and pumpkins, sand drawings and land art.  In 2019 they collaborated with Danny Boyle and 14-18 NOW on 'Pages of the Sea' where 30 faces were drawn into the sand nationally to commemorate 100 years since Armistice Day. The project was awarded the 'Best Visual Art Award' by The South Bank Sky Arts Awards.
On International Peace Day September 21st, 2013 Sand In Your Eye made The Fallen 9000 where they drew 9000 stencils of fallen people on the beaches of Arromanches to visually demonstrate what happens in the absence of peace, the piece was featured in TIME magazine. 
Sand In Your Eye have worked Land Rover to create a 1KM beach drawing, Aardman Animation to make the world's largest animation, and also work with many charities, local authorities and festivals to produce stunning sand drawings, pumpkin and ice sculpture trails, land art and sand sculptures to make accessible art that deliver messages and engage audiences.
For more information visit www.sandinyoureye.co.uk
The Forest of Humanity will be the face of a girl that will use the same scale as the Forest Eye and measure 2000m across. Led by Sand In Your Eye, it will help

inspire the world and generations to come to act together to tackle climate change. Art will be combined with science to mark a point in history where we take action in the interest of future generations. This will engage a global and regional audience.  People will have the opportunity to plant trees, learn about climate change, forest biodiversity, climate resilience, as well as creating a forest rich in biodiversity. The face will be of a young black girl, it references our responsibility to future generations, the empowerment of girls and women globally as a vital component for tackling climate change and the shared responsibility to protect the most vulnerable. The ultimate image will be visible from space!
For more information please visit forestsofhumanity.org