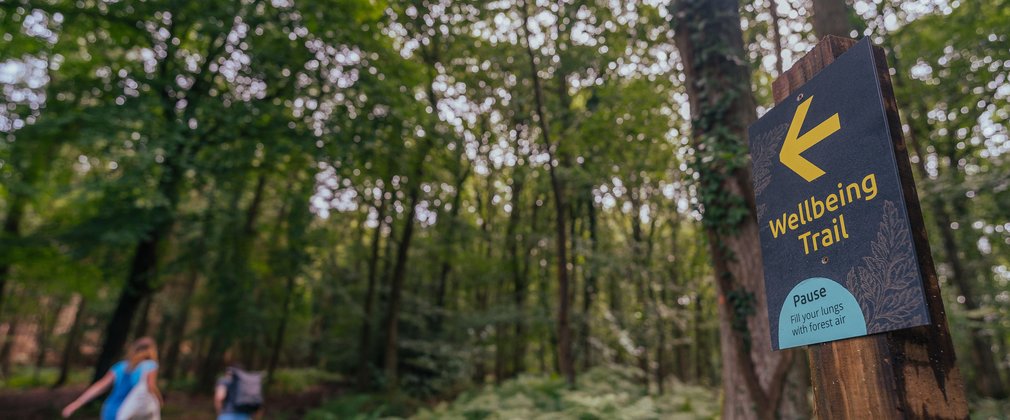 Wellbeing trails in the nation's forests help visitors reconnect with nature
Forestry England is launching wellbeing trails in forests across the country this autumn to help people take care of their physical and mental health. The self-led trails wind through the trees in 18 forests and woodlands across England, encouraging visitors to pause, unplug and mindfully reconnect with nature as they walk.
The sensitively designed trails have themed panels amongst the trees inviting visitors to slow down, notice and absorb the beautiful woodland landscape as they walk. With scientific evidence showing positive effects on physical and mental health of being amongst trees, Forestry England's trails encourage everyone to take time to relax and experience the restorative benefits of the forest.
A forest wellbeing journal accompanies the trails, enhancing visitors' wellbeing experience. Beautifully designed, with space for individual reflections, the journal offers ideas for mindful activities to try out in the forest and at home. Visitors can get a copy at some of the forest visitor centres or download it for free from the Forestry England website before a visit.
Ellen Devine, Forestry England Wellbeing Programme Manager, said;
"We're delighted to offer this wellbeing experience to our visitors and support people to reconnect with nature. As autumn's colours begin to show, it's the perfect season for a mindful walk. Forests are peaceful, magical places and being amongst the trees gives all of us incredible boosts to our health and wellbeing including lowering our blood pressure and strengthening our immune system.

Each season will offer a new perspective on the forest landscape, from the golden colours of autumn leaves in dappled sunshine, to the winter beauty of trees and branches on a frosty day. These wellbeing trails across the nation's forests are a fantastic way to relax and experience the restorative effects of the forest."
As well as the wellbeing trails, Forestry England has created a hub of virtual forest experiences, allowing people to enjoy the tranquillity of the forest whenever they need to - www.forestryengland.uk/wellbeing.
Forestry England's wellbeing trails can be found at:
Alice Holt Forest, Surrey

Chopwell Wood, Gateshead

Hamsterley Forest, County Durham

Thames Chase Community Forest Centre, Essex

Mamhead (near Haldon), Devon

Forest of Dean – Symonds Yat, Gloucestershire

Haughmond Hill, Shropshire

Moors Valley Country Park & Forest, Hampshire

West Walk, Hampshire

Ennerdale, Cumbria

Dalby Forest, North Yorkshire

Guisborough Forest, North Yorkshire

Westonbirt Arboretum, Gloucestershire

Cannock Chase Forest, Staffordshire

Salcey Forest, Northamptonshire

Fineshade Wood, Northamptonshire

Wendover Woods, Buckinghamshire

Cely Woods, Essex

Bedgebury National Pinetum and Forest, Kent (launching in Spring 2024)
Notes to Editor
Images are available here. Please credit Forestry England/Crown copyright.

The Wellbeing Trails are part of Forestry England's Active Forests Programme,  which is a partnership between Forestry England and Sport England. This initiative is made possible thanks to individuals who play the National Lottery.

Forestry England manages and cares for the nation's 1,500 woods and forests, with over 363 million visits per year. As England's largest land manager, we shape landscapes and enhance forests for people to enjoy, wildlife to flourish and businesses to grow. We are continuing the work we have already started to make the nation's forests resilient to climate change and by 2026 we will:   
create at least 6,000 more hectares where we integrate wilding activities in our productive forests. 

increase the diversity of visitors to the nation's forests and have one million hours of high-quality volunteer time given to the nation's forests.

plant at least 2,000 hectares of new, high quality, predominantly broadleaf woodlands.
For more information visit forestryengland.uk. Forestry England is an agency of the Forestry Commission.
Media Contact
Naomi Fuller, Media Relations Officer | media@forestryengland.uk