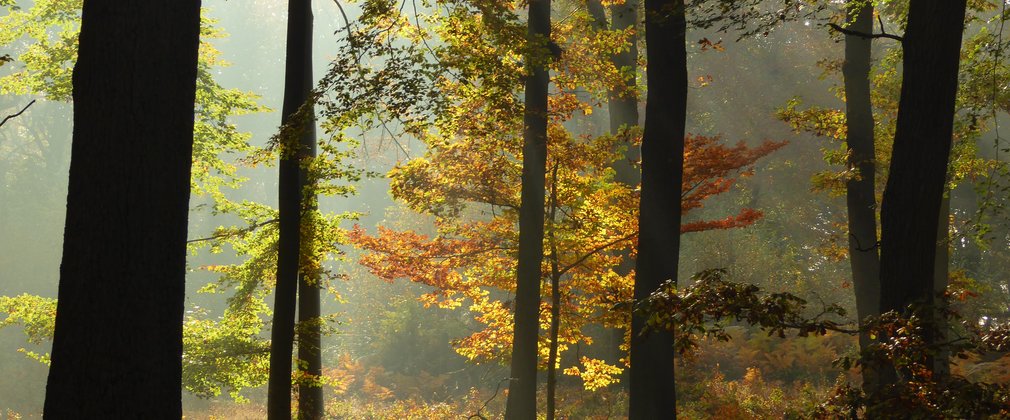 Wyre Forest National Nature Reserve now the largest native woodland in England
Wyre Forest National Nature Reserve (NNR) extended by almost 900 hectares (160 percent) to now cover over 1,455 hectares

Largest native woodland NNR in England created to have positive long-term effect on the country's biodiversity and contribute to the climate emergency response

Partnership working with Natural England, Forestry England and Worcestershire Wildlife Trust
Wyre Forest has become the largest woodland National Nature Reserve (NNR) in England.
NNRs are designated by Natural England and are rare, precious areas which protect some of our country's most important places for wildlife and geology.
The Wyre Forest reserve, which dates back to at least the year 900, has been extended by almost 900 hectares so that it now spreads over 1,455 hectares. The forest, which straddles the Worcestershire and Shropshire border is managed by Natural England and Forestry England and includes Worcestershire Wildlife Trust land.
The nation's forests play a vital role in tackling the climate crisis and biodiversity loss as well as providing a source of sustainable, home-grown timber; carbon capture and places for people to enjoy. This extension recognises the importance of managing forests sustainably, so they have long-term, positive benefits for wildlife, people and the climate.
The Wyre Forest NNR features a diverse array of habitats from forest to open grassland meadows, old orchards and areas of scrub, to steep-sided valleys, created by geological faults. It is home to a vast array of wildlife including protected mammals, reptiles and birds. Its butterfly and moth populations are significant, with 58% of the UK's butterfly species recorded here.
Wyre Forest is a rare example of an ecologically diverse woodland situated close to a large population living within 20 miles of the site*. The visitor centre welcomes around 350,000 people each year, and gives people access to explore the wider forest. Visitor numbers have risen during the COVID-19 pandemic, as more people have recognised that getting outside and exploring local green spaces can have great benefits on their health and wellbeing.  
Emma Johnson, Area Manager at Natural England, said:
"The Wyre Forest is an amazing place for people to enjoy and is also home to a wide range of wildlife. It's wonderful that this forest is now the largest native woodland in England and the size is equivalent of around a whopping 1700 football pitches!

"The Wyre Forest NNR provides huge benefits for people and wildlife. These include soaking up carbon and helping slow the flow of water off the land to prevent flooding. The partnership between Forestry England and Natural England means that the NNR is well managed now, and well into the future."
Kevin Stannard, Forest Management Director, Forestry England's West District, said:
"Our nation's forests play a critical role in tackling the climate crisis and biodiversity loss that we are seeing globally. Resilient woodlands, well-adapted to the changing climate conditions we now expect, help us capture carbon, improve air quality, create beautiful places for wildlife to flourish and opportunities for people to connect with the natural world.

"As the country's largest land manager, Forestry England is working to grow our future by carefully planning and expertly managing world-class forests for future generations. Becoming the largest woodland National Nature Reserve in England is a recognition of the unique features that make Wyre Forest so special and the vital role this landscape plays in providing valuable habitats, a sustainable source of timber and a place for people to explore and enjoy."
Colin Raven, Director, Worcestershire Wildlife Trust, said: 
"The Wyre Forest is home to amazing and rare wildlife, and we're delighted that the National Nature Reserve is being expanded. As well as the wonders of wildflowers, fungi, reptiles and mammals, there are a number of bird species that are very sensitive to disturbance so having more protected land should help to give them a real boost. Wildlife doesn't recognise borders, so we need more, bigger, better, and connected landscapes for nature.

"Nature's recovery isn't just about protected areas; we need more nature everywhere if we are to halt its decline. This expansion is a great start in helping to reach our target of 30% of land managed for the benefit of nature by 2030 and we hope that it will inspire residents throughout the Wyre Forest and beyond to think about how they can also provide space for nature."
*Birmingham is just 20 miles away from Wyre Forest NNR.
Wyre Forest National Nature Reserve video
Watch Richard Boles, the Beat Forester for Wyre Forest, talk about the Natural Nature Reserve designation. 
Wyre Forest NNR background information
The Wyre Forest NNR provides an ideal space for walking and the track bed of the former Bewdley to Tenbury railway line which ran through the forest for nearly 100 years until it was closed in 1963 is now one of the main visitor access routes through the forest. A national cycleway (Route 45) also runs along it.
The site is known predominantly for its Sessile Oak with other native broadleaves which include Pedunculate Oak, Holly, Birch, Crab Apple, Wild Service, Aspen, Wild Cherry, Hazel, Hawthorn, Blackthorn, Elder, Alder, Alder Buckthorn, Small-leaved Lime, Ash, Willows, etc. Yew trees are also common throughout the forest. The remainder of the forest is made up of plantation woodland with non-native species such as Beech, Douglas fir, Scots and Corsican pine.
The rich and varied habitats of the Wyre Forest NNR attract a wide range of wildlife and is one of the most important places in England for certain species of butterfly. The management for butterflies in partnership with Butterfly Conservation has maintained 34 of the 59 species found in the UK, including the white admiral, dainty wood white and England's largest colony of pearl-bordered fritillaries. There have also been 1100 moths recorded.
It also attracts a large variety of birds, such as woodpeckers, redstarts and tree pipits; nationally important colonies of bats, and a collection of 1,400 fungi. It is also home to deer, polecats, otters as well as yellow-necked mice, dormice, voles and water shrews.
Breeding birds on the reserve also include pied flycatchers, wood warblers, cuckoos, buzzards and raven, while dippers, grey wagtails and kingfishers can be found on the larger streams. Around the brooks and streams, golden-ringed and club-tailed dragonflies, as well as the white-legged damselfly can be found. The area is also home to many reptiles, including the adder, common lizard, grass snake and slow-worm.
The 'Foresta de Wyre' is mentioned in the Doomsday Book, but the area is known to have been wooded since at least the year 900. The forest was popular for hunting throughout medieval times but gradually the wood began to be coppiced in order to produce charcoal, which was used to fire up the furnaces in the new, local iron works.
In the past the area was intensively managed to produce charcoal and timber and Natural England and Forestry England are working to restore the coppice system.  Forestry England are also restocking the site with native broadleaf. Bringing structure back to the woodland leads to a more diverse habitat. Coppicing is an ancient woodland practice and small clusters of charcoal burning hearths can still be found as well as distinctive earthworks that were once 'bell pits' used to mine coal from beneath the forest floor.
The extended Wyre Forest NNR is now the 14th largest in the country (from the 40th largest). Prior to the declaration of the extension to the Wyre Forest NNR, the site measured 555.70 hectares.  A de-declaration of 102.48 hectares resulted in the area measuring 453.22 hectares. 
Following the extension of 1002.39 hectares (including 879.07 hectares of Forestry England land, 107.62 hectares of Natural England land and 15.70 hectares of Worcestershire Wildlife Trust land) the site now measures 1455.61 hectares.
Natural England background information
The total number of NNRs in England is 224 with a total area of over 99,000 hectares. NNRs showcase the best of conservation practice aimed at protecting habitat, wildlife and geology alongside supporting research, education and recreation where people can enjoy and engage with our shared heritage.  Around one third of all species recorded in the UK can be found on NNRs. 
Natural England manages about two thirds of England's NNRs. The remaining reserves are managed by a wide variety of organisations approved by Natural England, including the RSPB, National Trust, Forestry England, Wildlife Trusts and local authorities. Many NNRs, including Wyre Forest, are jointly managed through local partnerships.  
For more information visit: https://www.gov.uk /natural-england
About Forestry England
Forestry England manages and cares for the nation's 1,500 woods and forests, with over 296 million visits per year. As England's largest land manager, we shape landscapes and enhance forests for people to enjoy, wildlife to flourish and businesses to grow. We are continuing the work we have already started to make the nation's forests resilient to climate change and by 2026 we will:  
create at least 6,000 more hectares where we integrate wilding activities in our productive forests.

increase the diversity of visitors to the nation's forests and have one million hours of high-quality volunteer time given to the nation's forests

plant at least 2,000 hectares of new, high quality, predominantly broadleaf woodlands
For more information visit: www.forestryengland.uk / www.wyre-forest.uk Forestry England is an agency of the Forestry Commission.
About Worcestershire Wildlife Trust
Worcestershire Wildlife Trust is the foremost organisation actively restoring and protecting wildlife and wild places in Worcestershire.  The Trust owns and manages over 75 nature reserves throughout the county and works with local community members and other organisations to encourage a landscape for people and wildlife. It has over 23,000 members and over 400 volunteers who support the Trust by active involvement in its conservation, education, fundraising and administration work.
For more information visit: www.worcswildlifetrust.co.uk
The following maps show the extended areas of the Wyre Forest NNR:
For Natural England media enquiries, contact Linda Parker, Communications Specialist, linda.parker@environment-agency.gov.uk or tel. 07775 229576.
For Forestry England media enquiries, contactHolly Pretious, Marketing and Communications Officer,holly.pretious@forestryengland.ukor tel. 07867 152594.
For Worcestershire Wildlife Trust media enquiries, contact Wendy Carter, Communications Lead, wendy@worcestershirewildlifetrust.org or tel. 01905 754919.