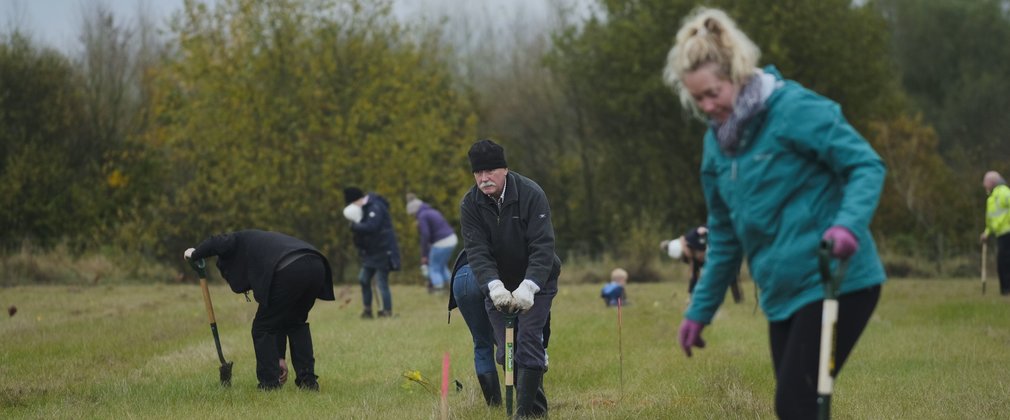 To celebrate our centenary year in 2019, we purchased 48 hectares of land next to the existing forest at Sence Valley in Leicestershire. 
Over the winter of 2019/20 with the help of many, we successfully planted 100,000 trees on the 100 acres of land adjacent to Sence Valley that was purchased to celebrate our centenary year. 
The new woodland has been carefully designed to be a sustainable, resilient forest with more than 17 different species of tree planted amongst areas of wildflower meadow, wetland zone and orchard planting with a network of new footpaths installed.
In November 2019 a special event opened the new woodland by the planting of a commemorative avenue of cherry trees.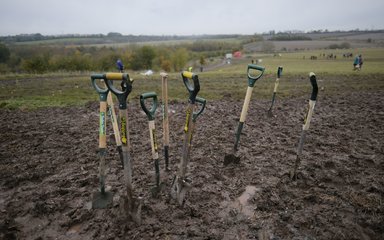 A huge range of community groups have been involved. We ran 2 public drop-in sessions, and 24 group sessions with more than a thousand people getting involved. Local community groups came from nurseries and schools, local companies, scouts and cubs, WI branches, volunteer groups and wildlife recorders.
Despite at times a very challenging amount of rain, the enthusiasm of the local community was amazing and the grand total of trees planted was 33, 033. We thank you all for your dedication and commitment.
Alongside trees planted by Forestry England staff, the full 100,000 trees were planted by the end of February 2020. In the spring of 2020 planting of wildflower seed and specialist pond edge seeds will complete the new woodland creation.
Over the coming years wildlife recorders will survey the land and foresters will manage the young trees to ensure that the woodland is healthy and providing the best possible habitats.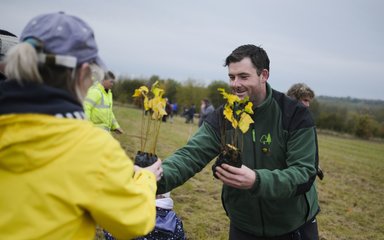 Our history 
Things have changed a lot over the years at Sence Valley. Once a vast open cast coal mine opened in 1982, 8 million tonnes of coal was produced from the site before its closure in 1996. Following its acquisition in 1998, 98,000 trees were planted to make it the haven it has become today. Sence Valley is now a sanctuary for visitors, a wildlife enthusiast's paradise and site of fascinating history.
Take a look back at some of our images of Sence Valley through the years on our Instagram: