Yoga in the forest can help you reconnect to nature. A sense of freedom, coupled with the immersive sounds and smells of the landscape, lead you to a peaceful state of mind. Just starting out? Here's everything you need to know.
What are the benefits of yoga in the forest?
Yoga has many benefits including increased flexibility, building stronger muscles and healthy joints, and even improving your posture. It can also help prevent diseases such as osteoarthritis and osteoporosis.
Yoga exercises can increase your serotonin levels which sets the body's internal clock and regulates metabolism. This effect has been found to be boosted by moving outdoors, so yoga in the forest can have double the benefits for you!
Summer is a great time to try out new activities in nature and the forest provides an ideal setting for slower-paced exercises like yoga. You will also benefit from being outside as sunshine is the body's main way of synthesising vitamin D which keeps teeth and bones healthy. Just be careful not to burn and remember to use sun cream.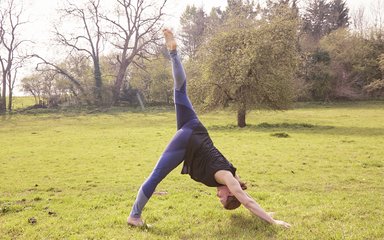 Guided yoga practice
To start you off on your forest yoga journey, enjoy this 20-minute guided yoga class in a peaceful forest with Karen. Created with the support of Mind, the mental health charity, this class is designed to help you feel uplifted and reconnect with your environment. Let go of your anxieties and take some time to strengthen your body and mind.
How to prepare for outdoor yoga
Before you head out to the forest for your first yoga session, make sure you bring everything with you that you may need, including:
Reusable water bottle - it's important to stay hydrated, especially in hot weather

Sun cream - apply before leaving the house and re-apply every 30 minutes or so

Yoga mat - this will help protect your hands and feet from the woodland floor

Headphones - if you are following a guided yoga session make sure to bring headphones so the noise doesn't affect other forest visitors

Comfortable clothes - these will allow you to stretch and move freely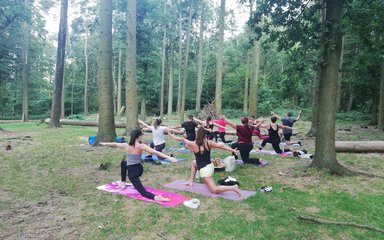 Step away from your normal routine and try yoga in your local forest. Embrace the challenge of trying something new and feel the sense of achievement from stepping outside your comfort zone.
Forestry England have yoga classes at several sites across the country, perfect from beginners to yoga-pros! These classes can be booked in advance and are great if you're new to yoga or prefer guided yoga sessions.
Want to learn about more ways to be active outdoors? Sign up for active updates!