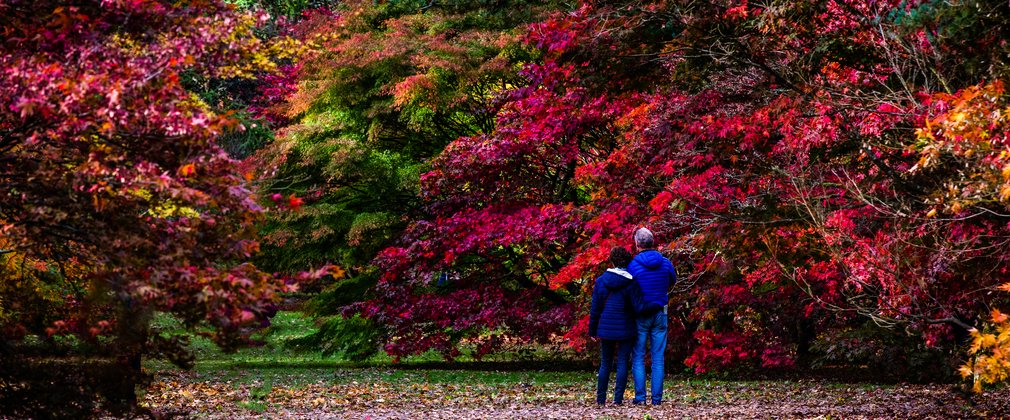 Autumn has arrived at the world famous Westonbirt, the National Arboretum. Days are getting shorter, the air that bit cooler which means the native and exotic trees in the arboretum will be coming to life in a rich, blaze of colour.
And we have some great news for autumn lovers, experts from Forestry England are predicting a fantastic autumn, with an impressive display of vibrant autumn colours that will start now and continue right through to mid-November!
For spectacular autumn colour, trees need a healthy balance of sunlight and rain to produce sugars, which create the colours in the leaves. Many of us were left feeling soggy at the start of the summer and data from the Met Office confirms that England experienced a spell of very wet weather in mid-June, with some parts of the UK receiving 2.5 times the monthly average rainfall. However, rain twinned with the sunshine that we experienced for much of July is a promising recipe for a spectacular show of seasonal colour in the nation's woodlands this autumn.
A must for any visit over the autumn is Acer Glade in the Old Arboretum and Maple Loop in Silk Wood. Westonbirt Arboretum holds the national collection for maples and autumn is the time to see them in all their glory!
To help you explore the beauty of Westonbirt Arboretum we will have an autumn hotline you can call on 0300 067 5691 from mid September through to November. This hotline will be updated weekly to let our visitors know the best areas to visit for dazzling displays of autumn colour. You can also keep an eye on what the colours are doing on our website, or by following us on Twitter, Facebook and Instagram.
There is so much to see and explore in the beautiful wash of colour and the crunch of dry foliage underfoot over the autumn months. We look forward to welcoming you soon.
Autumn Seasonal Trails
Discover more, learn and connect with the trees in our collection on our autumn seasonal trails. Pick up your guide on arrival at the Welcome Building.