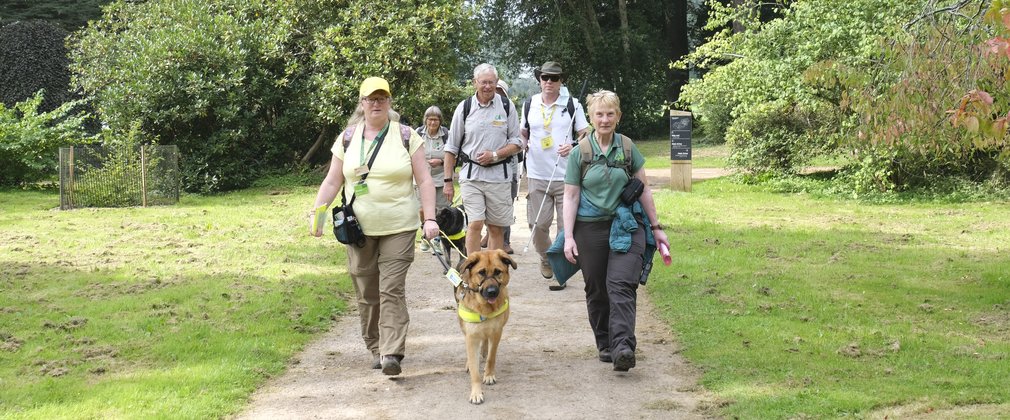 Meet our Visually Impaired Guides
'Westonbirt Unseen' is an exciting collaboration with Andy Shipley of Natural Inclusion, and Sarah Bell of Sensing Nature and the University of Exeter.
This initiative is part of the wider 'Re-Storying Landscapes for Social Inclusion' project funded by the Economic and Social Research Council.
Through the project, we have been developing and celebrating new creative approaches to landscape interpretation, visitor experience and social inclusion.
The Westonbirt Unseen project team have been working together to involve new blind and partially sighted volunteers as Westonbirt guides, adapting our existing guide training programme and co-creating new 'Sensing Nature' tours.
The Visually Impaired Guides will be taking participants on a sensory journey of the arboretum to discover the rich scents, sounds, textures and other sensations to be discovered amidst Westonbirt's unique treescape.
All of this work aims to broaden visitor experiences to all of the senses, shifting perceptions about visual impairment and demonstrating that there is much to be gained from exploring nature through another perspective.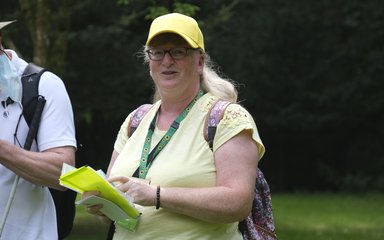 Louise
My name is Louise and I am a Visually Impaired Sensory Guide at Westonbirt Arboretum. 
I have a hereditary degenerative condition called Retinitis Pigmentosa, which causes night blindness, tunnel vision and leads to total sight loss.  At present I have no useful vision in my left eye and some good central vision in my right eye.  It is like looking through a telescope – I can only see what I am looking at directly.
Two years ago I was partnered with my wonderful Guide Dog, Axel. He is a large German Shepherd Golden Retriever cross, a gentle giant who stops me walking into things and falling over, giving me the confidence and freedom to go out by myself whenever I want to. 
For me, Westonbirt is a haven of calm, a place to come to escape the busyness and stress of daily life. Every time I visit, I come away feeling relaxed and renewed. 
My hope is that visitors who join our Sensory Walks will participate in the exercises we facilitate, will connect with nature through their senses, experience the depth of what Westonbirt has to offer, and understand the importance of trees in our lives.
Mark
I grew up in a village in the Hampshire Downs surrounded by woodland and green open spaces. As a child with such a fantastic playground outside my back door I was very rarely in and spent most of my spare time in the woods, cycling or fishing.
I now live about ten miles from Westonbirt. My wife and I love walking and pre-lockdown you would find us wondering around Westonbirt come rain or shine – we've been members for 20 years. One of our favourite places to walk is the North and South coastal path in Cornwall. We have developed our own guiding technique for these paths and outdoor spaces. So the next time you see a Blind man being guided along a narrow cliff path somewhere in Cornwall that could be us. After all, as my wife says 'How bad can it be?'
I trained as a Product Designer with Sony Broadcast R&D and worked on the early development of HD TV and the launch of the first CD Player in 1983! In 1992 I was involved in a head-on collision with an articulated lorry. As a result of the accident I am completely Blind in my left eye and have less than 30% useful vision in my right eye though I'm aware of shape, movement and some colours. Since losing my sight 29 years ago, I've focused on what I can do as a Blind person, not what I can't. When I finally left hospital, I went back to college before training as an Audio Guide Auditor for the RNIB.
I hope that people joining us for our immersive sensory walk will have time to experience Westonbirt with a variety of different senses and make being outside more that just a visual pleasure.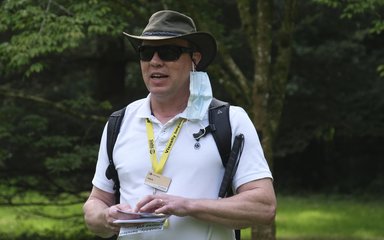 Mike
I moved from Cheltenham to Nailsworth with my wife, Wendy, in 2008  before we retired from work and we live there with our two dogs. Nicky is my new young working guide dog and Danny was my guide dog till last spring, when he became completely stressed out by the first lockdown and stopped working he had to be retired from working early; he's now a devoted pet and the two dogs are now each other's best pal.
I originally started training as an architect in London, then moved to Cheltenham to complete my studies in the late 1970s. I completely and unexpectedly lost my sight over a period of three years or so in the mid 1980s with a condition which seems to be unique and which still hasn't been diagnosed.
I worked in the Property Department at Shire Hall in Gloucester for a decade, using what was then the cutting-edge technology of computers with screen reading systems to do my job. I then moved to GCHQ in Cheltenham in the mid 1990s and worked there for over 20 years before retiring on the same day as Wendy.  
I became a local town councillor in 2011, was Deputy Mayor for 4 years and became the Town Mayor recently. I love classical and folk music, reading, visiting historic properties, grounds and churches. I love being outside and enjoy walking and exploring the county's commons and woods with my dogs; council business can be busy and tedious at times, and getting outside in the fresh air and finding new things to enjoy is by far the best way to recharge the batteries and re-energise.
Sight is obviously by far the strongest sense that people have and using it is the quickest and easiest way of obtaining information about the environment. However, as it's so easy to use, it tends to be at the expense of our other vital senses. So much information is available particularly through our senses of touch, hearing and smell; our sensory walks are designed to help people rediscover and attune themselves to their other senses in the most beautiful of environments at Westonbirt Arboretum.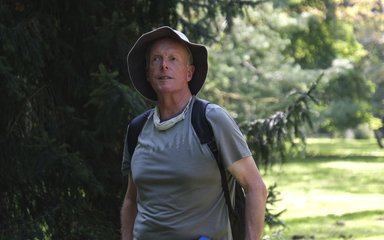 Let our visually impaired guides lead you through an immersive and interactive sensory experience that aims to shift your perception, enjoy the arboretum at a slower pace and explore the trees of Westonbirt through your non visual senses.
This unique experience is returning in April 2022.