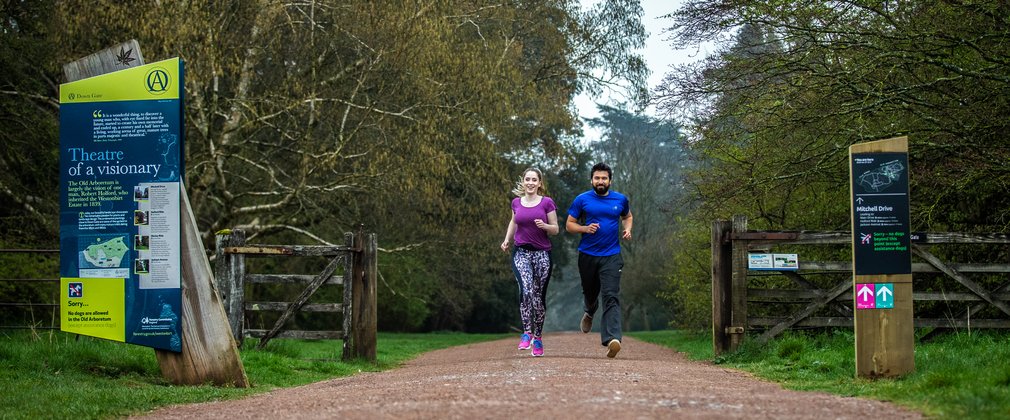 Start on your running journey or find inspiration for beating your personal bests at Westonbirt Arboretum
Running outdoors makes your body work harder and helps you to get in better shape compared to treadmill running. Plus, it's a much nicer view than the back wall of the gym! 
So whether you're trying to escape the hustle and bustle of city streets and sweaty gyms, or looking for somewhere a little more rugged to challenge yourself, our running routes are the perfect place to find your rhythm.
Supported by Sport England and using National Lottery funding, the marked running trails make your run through the forest more accessible, so you can feel confident to hit the trails and enjoy all the benefits of being active outdoors.
Download our dedicated routes map here and follow the coloured arrows around the arboretum or run it your own way and mix and match our routes to suit you. Combine our 0.9km and 4.1km routes to give yourself a perfect 5km route. Want to run further? Take in both sides of Westonbirt by combining our 4.1km & 3km routes.
Please note dogs aren't allowed in the Old Arboretum.
More Information
Westonbirt, The National Arboretum, Tetbury, GL8 8QS
0.9km. This takes you on a flat loop around our Downs landscape. Enjoy views of the Old Arboretum and The Downs.
2km. This flat route through the Old Arboretum lets you explore the beauty of Mitchell Drive and Main Drive, both of which date from the mid-nineteenth century. Along the way you'll find a host of ornamental specimens from across the globe.
2.6km. Following a short downhill section, this Silk Wood Loop takes you along Willesley Drive, The Link (famed for its maples) and Barn Walk. A final push leads you back uphill to your start point on The Downs.
3km. This flat loop around the Old Arboretum provides great views of some of our most celebrated vistas including Lime Avenue and Holford Ride. Finish by coming around Circular Drive, famous for its spring rhododendrons.
4.1km. The longest of our routes takes you on a lap of Silk Wood. You begin by running down hill, passing underneath the STIHL Treetop Walkway, along Willseley Drive and out at the top of Waste Drive.