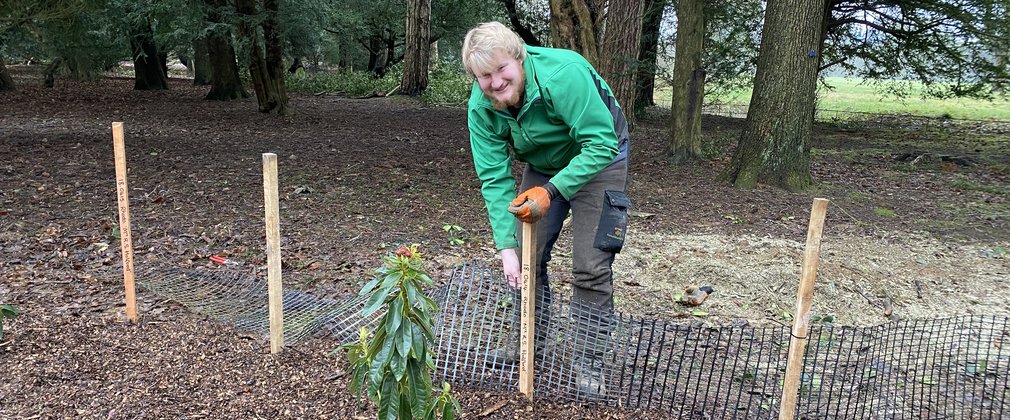 2022/23 Student Arborist at Westonbirt Arboretum
12-month work-based student placement with the Westonbirt Arboretum Tree Team.
Location

Westonbirt, Tetbury, Glos

Position Type

Full Time - 52 weeks

Salary

£19,580

Start Date

Jul 2022

Closing date for CV applications

(with an expression of interest letter)

31 Jan 2022

Contact

Mark Ballard (Curator)

Email
Background Information
Westonbirt, The National Arboretum is one of the world's finest botanical collections of trees and shrubs.  With approx. 2,800 taxa and 15,000 specimens growing in 250ha of a beautifully designed and picturesque landscape, it is a Grade I registered historic park and garden, and Level 4 Arbnet accredited Arboretum.  Westonbirt is home to over 140 champion trees - the largest of their kind in the British Isles, and holds five Plant Heritage National Collections.  Originally created in the heyday of Victorian plant hunting during the mid-19th century, the Arboretum was first established in 1829 by Robert Staynor Holford and further expanded later by his son Sir George Holford.  Fascinated by rare and beautiful plants, the Holford's helped finance expeditions to collect specimens from around the temperate world.
Since 1956 the arboretum has been managed by the Forestry Commission, now Forestry England, with a modern mission 'To connect people with trees to improve the quality of life'.  This is achieved through a wide range of objectives that cover science, learning, community participation, volunteering and recreation.  The Arboretum attracts over 550,000 visits per year, which makes it the largest pay to enter attraction in Gloucestershire, and it generates an estimated contribution to the local economy of over £23 million.
The arboretum has 40 Forestry England staff and 280 volunteers, and it is supported by a number of partners, including the Friends of Westonbirt Arboretum, a membership and fundraising charity with over 38,000 members.  There are also several business partners on site, including catering, retail, and a working wood centre.
Our 10-year vision is entitled 'Our Place in a Changing World' and can be found here
Purpose of the Job
To help our dedicated Tree Team manage both the specimen trees and shrubs within the living collection, and the historic grounds of the arboretum. To help maintain and develop the arboretum for the use and enjoyment of present and future generations.
Key Work Areas
Arboricultural operations as part of a team - tree and shrub planting, establishment checks, pruning, dead-wooding, wood-chipping, stump-grinding, mulching, tree protection, accurate recording of information and mapping.

Practical use of a wide range of chainsaws, tools, equipment, machinery and vehicles.

Assist with care of young and wild collected plants within our propagation unit.

General grounds maintenance – sward management, grass mowing, herbicide application.

Careful adherence to written work programmes and accurate recording with the use of tablets.

Respond to public enquires in a professional and helpful way.
Person Specification
Experience
You will demonstrate a strong interest in trees and shrubs, and a willingness to learn skills from other members of the team. You will also have attained NPTC or LANTRA certificates in chainsaw maintenance, cross-cutting and felling of small trees, as well as experience of other relevant machinery operation.
Professional and Technical Expertise
You will either be studying or have already attained a qualification in arboriculture, forestry, horticulture or countryside management.
Competencies and Behaviours
Working with Other People
Seek to build good working relationships and work well as part of a team.

Show flexibility within the team
Communication
Grasp key points when dealing with oral and written instructions.

Listen actively and ask questions to check understanding.
Deliver Results
Work without prompting and progress tasks using your initiative.

Show drive and enthusiasm, not become distracted or put-off by minor problems or setbacks.
Learn and Apply
Using your initiative, look for ways to improve the way in which we work and put forward suggestions for change.

Be keen to learn and keep knowledge and skills up-to-date for the job.
Other
This role requires you to hold and continue to hold a full and current driving licence.
Applications
Please send your CV with an accompanying personal statement by way of a letter, also confirming the reasons for your interest to mark.ballard@forestryengland.uk by 31 January 2022.

Enquiries can be made via direct telephone number 0300 067 4857.