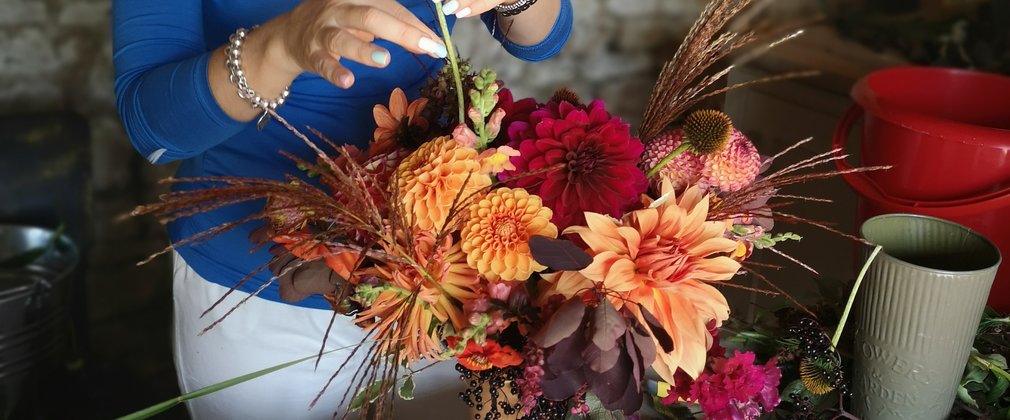 Do you love flowers and wish you could make a better display with them? Come along to our Eco vase workshop to learn how to make an arrangement directly into a vase and see how easy it is to use just chicken wire and plain water instead of floral foam.
  
You don't need any previous flower arranging experience because I give step by step demonstrations before handing over to you to make your arrangement. And because our workshops have no more than 10 people you'll get plenty of guidance if you want it or be left to go at your own pace if you prefer.  
And by bringing all British grown Flowers you'll be using the best and freshest blooms the season has to offer grown on my allotment or by another flower farmer.  
 
And if you're looking for more flower arranging courses I run Hand Tied Bouquet's and Grow Your Own Cut Flowers workshops throughout the year; Plus of course our ever popular Christmas wreath workshops several times in December. 
And if you're looking for help you create your perfect garden I run Failsafe Garden Plants, Planning Garden Borders and Creating Garden Plans workshops throughout the year too.
Your workshop ticket includes free entry to the arboretum so you can enjoy the rest of your day discovering one of the most diverse and beautiful botanical collections in the world.
Essential Information
Westonbirt, The National Arboretum, Tetbury, GL8 8QS
How much? £85
Where to meet? Learning Centre
Do I need to book? Yes
Dogs allowed? No
What to wear? Please wear warm comfortable clothing