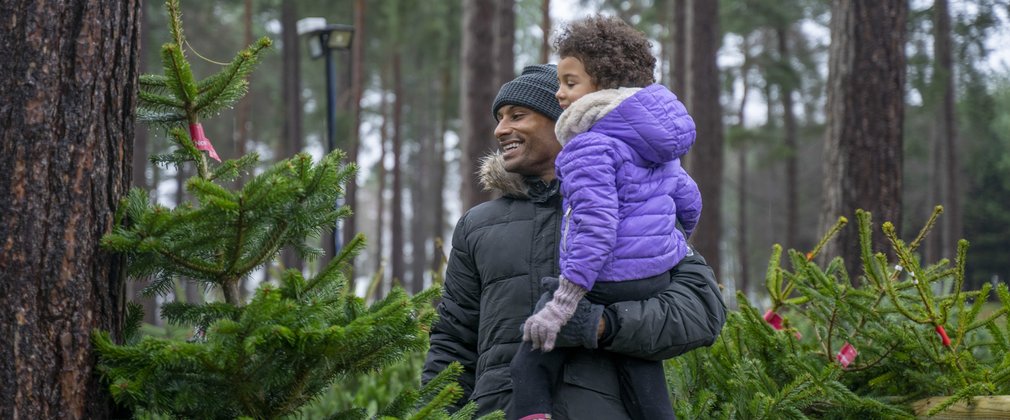 Looking for a real Christmas tree near you in Cumbria?
Buy your real Christmas tree from Whinlatter Forest, Keswick this year for a wonderful experience and the highest quality, sustainably-grown British Christmas trees.
From 27 November 9.30am - 4pm  (2 December late night until 8pm) our tree team will be on hand to help you choose from hundreds of spruces (4ft to 8ft), firs (4ft to 8ft) and pines (4ft to 7ft) in the fresh, wintery air of our beautiful forest.  
Call and collect will also be available from 23 November, with collections starting from 27 November. Simply give our experienced tree team a call on 017687 78469 at least 24 hours before you'd like to collect, they'll choose a tree for you based on your specifications, and have it ready, wrapped and waiting for collection.
The tree sales area will be located at the Go Ape cabin on the forest road behind Cyclewise. Follow the signs from the Visitor Centre.
Our trees and wreaths
Nordman Fir 4ft- 8ft
Norway Spruce 4ft - 8ft
Lodgepole Pine 4ft - 8ft
Pot grown Norway Spruce 80-100cm
Wreaths
What makes our Christmas trees so special?
Quality: Our high-quality trees are

Grown in Britain

certified - so you can be proud of your superior quality tree
Experience: Choose your tree from a beautiful forest location to kick off your Christmas celebrations 
Expertise: With 100 years of forestry experience, our experts can help you choose the right tree for your home
Support your forests: The money raised from your Christmas tree helps us maintain the forests for wildlife, for you, and for future generations
Christmas activities in our forest
Wellies crunching through twigs and leaves. Steaming hot chocolate and a cheek-warming tea. Walking trails and special memories. It's more than a trip to pick up your Christmas tree!
At Whinlatter you can experience a full day out with your loved ones, take a crisp winter walk along one of the many forest trails and treat yourself to a warming drink from Siskins Cafe before choosing the perfect tree to take home.
More information
Whinlatter Forest, Whinlatter Pass, Keswick, CA12 5TW
Please follow all site signage and instructions given by our staff. Be patient, allow a little more time for your visit, and #bekind to help us keep you, our staff and volunteers safe.
Call 017687 78469 from 23 Nov to pre-order your tree
Open from 27 Nov 9.30am - 4pm Mon-Sun. If you would prefer to visit when it's quieter, we recommend arriving earlier in the morning.
Spruce £18 - £42, pine £27 - £45 and firs £27 - £68. Whinlatter Members get 10% off!
Car parking is free when you buy a tree