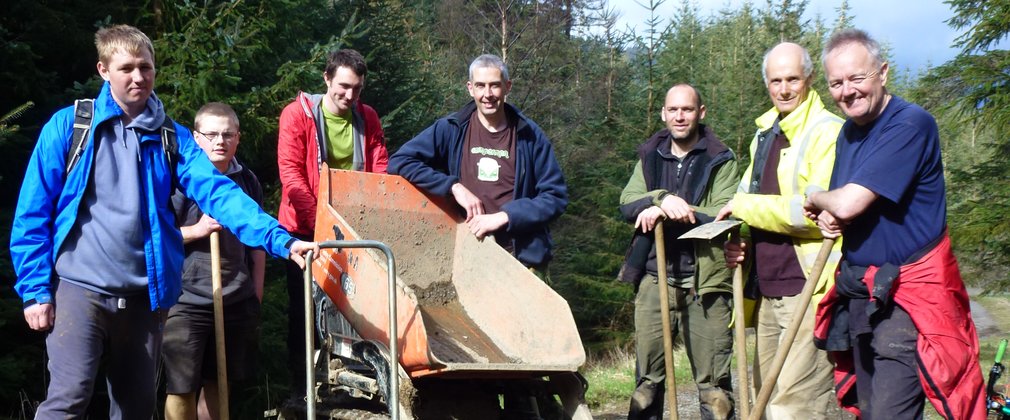 Volunteer with us
Make your forest a fantastic place…
Join your local team of volunteers to learn new skills, meet new people, make new friends, enjoy the forest and be part of the Forestry Commission's ever growing team of volunteers. Whatever your age, ability, or fitness level there is so many different opportunities to be involved in.
Whinlatter forest parkrun
A weekly timed 5k run that is free to take part in for everyone regardless of ability.
We need the help of volunteers each Saturday morning from 8.30am to approx. 10.00am. There are lots of different roles from marshalling the route, timekeeping and scanning the finish line barcodes to back running and sweeping the end of the race to ensure everyone gets home.
If you're interested in helping or would like any further information please contact our Active Forest Coordinator, Sonia Dryden, sonia.dryden@forestryengland.uk or call 017687 78127.
More information about parkrun can be found here: http://www.parkrun.org.uk/
Conservation Volunteer
Anyone who has an interest in helping to take care of Whinlatter Forest and learn new skills can join in - no previous experience is required, as all necessary training is given. You can choose to get involved in one or many of the conservation activities on offer.
Some of the activities you can get involved with include tree planting, footpath repairs and non-native species removal. 
For more information or to sign up as a conservation volunteer please contact nathan.fox@forestryengland.uk or call 017687 78127 for an informal chat.
The Art of Mountain Bike Trail Building
Tools and gloves will be provided but wear sturdy footwear and bring waterproofs and refreshments.
Booking not essential but it is really helpful if you can let us know you are coming so we can get the right amount of work and tools prepared.
Work parties take place every 4th Saturday. The meeting point for all work parties will be behind Cyclewise at 10.00am, finishing around 4.00pm.
For more information please email paul.brown@forestryengland.uk
Osprey Project Volunteer
We have a variety of opportunities for getting involved in this exciting project. These include helping at the outdoor viewing areas at Dodd Wood or in Whinlatter Visitor Centre to welcome visitors and provide information and assist visitors with viewing of the birds and their nest.
Help is needed for the duration of the Osprey nesting season, which runs annually from 1 April to 2 September.
For more information on becoming a volunteer for the Osprey project please contact barbara.thomson@forestryengland.uk (April to September only) or Nathan.fox@forestryengland.uk
Contact us
For more information please contact us: