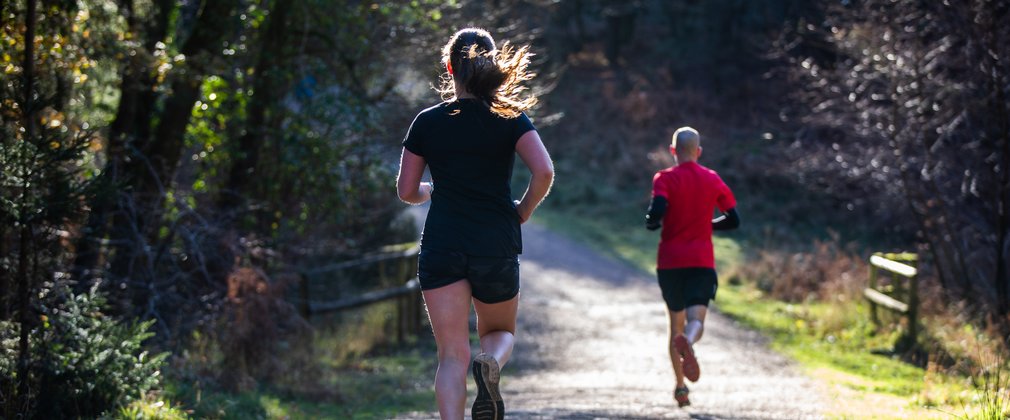 Running trails at Wyre Forest
Whether you've just bought your first pair of trainers, or have 1000's of miles under foot, Wyre Forest offers opportunity for all runners. Lengths vary from 1km to 7.5km and they all start from the main visitor centre.
The trails provide a chance to escape stuffy gyms and get out into the fresh air, offering the opportunity to get fit where you can be inspired by stunning natural surroundings.
1km Route
The perfect way to start your running journey,  this trail is wide with a stone surface underfoot. The route passes our sleeping Gruffalo and includes some of the more gentle up and down hills of the Wyre Forest, but does finish with a steep uphill to get you ready for our longer running routes.
2km Route
A steady run taking you a little further into the forest using a mixture of trails and forest roads. You will pass a Corsican Pine plantation and weave through large Douglas Firs as you descend into the Valley of the Giants.
3km Route
Start to get the legs and lungs working as you encounter a few inclines along the forest road. You will pass the Arboretum and should be able to see the Whitty Pear tree which was planted in 1916. In spring and summer, the Arboretum is full of colourful flora and blossom.
5km Route
Here's where the challenge begins as the gradients get steeper, both up and down. This route follows the forest roads with wide and solid paths. As you pass Park Pool and start the climb uphill you will pass one of our SSSIs (Site of Special Scientific Interest) where, through the Oak and Beech trees, you may spot some deer.
7.5km Route
Looking for more? This route follows the Family Cycle Trail and is made up of varied gradients on a wide, mostly solid surface. You'll be taken through some beautiful woodland landscapes including old Oaks and giant Douglas Fir. The route will take you along the old disused railway line which is also part of the Sustrans National Cycle Network (Route 45) as well as Wyre Forest Butterfly Trail, where more than 30 species of butterfly can be found.
More information
Wyre Forest, Callow Hill, Bewdley, DY14 9XQ
Supported by Sport England and using National Lottery funding, the network of marked trails make running through the forest more accessible.