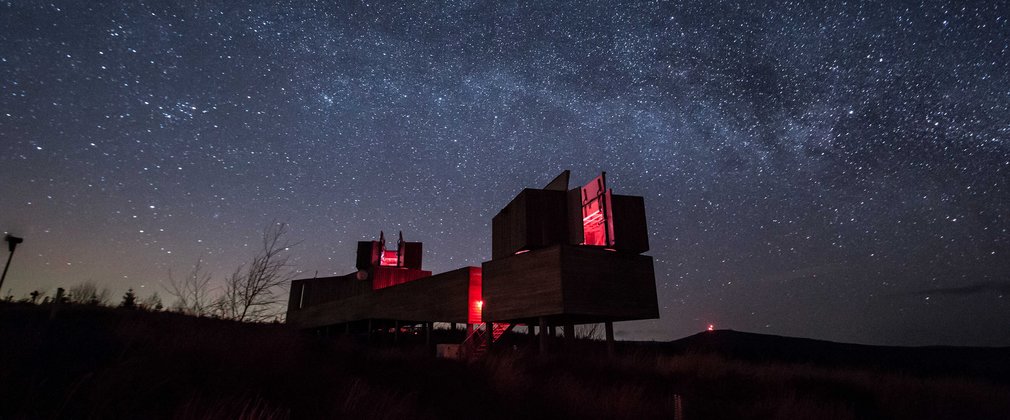 Stargaze in the forest and see the night sky like never before
The dark skies above the nation's forests are not only great for stargazers, but many woodland species such as birds, bats, moths and insects also benefit from reduced light pollution.
You can experience all of this by taking part in special events to help you search the skies or by staying overnight with Forest Holidays or Camping in the Forest.
Top tips for stargazing
Are you a beginner to stargazing? An organised event may be the best way to kick-start your new interest.
If you're going independently, set out before nightfall with a route and location in mind.
The quality of the night sky (and the weather) in your chosen location will have an impact on the stars you can see.
Many astronomy apps and websites exist – use them to help plan what you will look for.
Some car parks or sites are not open at night – check the relevant forest page before you leave.
Remember to pack a torch and spare batteries. It's good practice to have a red filter on your torch to reduce light pollution.
Pack warm clothing and take binoculars if you have them.
Forests with star quality
Kielder Forest and Water Park is part of England's first and only official Dark Sky Park. The forest is England's top forest location for stargazing.
The status protecting the 1,500 square kilometres of forest, national park and countryside was awarded by the International Dark Sky Association on 9 December 2013.
The Kielder Observatory Astronomical Society run events throughout the year at the award winning Kielder Observatory to help beginners and serious stargazers study the skies.
Dalby Forest is a designated Dark Sky Discovery Site, where you can experience the magic of seeing the Milky Way with the naked eye.
Yorkshire's Dalby Forest was awarded the Milky Way Class of the Dark Sky Discovery award in January 2013.
Astro Dog offer exciting, interactive, stargazing sessions in the enchanting setting of Dalby Forest. Visit their website for details.
A top stargazing location in the south east, Alice Holt has plenty of opportunities to scour the dark skies. Please note this site is used for organised public observing events only. Events will be published on the Alice Holt page and Farnham Astronomical Society website. 
The historic wood at Sherwood Pines is a dark oasis, allowing star gazers to marvel at the beauty of the sky above.
Search for Stargazing at a forest