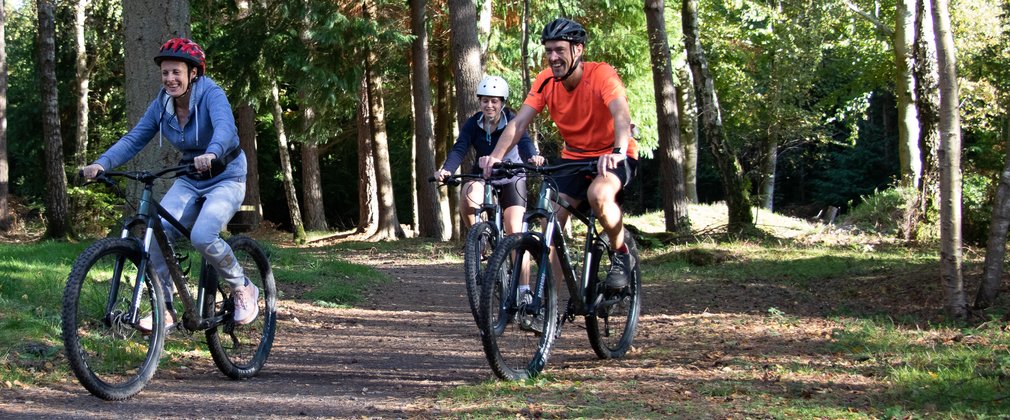 Cycling at Alice Holt
Alice Holt offers a wonderful opportunity for natural cycling. Check out our cycling trails and enjoy the fantastic scenery by bike, you will see ancient mighty oaks as well as wildflower rich open spaces during your cycle. Our cycle trails are open for you to enjoy.
Inclusive cycling at Alice Holt Forest
The Alice Holt inclusive cycling fleet has a wide range of bikes to make cycling accessible to everyone, and the volunteers will help you choose the right bike to match your circumstances and show you how to ride and where to go in the forest.
Sessions are held every Thursday morning from 9.30am to 12.30pm and are open and on a first come first served basis.
Breeze into the Forest
British Cycling have teamed up with us to offer free, women-only group cycle rides for all abilities in the nation's forests. 
Every group ride is led by a qualified Breeze into the Forest Champion, who will organise everything and make sure everyone stays safe.
Family cycling trail at Alice Holt Forest
The Family Cycle Trail is the perfect way for the whole family to see the wider forest. 
Cycle hire at Alice Holt Forest - temporarily unavailable
Like many companies that are feeling the impact of the rising cost of living, the third-party cycling operator at Alice Holt Forest have made the difficult decision to stop trading at Alice Holt Forest.
We are sorry that some of our visitors will be affected by their decision and we'd like to assure our visitors that we're looking into finding a temporary solution.