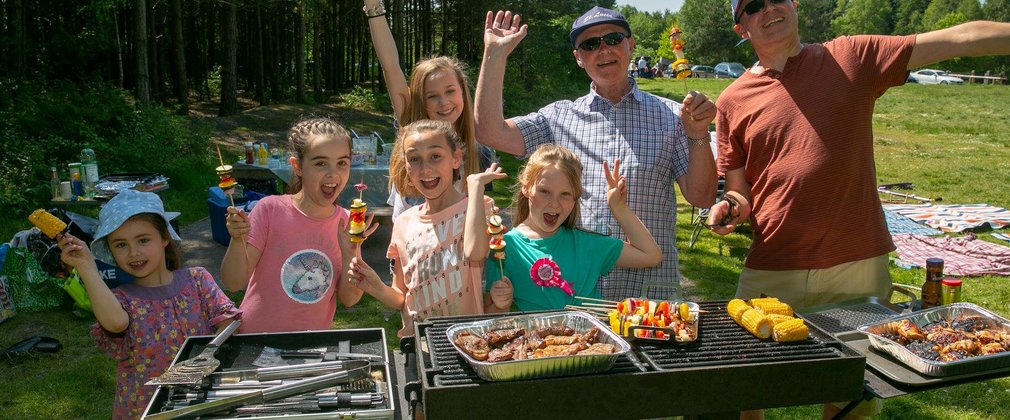 Hire a barbecue at Alice Holt Forest
Enjoy a tasty treat in the forest at one of our beautiful barbecue stands, just bring along good food and company!
Alice Holt has three barbecue hearths available for you to book. Our barbecues are suitable for up to 30 people and comes with its own picnic table. There's also space for you to bring your own gazebo, up to 3x3m in size. Disposable and portable barbecues are not allowed.
Don't forget to bring your own charcoal and tools!
In order to protect this special landscape from the risk of fire please follow our guidance
No portable barbecues, disposable barbecues, fires or camp stoves are allowed
Make sure you book in advance
Bring your own charcoal, firelighters, tools, food and good company
Only use the barbecue hearths provided, do not use the grass or benches for cooking
Do not extinguish the barbecue, close the lid and lock it when you've finished and our team will come and clean it afterwards
Full Terms and conditions apply
Useful information
Alice Holt Forest, Bucks Horn Oak, Farnham, GU10 4LS
Portable barbecues, disposable barbecues, fires or camp stoves are not allowed. Please tidy up after yourself and take all litter away with you.
All year round - 1 session per day (11am – 8pm)
You will need to book in advance, to check availability and to make a booking click the green 'book a barbecue' link.