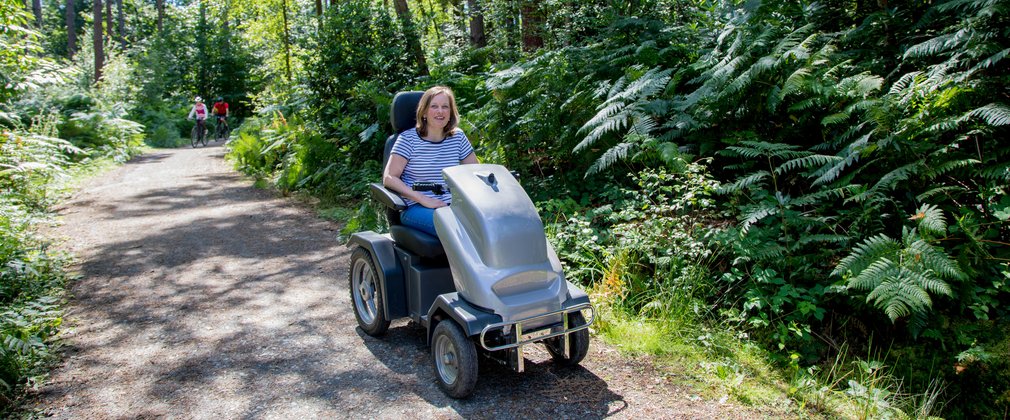 Hire a Tramper at Bedgebury National Pinetum and Forest
If you have limited mobility and would like to explore Bedgebury National Pinetum and Forest come and use our free off road mobility scooter (tramper).
You can explore both the National Pinetum and Forest with the tramper. To avoid disappointment please book at least 2 weeks ahead by calling the visitor centre.
Bedgebury National Pinetum
The National Pinetum at Bedgebury is recognised as one of the most complete collections of conifers in the world, and is a centre for international conservation. It contains over 12,000 tree specimens growing across 320 acres. This includes rare, endangered and historically important specimens. The pinetum also offers a wide variety of wildlife.
You are free to explore, but for your safety we ask that people using the tramper stick to the paths highlighted on the tramper map. We'll give you this map during the induction on the day.
The National Pinetum is hilly in places, and we have highlighted inclines on the map with chevrons.
The National Pinetum paths mostly consist of gravel tracks, which may be uneven in places.
Bedgebury Forest
There are two forest routes in over 800 hectares of mixed conifer and broadleaf woodland. The trails sheltered by the canopy of the forest give you the opportunity to spot deer, migrating birds and wild flowers. You can choose a short 2 mile circular route, or escape the busier parts of the cycle trails and enjoy our peaceful 6 mile circular route.
The trail is a hard gravel track suitable for most weather conditions, and is uneven in places.
Both routes have both gentle and moderate inclines. Steeper inclines are highlighted on the map with chevrons.
The route uses the Blue Family Cycle Trail. There are waymarked arrows to follow enroute, for your safety please ensure that you stay on the designated routes. 
Further information
Bedgebury National Pinetum and Forest, Lady Oak Lane, Goudhurst, TN17 2SJ
Please note that the tramper is very popular and occasionally has to be taken out of service for repairs and maintenance.
To book please phone our Visitor Centre on 01580 879820 between 9.30am - 4pm