Arts - The Forest of Dean Sculpture trail at Beechenhurst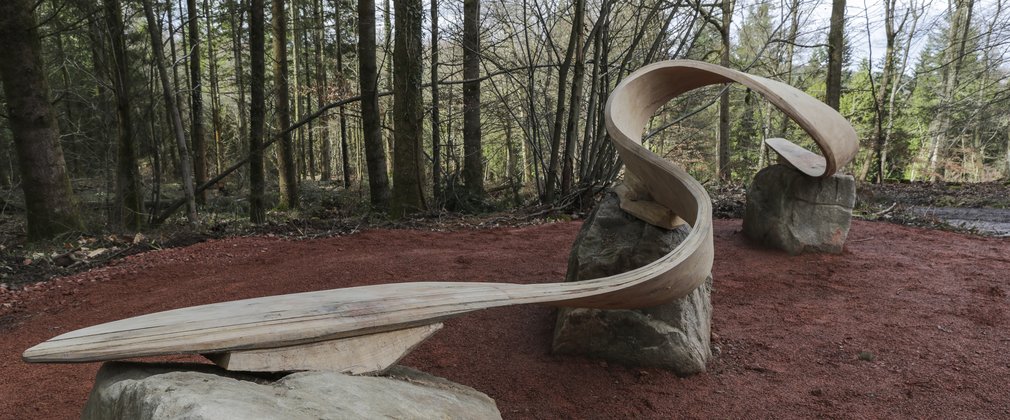 The Forest of Dean Sculpture trail
Founded in 1986, the sculpture trail is a partnership between Forestry England and the Forest of Dean Sculpture Trust.
Some of the sculptures are temporary, while others will last for years. They have all been designed to evolve over time as the forest changes around them. Over the years, artists at all stages of their careers have been invited to create artworks for this unique context.
The sculptures on this trail are inspired by the forest - its trees, wildlife and industrial past. The sculptures are mostly constructed from natural material from the Dean - wood, stone and iron. They are interspersed along the trail through majestic oaks and towering Scots pine trees.
There are waymarked shortcuts: Shortcut A (first 6 sculptures) is approx 2.2 miles in length and Shortcut B is 3 miles (first 12 sculptures). 
The Sculptures
You may come across some temporary or decommissioned sculptures on the trail which aren't marked on the map. Check the Sculpture Trust website for more information.
Audio descriptions of each sculpture are available to download here.
Trail information
Beechenhurst, Speech House Road, Coleford, GL16 7EL
Sculpture Trail leaflet available at the café for £1.
Some sculptures can be accessed with a power assisted wheelchair.
Full trail = 4.8 miles (7.7 km). Shortcut options are signposted.