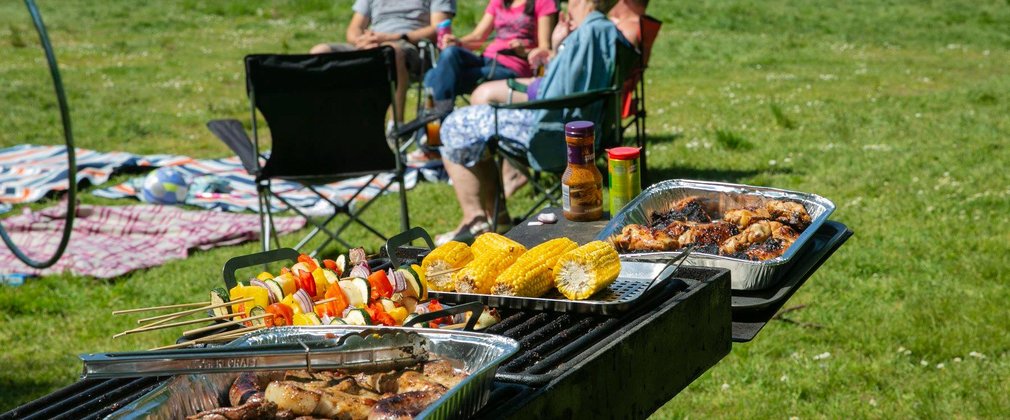 Hire a barbecue at Beechenhurst
To prevent forest fires and reduce waste, please do not bring your own barbecues into our forests. You are welcome to hire our bookable barbecues. 
Colliers View area
We have 3 barbecue sites available for hire. 
Each site costs £30 to hire and includes a metal barbecue hearth (bring your own charcoal), 2 picnic tables for your exclusive use and 2 free allocated parking spaces.
The Glade (see photo)
In the Glade we have a gas barbecue which costs £60 to hire on weekdays or £75 at weekends. This has its own undercover area and also includes 2 free allocated parking spaces. 
In order to protect this special landscape from the risk of fire please follow our guidance:
Never leave the barbecue unattended.
Make sure that all rubbish is taken away with you. Please leave the barbecue area clean and tidy.
Please do not collect wood from the forest to use on your barbecue. The forest is a special place and home to many kinds of wildlife - some make homes in the wood on the ground.
Open fires, portable/disposable BBQs or camping stoves are not allowed. The only way to barbecue is to hire one of our barbecue sites.
Only one small gazebo per barbecue booking, please no large party sized tents. Beechenhurst is a popular place so please be considerate of other visitors.
Terms and conditions apply.
Useful information
Beechenhurst, Speech House Road, Coleford, GL16 7EL
Please tidy up after yourself and take all litter away with you.
Barbecues can be booked up to 30 days in advance and cannot be booked on the day.
Fancy a hot drink with your picnic or barbecue? Stop by the Beechenhurst Café for a range of locally sourced food and hot drinks.
Please do not feed the wild boar or other forest animals.