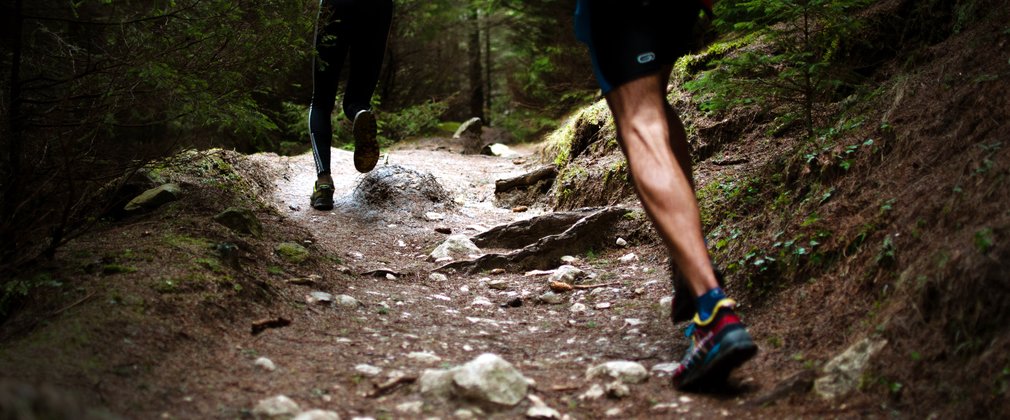 Time for a change of scenery in your running routine? Break up the monotony of treadmills and pavement-pounding with breathtaking views, clean air and challenging landscapes.
From fewer injuries and improved balance to mental health benefits and a serious sense of achievement - we've got more than a few reasons why your next run should be a wild one!
Good for your body, great for your brain
Running on softer surfaces like forest trails puts substantially less pressure on your joints, which in turn should mean fewer injuries stopping you from reaching race day. Taking your training off-road also requires a great deal more concentration and balance than running on tarmac, those added wobbles will help you build up all-important stabilising leg muscles, again aiding the prevention of injury.
Trail running is also a simple and proven way to improve your mental health and wellbeing. A study of the benefits of green exercise at the University of Essex showed improvements in mental wellbeing, social inclusion and connection to nature. Whilst a pilot study in Cornwall testing the effects of a weekly dose of oceans, forests or other natural environments on patients suffering from depression found a 69% increase in mental wellbeing in just three months.
With doctors now ready to give out Green Prescriptions, why not administer yourself a dose by taking your weekend run into the woods!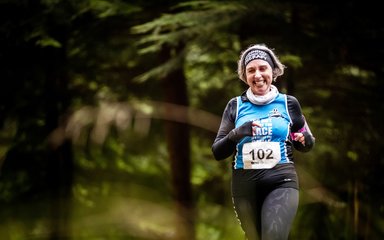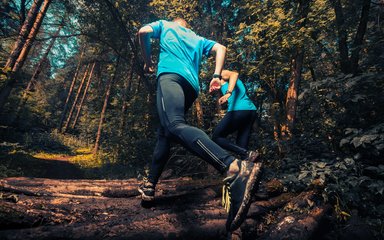 Looking for adventure
With social media constantly reminding us of the holidays we aren't on, a great way to relieve those feelings of wanderlust is to get out and explore your local forest. With thousands of miles of trails across the country, from the mountain valleys of Whinlatter to the sweeping views of the South Downs at Friston - the feeling of being on an adventure isn't as far away as you might think.
Take your trainers on a forest trail and we guarantee you won't get bored, expect bumpy terrain, fresh smells, surprising sights and maybe even some wildlife - surely that beats city streets any day?
Start by making a list of the trails you'd like to take on and ticking them off as you complete them, it's a sure fire way to experience more of England's spectacular forests, and you'll probably find your new favourite route is a forest one.
Abi Harradine runs regularly in our forests; here she tells us what drives her to hit the trails:
No two runs in the forest are ever the same. The trees are constantly changing colour. The sun will find new angles to beam through branches. Rain will make the summer-dry paths a squelch-tastic squidgy assault course and sounds of rustling animals and glorious birdsong will provide a soundtrack rendering headphones useless.

Running in the forest is a blessing. My feet are grateful for the soft landing and my heart swells with the surrounding beauty. Even though the run may leave me breathless, it's the forest that continues to take my breath away.
Improving your race time
If you're training for a road race whether it be a full marathon or a 5k, mixing up your training routes with some bumpy forest terrain and varied inclines is a proven way to boost your performance.
A study conducted on the benefits of hill training showed that twelve weeks of hill training can significantly improve oxygen intake, resting heart rate, speed endurance and race performance in middle and long-distance runners.
Running on uneven ground can also be a useful tool in improving your gait. Having to deal with uneven surfaces like rocks, roots and streams will start to force you more onto the balls of your feet in order to keep balance and have you running more like a professional in no time.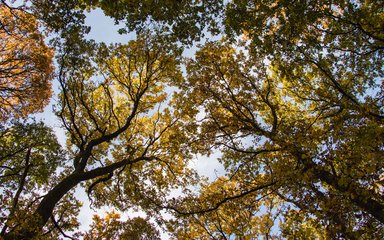 So now you're ready to incorporate forest runs into your training plan, but where to start? We've got lots of marked running trails across the country, which you can search here using your postcode. But our walking trails are also perfect for a Sunday dash, so don't forget to look there when planning your next route!