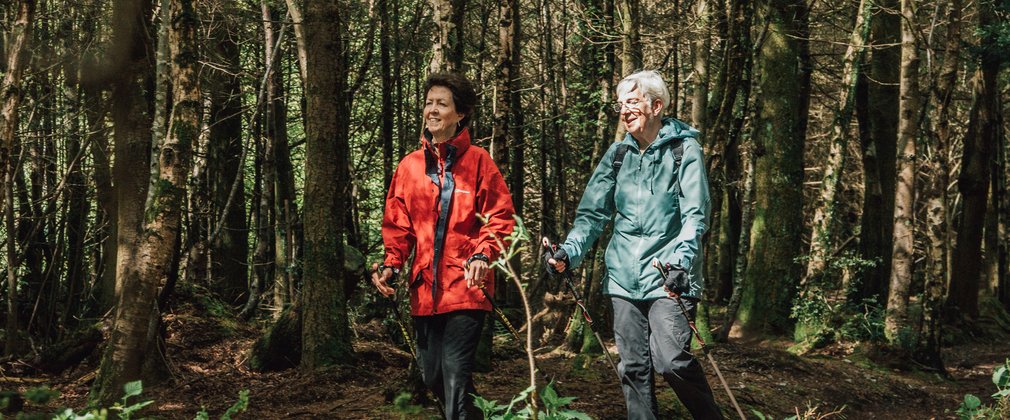 A walk in the woods can be a joy. Dappled light, soft trails underfoot, the sounds of wildlife puncturing the hush – these are the things that attract us back to the forest again and again.
As wonderful as the woods can be, it pays to be prepared before you head out. Whilst the sun is shining at the moment, unpredictable weather and challenging terrain can always conspire to up the ante on an afternoon ramble. That's why the proper kit is essential to a safe and responsible day beneath the leaves. Our partners at Go Outdoors know a thing or two about prepping for all kinds of outdoors experience. So we asked them for some advice on what to wear - and how to prepare - for a walk in the forest.
Layer up
Good quality outdoor clothing is crucial, especially in Britain where the weather can be so unpredictable. There are three main factors to consider when dressing for a day of adventure – warmth, weatherproofing, and breathability. 
The standard hiker's solution is a 3-part layering system. This comprises a baselayer, a midlayer and a shell, and there are plenty of styles, fabrics and technologies to choose from. 
A good layering system is about more than just a t-shirt, jumper and jacket though. There is solid science and a lot of technology behind it. Our brief guide will tell you how, and why, you should layer-up for the outdoors.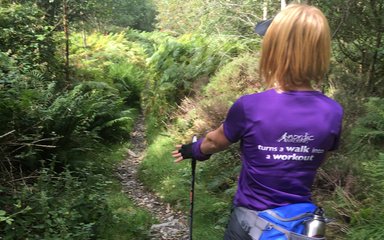 A lot of people think a baselayer is all about warmth. It's not!
The most important job of a baselayer is moving sweat away from your skin. In summer this keeps you comfortable; in winter it is a lot more crucial, as cooling sweat can quickly become very cold. If you are tramping up a forest trail on a chilly day, a good wicking baselayer will come into its own.
Most baselayers are made from synthetic materials designed to wick sweat efficiently and dry-quickly. If you are looking for an all-natural alternative you could consider merino wool. Though it's not quite as efficient at shifting moisture, it does offer the bonus of natural anti-bacterial properties, meaning it'll keep you feeling and smelling fresh for longer. The main rule: AVOID COTTON.
Midlayers – often synonymous with fleece - insulate by trapping body heat in the fabrics. This is where the warmth comes in. Think about it, when did you last see a cold sheep?
In truth, modern fleeces have nothing to do with wool. They are almost always made from synthetic fibres designed to trap the maximum amount of body heat, whilst also allowing water vapour to escape. This breathability factor is really important for a comfortable hike, as without it all the hard work the baselayer has done in getting rid of your sweat will go to waste. 
Fleece fabrics come in different weights, the most common being 100 and 200 weight fleece (sometimes called lightweight or midweight) 100 fleece is ideal for high energy activity or mild weather, whereas 200 is for slower walks in cold weather. You can get heavier fleece fabric, but it is rarer and impractical if you don't want your forest trip to be a sweaty slog. 
In recent years the rise of microfleece has also meant that midlayers are getting lighter and much more compressible, without losing warmth. As forests tend to be warmer and more humid than the open hills, you may wish to consider a lighter midlayer in anything but very cold weather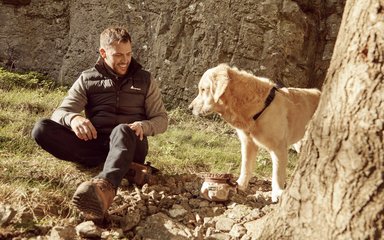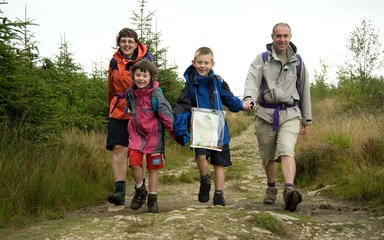 This is your outer jacket, sometimes called a shell by outdoorsy types. First and foremost it's designed to keep you dry. A good shell should be waterproof, and quite possibly windproof. That's worth considering because windchill can seriously lower the temperatures – making a day feel 5-10 degrees colder than it is. Thankfully, trees and forest cover do a lot to dampen wind, so that may not be something to worry about quite as much amongst the foliage.
Most waterproofs keep moisture out by applying a waterproof coating to the exterior fabric. This is fine, but it's important to check that your jacket is waterproof and not just water-resistant (big difference!). It's also crucial to maintain the waterproofing with appropriate aftercare.
Some of the more expensive jackets take an alternative approach, bonding a special membrane to the inside of the jacket for a complete barrier that won't wash away or rub off. GORE-TEX® is the most famous example of this, though top outdoor brands are busy coming up with their own in-house versions. 
The level of waterproofing depends on the hydrostatic head (or HH) of the jacket's fabric. There's a lot of unnecessary science behind this, but to put it simply, it's a rating of how many millimetres of water a square inch of fabric can take before the waterproof barrier gives way. A good waterproof would start at around 3,000mm HH, though some top quality fabrics like GORE-TEX® go up above 20,000mm. 
On a summer's day, you may not need an outer layer at all – though we'd always recommend sticking one in your pack in case things go awry.
With hundreds of walking trails for you to explore, from spectacular mountain hikes and sheltered pinewood trails to quiet streamside paths and short play trails, you're never far from a great walk. Remember to always be prepared for British weather, and bring the right kit for your walk. 
Thanks to our partners Go Outdoors for preparing this guide. Check out their website if you're looking for some kit for your trip!