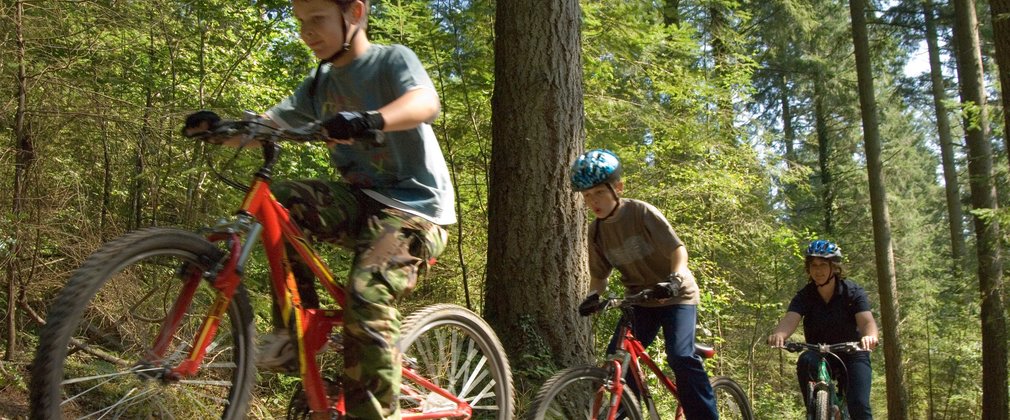 Bolderwood cycle trail - cycle through the forests ancient woodlands
The trail starts at the bottom (west) end of the car park.
Turn left over the cattle grid, past the magnificent, tall Douglas fir trees along the Bolderwood Ornamental Drive.
Cycle over another cattle grid and you will find yourself immersed in some of the New Forest's famous ancient woodlands.
Continue down the hill until you go over another cattle grid, shortly after which you need to turn right onto a Forest track marked with a wooden waymarker post.
Continue along this track, following the cycle posts, through mixed woodland to a set of double gates.
Carry on through both gates and keep following the track straight on for several miles, ignoring a marked turning to your left and two marked turnings to your right.
At the end of the track go through a gate and turn immediately right onto a tarmaced private road, still following the cycle network waymarker posts.
Continue along this road until you reach a crossroads with a Forest track and you see a 'no cycling' sign in front of you.
Turn right at this junction following the waymarker posts back to Bolderwood. This track will take you through miles of peaceful woodland.
You will eventually come across an open area with two benches on your right.
At this point a walking route joins the cycle route so please be aware of pedestrians.
As the cycle route climbs up hill you pass behind the Bolderwood deer fields on your right so keep an eye out for deer in this area.
At the top of the hill cycle past a barrier and turn right.
BEWARE there is a public road ahead. At the road turn right and follow the road back to your starting point at Bolderwood car park.
For more information, please see the Cycling in the New Forest page.
Activty information
Bolderwood, Ornamental Drive, Nr Lyndhurst, SO43 7GE
Please be courteous to walkers and horse riders who also use the cycle routes in the New Forest.
Green grade trails are suitable for beginners or novice cyclists.