New Grey and Blue cycling trails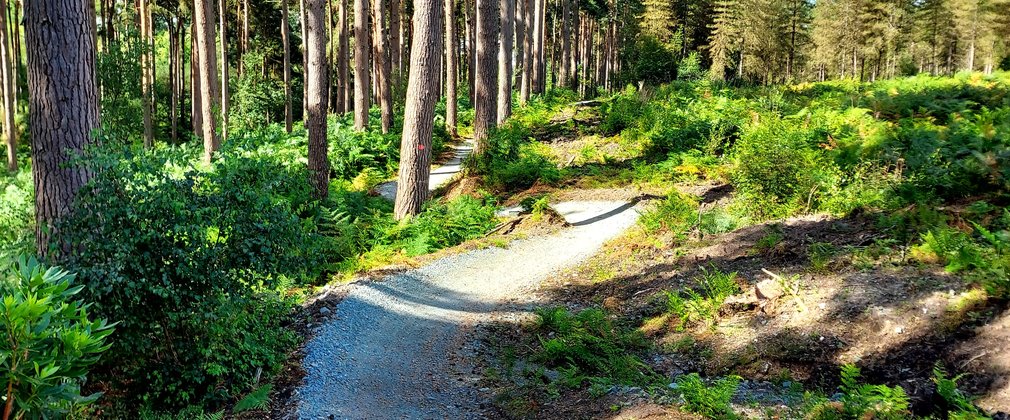 Cycling trails for different abilities
Our new cycling facilities at Delamere mean that there is something for people of different abilities.
The Grey and Blue trails mostly follow the same route. The Grey sections provide a link between the blue route sections as well as being a less challenging trail in it's own right. Start your journey at the Skills Loop where you can try out a few example features and decide which route is best for you. From there you can follow the signs to the start of the trail.
The Grey route is of Forest Road grading so ideal for people just starting out on their off-road cycling journey. Due to the forest environment, the gradients are variable and surfaces may be uneven, loose or potholed - but that is what makes off-road cycling so interesting. Look out for other users (including pedestrians), vehicles and forestry work - this route is multi-user.
At various points along the Grey route, there are places where you can choose to follow a Blue route for a section before rejoining the Grey route. Blue-graded trails are of a moderate level so are usually better suited to those with a bit more off-road experience. Expect to see a mixture of climbs and descents with moderate gradients, technical features like tree roots and rock steps; jumps and berms. These are rollable features at controlled speed and again you can expect variable surfaces (you are in a forest after all!).
The Blue sections of the trail are single-track trails which means they must be ridden the right way. Riding these sections in reverse could be dangerous and damaging, so we have clearly signed which way you need to enter the section (and which way you must not enter the section). 
These new trails see the first formal mountain biking facility at Delamere Forest and as such we are redesigning our maps and signage, so please bear with us whilst that is underway. 
Trail information
Delamere Forest, Linmere, Delamere, Northwich, CW8 2HZ
Please look out for other users when joining the Grey trail from Blue sections.
Grey trail has a long route (10km) and a shorter route (7km). The Blue trail has 10km or 7km options, both include 4km of Blue-graded singletrack.
The Grey route is suitable for all, the Blue sections are suitable for people with a bit more off-road cycling experience
Bike hire is available on site from Delamere Bike Hire