The nation's forests and facilities are open, but please follow government coronavirus guidelines when planning your visit
-
read our coronavirus guidance.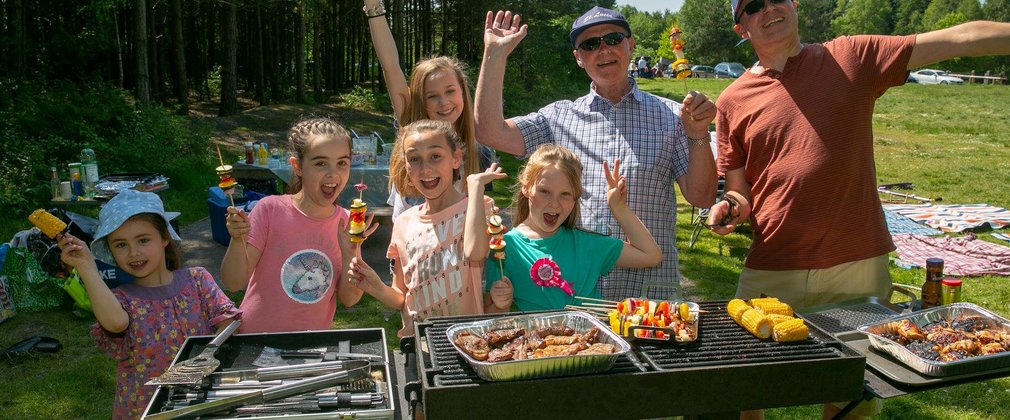 We are sorry but you cannot BBQ in our forests at this time.
This is to help support social distancing while our sites are very busy and to help prevent forest fires. 
Our bookable BBQs are closed. Please do not use your own disposable BBQ.
 
Enjoy a tasty treat in the forest at one of our beautiful barbecue stands, just bring along good food and company!
High Lodge has eight barbecues available for you to book. Choose either a small barbecue catering up to 12 people or a large barbecue ideal for about 20 people. The barbecues are yours to use all day (from 11.30am until 1 hour before site closure) and are bookable up to 3 months in advance. Disposable and portable barbecues are not allowed.
Barbecue hire prices are £18 for a small barbecue or £30 for a large barbecue off peak season. Peak pricing applies to weekends and school holiday dates between March and September of £26 for a small barbecue and £38 for a large barbecue.
Don't forget to bring your own charcoal and tools!
Please note that there is no vehicular access to any barbecues but you can park close to numbers 3 to 8.
In order to protect this special landscape from the risk of fire please follow our guidance
Only use barbecues where allowed
Never leave the barbecue unattended
Make sure that all rubbish is taken away with you
The collection of wood from the forest is not permitted, please do not use it to add fuel to your barbecue
Open fires are not allowed 
Full terms and conditions apply 
Useful information
High Lodge, High Lodge, Thetford Forest, Brandon, IP27 0AF
Disposable and portable barbecues are not allowed. Please tidy up after yourself and take all litter away with you.
You will need to book in advance, to check availability and to make a booking please visit our online Box Office.