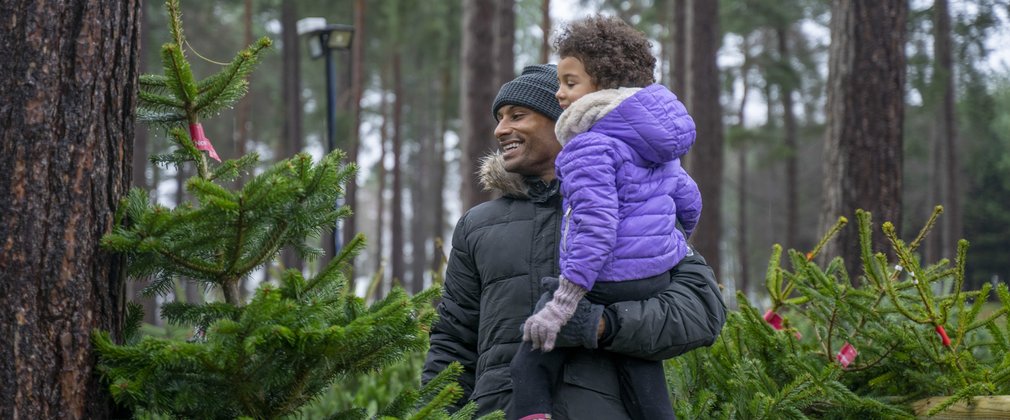 Looking for a real Christmas tree near you in Dorset or Hampshire?
Visit us for a wonderful experience and the highest quality, British Christmas trees. 
Choose your tree in our spacious open-air Christmas Tree Shop and browse hundreds of spruces or firs, as well as small potted trees and Christmas wreaths. 
Open from 26 November, 10am - 4pm, 7 days a week. Park for free when you buy a tree!
Our trees
Nordman Fir, 5 - 8ft
Norway Spruce, 5 - 8ft
Potted trees
Make a day of it and get in the festive mood whilst you are here. Join in with our festive activities; enjoy a hot drink or food from our cafe with delicious festive meal options available, try our Superworm trail with the children, take a peaceful wintery walk around the forest, or try a Go Ape Adventure - swing from the treetops or bounce around on Nets Adventure.
Contactless payments are encouraged along with bringing your own blanket or sheet for a more sustainable Christmas purchase. 
What makes our Christmas trees so special?
Quality: Our high-quality trees are Grown in Britain certified - so you can be proud of your superior quality tree
Experience: Choose your tree from a beautiful forest location to kick off your Christmas celebrations 
Expertise: With 100 years of forestry experience, our experts can help you choose the right tree for your home

Support your forests:

The money raised from your Christmas tree helps us maintain the forests for wildlife, for you, and for future generations
Moors Valley is open every day during the festive season, except Christmas Day. Opening times for some attractions will vary - please check our Christmas opening times for details. 
There is lots of festive fun for all the family at Moors Valley Country Park and Forest! For more information on all our exciting Christmas events and activities, please visit the Moors Valley Country Park website. 
More information
Moors Valley Country Park and Forest, Horton Road, Ashley Heath, Nr Ringwood, BH24 2ET
Costs vary depending on the size and species of tree you choose. Contactless payments are preferable.