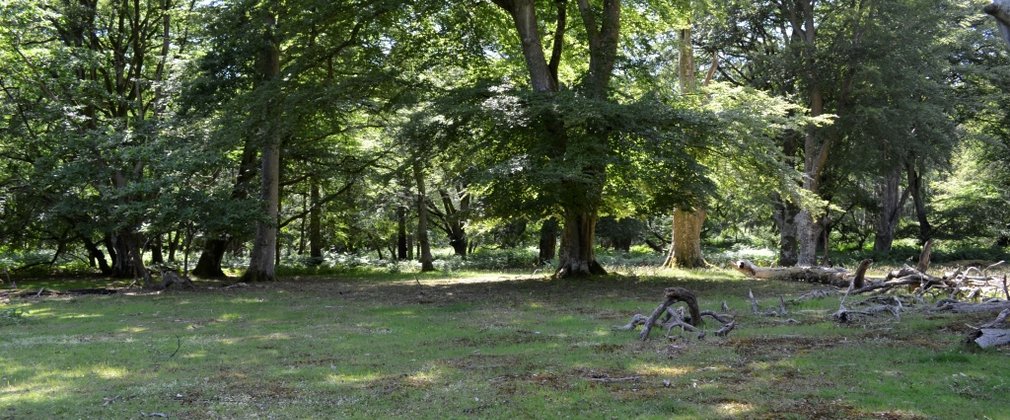 Bolderwood to be part of Ancient Canopy to celebrate The Queen's Platinum Jubilee
Forestry England is delighted that its Bolderwood site in the New Forest has been chosen as part of a nationwide network of 70 Ancient Woodlands to be dedicated to The Queen in celebration of the Platinum Jubilee.

The Queen's Green Canopy recently announced the network of 70 Ancient Woodlands and 70 Ancient Trees across the United Kingdom which will form part of the Ancient Canopy to celebrate Her Majesty's 70 years of service.

The initiative was launched by His Royal Highness The Prince of Wales, who is Patron of The Queen's Green Canopy, under one of the Ancient Tree dedications - the old sycamore located at Dumfries House in Scotland.

Bolderwood contains some of the oldest Douglas fir trees in the New Forest with some dating back as far as 1860.  South of Bolderwood car park lies an extensive area of ancient and ornamental woodland, which has a wonderful mixture of native trees that is open to local peoples' grazing animals.  It has many veteran trees growing that are home to rare wildlife and plants. These big, old trees provide a vital link to the landscape's history, when it was a Royal Forest and deer park.
The New Forest has a fascinating history and Bolderwood has direct links to The Crown. The earliest record of a royal hunting lodge at Bolderwood dates to 1325 and the reign of King Edward II.  A lodge existed on the site in various forms until the 18th century when it was demolished.
Craig Harrison, Forestry England's Deputy Surveyor for the New Forest said:
"We're absolutely delighted and honoured that Bolderwood has been chosen to be part of the Ancient Canopy. It recognises the woodland's special features and historic royal connection.

"It's a tribute on behalf of the whole New Forest community, dedicating this woodland to The Queen in honour of 70 years of service to her country.

"The tribute is also a credit to my Forestry England colleagues who work extremely hard to look after the New Forest and carefully plan and expertly manage this area for future generations to enjoy."
Established over hundreds of years, the chosen woodlands and trees represent the diverse canopy of the four nations, it is a celebration of our living heritage. All the woodlands and trees have a story to tell. Some are famous specimens and others have a local significance.

These ancient natural spaces hold significance and meaning for so many people in many different ways. They are symbols of community pride, places to connect socially and vital spaces for health and wellbeing activities. By sharing the stories behind the ancient woodlands and trees, as well as the incredible efforts that are made to protect them, The Queen's Green Canopy aims to raise awareness of these treasured habitats and the importance of conserving them for future generations.
Background
The Queen's Green Canopy (QGC) is a unique tree planting initiative created to mark Her Majesty's Platinum Jubilee in 2022, which invites people from across the United Kingdom to "Plant a Tree for the Jubilee". https://queensgreencanopy.org/

The 70 Ancient Woodlands and 70 Ancient Trees As well as inviting the planting of new trees, The Queen's Green Canopy will dedicate a network of 70 Ancient Woodlands across the United Kingdom and identify 70 Ancient Trees to celebrate Her Majesty's 70 years of service. Inclusion on the QGC list is a symbolic gift which involves the voluntary dedication of forests and woodland – there is no land/title transfer.

The nominated Woodlands and Trees met a specific criterion set out by the QGC. There is no set age for a tree to be considered ancient, as different species age at different rates.

Further information is available here: https://queensgreencanopy.org/ancient-trees-and-ancient-woodland/

The dedicated trees and woodlands occur in rural and urban spaces, natural and planted settings. There is a range of ownership including large landowners, local authorities and private individuals.
Notes to Editor
Image credits:
Bolderwood's ancient canopy, copyright Forestry England
Forestry England volunteer engaging with family at Bolderwood
Bolderwood walking trail, copyright Nick Whittle
Forestry England's Bolderwood sign, copyright Forestry England
For more information about Bolderwood please visit:

https://www.forestryengland.uk/bolderwood

Forestry England manages and cares for the nation's 1,500 woods and forests, with over 296 million visits per year. As England's largest land manager, we shape landscapes and enhance forests for people to enjoy, wildlife to flourish and businesses to grow. We are continuing the work we have already started to make the nation's forests resilient to climate change and by 2026 we will:   
create at least 6,000 more hectares where we integrate wilding activities in our productive forests. 

increase the diversity of visitors to the nation's forests and have one million hours of high-quality volunteer time given to the nation's forests 

plant at least 2,000 hectares of new, high quality, predominantly broadleaf woodlands 
For more information visit forestryengland.uk. Forestry England is an agency of the Forestry Commission.
Media contact:
Esta Mion, Communications Manager, Forestry England, South District
m. 07900 137 957 e: Esta.Mion@forestryengland.uk