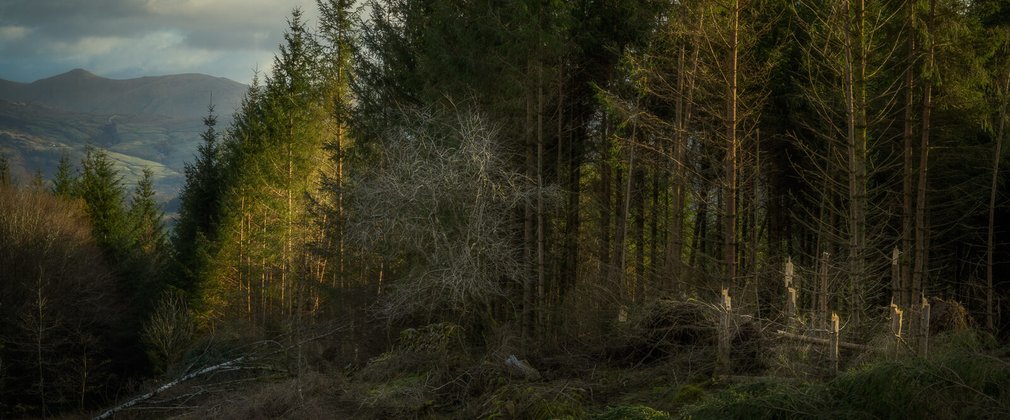 Forest resilience at the heart of Earth Photo Changing Forests winning image
The impact of Storm Arwen and the forest regeneration process it accelerated is depicted in the winning image in the Changing Forests category of this year's Earth Photo, the international competition and exhibition created by Forestry England and the Royal Geographical Society (with IBG). Photographer David Rippin's image of a Lake District forest with windblown silver birch and the snapped trunks of spruce trees in the aftermath of the storm was announced as category winner at the RGS at an awards evening last night. The overall competition winner was Mohammad Rakibul Hasan for his pair of photos documenting the devastating effects of climate change in Bangladesh.
Though named 'Destruction', David Rippin's winning image shows the cycle of forest renewal and regeneration which follows the storm, a theme also referenced in other images which were shortlisted for the Changing Forests category award. Robin Dodd's 'Time to Grow' shows a fallen beech trunk on the forest floor beginning its new role providing habitat and valuable ecosystem services to the surrounding woodland. And the role of trees in absorbing carbon is the focus of Roberto Bueno's 'Wind energy and trees: allied against climate change" which captures a lone pine tree alongside a wind turbine, highlighting the part both are playing in tackling the climate emergency.
An exhibition of the shortlisted works is at the RGS in London and a touring exhibition of selected images has opened in the first two of six Forestry England sites. The touring exhibition will display 29 of the 55 final shortlisted entries by 35 different artists, allowing visitors to view the stunning images taken from the five Earth Photo categories, People, Place, Nature, Changing Forests, and A Climate of Change. Four of the Forestry England exhibitions are staged outdoors, giving visitors a chance to view them in the heart of the forest landscape.
The entries were judged by an expert panel of photographers, curators, geographers, environmentalists, filmmakers and writers, chaired by award-winning photographer Marissa Roth.
Mike Seddon, Forestry England Chief Executive, said:
"It's fascinating that the power and impact of Storm Arwen, which we and the forestry sector continue to respond to, is a focus of several entries in Earth Photo this year. These images show not only the storm's destructive impact of but also the recovery that follows as forests and woodlands begin their process of regeneration. This mirrors the work we're doing in the nation's forests to enable their resilience and recovery and support them to cope with the increasing pressures of climate change and pests and diseases in the decades ahead."
Notes to Editors
Earth Photo images with photographers' background and credit information are available to download here.
The Earth Photo exhibition is at the Royal Geographical Society (with IBG) in London until 26 August and is touring six Forestry England sites: Moors Valley Country Park and Forest, Dorset/Hampshire from 11 July to 19 September, Bedgebury National Pinetum and Forest, Kent from 20 July to 10 October, Dalby Forest, North Yorkshire from 12 September to 1 January 2023, Haldon Forest Park, Devon from 3 October to 4 January 2023, Fineshade Wood, Northamptonshire from November to March 2023, and Grizedale Forest, Cumbria from 19 December to 23 April 2023. Full details are on the Forestry England website.

Forestry England manages and cares for the nation's 1,500 woods and forests, with over 363 million visits per year. As England's largest land manager, we shape landscapes and enhance forests for people to enjoy, wildlife to flourish and businesses to grow. We are continuing the work we have already started to make the nation's forests resilient to climate change and by 2026 we will:   
create at least 6,000 more hectares where we integrate wilding activities in our productive forests. 

increase the diversity of visitors to the nation's forests and have one million hours of high-quality volunteer time given to the nation's forests 

plant at least 2,000 hectares of new, high quality, predominantly broadleaf woodlands 
For more information visit forestryengland.uk. Forestry England is an agency of the Forestry Commission.
Earth Photois an innovative international photography competition and exhibition developed jointly by Forestry England and the Royal Geographical Society (with the Institute of British Geographers). The project reflects the organisations' common interest in enabling a better understanding of the world around us through their complementary disciplines of the Environment and Geography. https://www.earthphoto.world/home

Earth Photo judges: the shortlisted artworks and the winners are selected by an expert panel of photographers, curators, geographers, environmentalists, filmmakers and writers, chaired by award-winning photographer Marissa Roth and including; Guillaume Bonn, Photographer; Katie Burton, Editor, Geographical Magazine; Martin Hartley, Photographer; Chloé Lefèvre, Colours and Materials Manager, Jaguar Land Rover; Sara Lindström, Photographer; Claire McNulty, Senior Director Europe, National Geographic Society; Tim Mitchell, Photographer; Ope Odueyungbo, Photographer; Basil Pao, Photographer, Director of Programmes, Royal Photographic Society; Dr Michael Pritchard FRPS; Ted Soqui, Photographer

Royal Geographical Society (with the Institute of British Geographers)is the learned society and professional body for geography. Formed in 1830, their Royal Charter of 1859 is for 'the advancement of geographical science'. Today, they deliver this objective through developing, supporting and promoting geographical research, expeditions and fieldwork, education, public engagement, and geography input to policy. They aim to foster an understanding and informed enjoyment of our world and hold the world's largest private geographical collection and provide public access to it. They have a thriving Fellowship and membership and offer the professional accreditation 'Chartered Geographer'. www.rgs.org
Parker Harris:Emma Parker and Penny Harris created Parker Harris in 1990. Their partnership is now one of the leading visual arts consultancies in the UK. A small dynamic team, they pride themselves in expert creation and project management of visual arts projects spanning all disciplines and all scales. Their clients range from trusts and foundations, SMEs and multinationals to charities, arts organisations and individual artists. www.parkerharris.co.uk
Media contact: 
Naomi Fuller media@forestryengland.uk mobile: 07825 255618