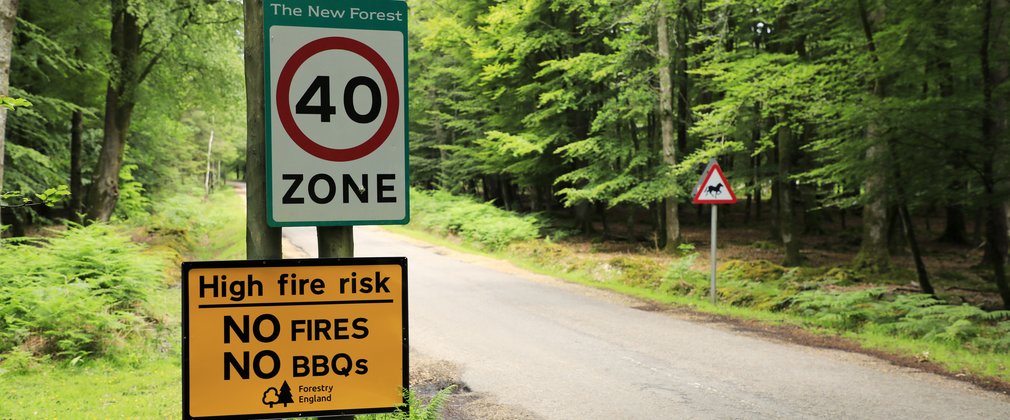 No barbecues or fires allowed in the New Forest
Wildfires have the potential to completely devastate and destroy – as we saw in nearby Wareham Forest last year in a fire believed to have been started by disposable BBQs that blazed for 2 weeks – help us STOP it from happening here and keep the New Forest safe for everyone. Most wildfires are caused by small fires in the open that spread, combined with a sustained period of hot, dry weather. The careless actions of people not correctly respecting the countryside code could impact the environment for decades to come.
Please help us to protect this special landscape.
To help prevent dangerous forest fires, the New Forest is a no BBQ and fire zone – BBQs and campfires are not permitted in car parks or other areas of the forest managed by Forestry England and all BBQ facilities have been removed at our sites. Protecting the New Forest from the risk of wildfires is everyone's responsibility.
What do I do if I see a fire or BBQ?
If you see a fire, get to a safe place and call 999 immediately.
To report a BBQ or other naked flame call 0300 067 4600 (24 hrs). The call handler will pass the details to our Duty Officer.
What actions will you take if you find people using BBQs on the Forest? How will you enforce the rule?
We have removed all our BBQ stands and facilities in the New Forest and have put highly visible signage at these and other locations across the Forest to make people aware of the ban. We also have no BBQ signs at most of our car parks including at the entrances when people arrive.
Last year, joint patrols supported by Forestry England, The New Forest National Park Authority and Hampshire Fire and Rescue Service teams were carried out across the Forest. These particularly focussed on hotspots, at peak times and when the weather was good. On just one weekend during the summer these teams spoke to hundreds of people and put out over 60 BBQs. We will be carrying out these joint patrols again this year and working hard to ensure as many people as possible are aware of, and observe the ban.
Can I still use cooking facilities within a campervan in the forest?
Disposable BBQs are not permitted anywhere in the New Forest Crown Lands and this includes use within or close to vehicles. Facilities within the campervan itself, such as inbuilt gas stoves, can be used for cooking but these must not extend outside of the vehicle. All waste materials must be taken away to be disposed and not left on the Forest or within car parks.
Why are you still allowing BBQs to be used at campsites in the heart of the New Forest?
Only BBQ's and stoves that are raised off the ground can be used on official campsites within the heart of the New Forest (those operated by Camping in the Forest – Aldridge, Ashurst, Denny Wood, Hollands Wood, Holmsley, Longbeech, Ocknell, Roundhills, and Setthorns). These are managed and patrolled areas and have a series of fire measures in place including metal containers for hot coals to ensure their correct and safe disposal, water points and fire-fighting equipment, and regular patrols by campsite staff.
Disposable BBQs are not permitted at these locations in line with the rest of the New Forest Crown lands. These campsites have Camping in the Forest staff onsite at all times and local staff raise the profile of safety messages.