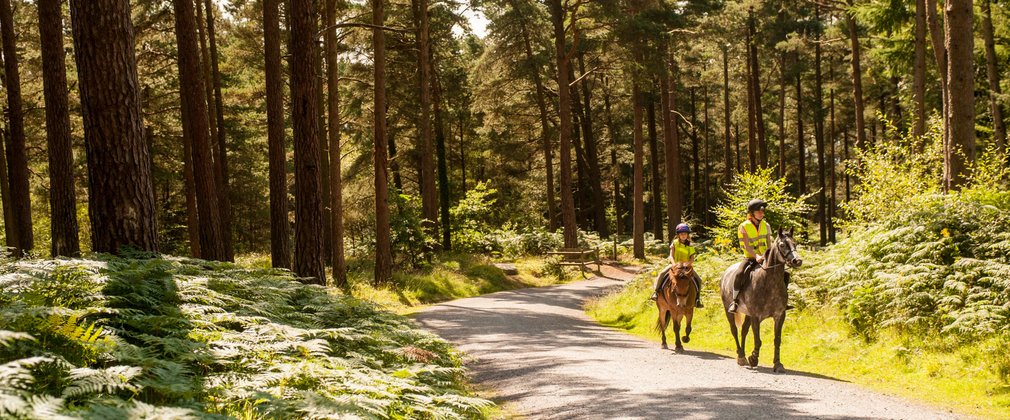 Horse Riding at Sherwood Pines
There is path upon path of beautiful woodland to ride at Sherwood Pines.
We welcome horse riders to come and explore the forest but as an extremely busy site there are a few guidelines we ask you to follow. The best place to ride your horse at Sherwood Pines is the outer areas of the forest. Sherwood Pines is a popular site for walking, fast mountain biking and dog walking and so please refrain from riding in the busier areas of the woodland (around the main visitor centre area) and make sure you avoid the cycle or walking trails.
The best time to visit us with your horse is at off-peak times (during school term time or before 10am and after 5pm at weekends and school holidays). Parking is in the outer areas of the car park, where you will have more room to load and unload.
We know that sometimes mistakes do happen and you can inadvertently find yourself using the wrong trails so before you unload your horse from your vehicle, please make sure you pop by the Visitor Information Point, our team can advise you of the best routes to take, and of any forest works with large machinery that may currently be taking place that you may wish to avoid.
If your horse is spooky or of a nervous disposition, you may wish to consider using one of the many quieter woodlands. There are a number of local woodlands that welcome horses, some of which offer dedicated horse facilities. These include Blidworth Woods, Thieves Wood and Hicks Lodge in the National Forest.
Horse riding at Sherwood Pines is by permit only, you must purchase a membership to ride here. Find out more
Activity Information
Sherwood Pines, Kings Clipstone, Nottingham, NG21 9JL
Horse riding at Sherwood Pines is by permit only.
Recommended riding times are off-peak only.
Please visit the Info Point before unloading your horse.