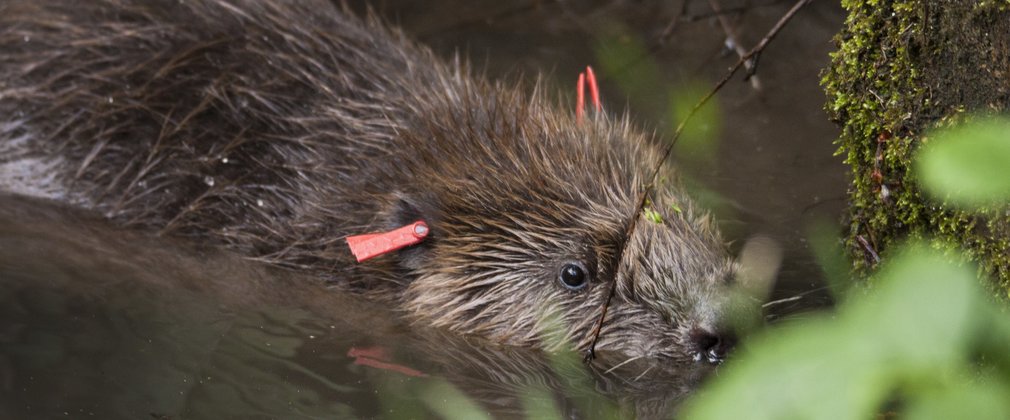 Body
Project information
The Eurasian Beaver is a large, semi-aquatic mammal that was once widespread throughout Britain. They were hunted to extinction by the beginning of the 16th century for their meat, fur and scent glands. 
Our original pair of beavers was introduced into Greathough Brook in July 2018, but unfortunately had to be relocated due to the outbreak of disease. A new pair moved in during the autumn of 2019, this page outlines their story. 
Upon release our beavers began to cut down trees almost immediately to access food and to provide material to build dams and lodges. Their dams create pools and wetlands which will, over time, increase water storage; slow water flows and improve water quality by filtering sediments and pollutants. In turn this will provide habitats for the species that once thrived in this area.
The beavers are enclosed within 6 hectares of woodland within a specially designed fence that prevent the beavers escaping into the wider Forest of Dean.  The stream culverts, a structure that allows water to flow under a trail or similar obstruction from one side to another, are also grilled to ensure the beavers cannot move upstream or downstream into the wider catchment.  The fence is boar proof to prevent boar accessing the beaver habitat.
Beavers are currently living wild at various sites in the UK, including under licence at Knapdale in Scotland and on the River Otter in Devon. Here in the Forest of Dean, however, the beavers will be enclosed so that we can monitor the changes that take place to the biodiversity, habitats and water quality and flow rates. The data we gather will provide evidence to determine their impacts of beavers on the wider landscape. 
Data received from the University of Exeter shows storm water flow rates have reduced by 30% thanks to the beaver dams. Over 1000m3 of surface water is retained in the beaver ponds, pools and channels and we have seen an increase in aquatic plant species within the enclosure.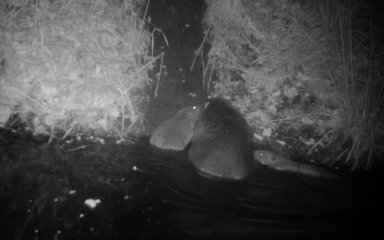 Project update - June 2023
Two baby beavers have been born in the Forest of Dean! The baby kits were born in April and appear to be healthy and happy. Kits stay in their lodge for 1-2 months after being born, and so our team had to wait patiently to see if a new family would emerge this summer. 
These are the first kits to be born in the Forest of Dean as part of the Greathough Brook project, and follows the introduction of a new female by the Beaver Trust last October. 
July will mark 5 years since the Greathough Brook beaver project began, and what better way to celebrate than with the birth of two baby kits. We are also celebrating as this year we have been given a 5-year licence to continue the project.  
We will be monitoring to ensure the beavers and their new kits remain healthy, and we are excited to see the increased positive environmental impact that the larger family will have.
Project update - January 2023
Last summer we grew concerned for one of the beavers at Greathough Brook. The female had not been seen on our trail cameras and so we increased our monitoring on the site.
Working with the Beaver Trust, the male beaver had his ear tags replaced and had a welfare check. He was found to be very healthy, putting on 6.5kg since being released.
Sadly, there was no sign of the female, and so we believe that she passed away. She would have been 6 years old.
Beavers live in family groups, so we set to find the male a companion. The Beaver Trust were able to relocate a female from Scotland and she was introduced in October.
They found each other quickly and on the second night one of the trail cameras captured them together. Since their first meeting they have been busy working together, making another new dam, maintaining the existing ones, felling trees and grooming each other. All good signs that they are forming a pair.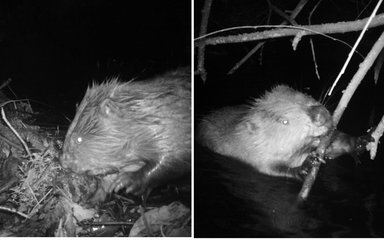 Project update - January 2020
After a pause in the project, two beavers are again calling Greathough Brook home.
The male and female beavers were released into the enclosure separately in early autumn last year. Captured from different areas of the river Tay in Scotland, they had been living alone without a mate.  
With help from Scottish Natural Heritage the animals were captured before visiting a specialist facility at the Five Sisters Zoo.  The team at Five Sisters Zoo carried out all the necessary health checks before the beavers made the long journey to the Forest of Dean.
The female beaver was the first to arrive and settled in well before being joined by the male a few weeks later.  Careful monitoring by our staff revealed both beavers have settled in well with new footage released showing dam building and tree felling.
Eurasian beaver facts
They create habitats which are vital for a range of mammal, insect, reptile, fish and bird species 
The build dams when the watercourse is shallow to give them a suitable living habitat
The have a positive impact on fish populations
They live in lodges constructed from harvested timber and mud
They can grow as large as a labrador but with shorter legs
They create wetlands which benefit water retention, storage and water quality
They tend to pair for life and have one litter a year, typically of one to four kits
Eurasian beaver myths: 
They don't eat fish - they are 100% vegetarian!
They don't have a significant impact on forestry and agriculture
They don't carry wildlife diseases which aren't present in the UK or are commonly transmissible to humans or domesticated livestock
They don't burrow in flood defence structures where flood banks are more than 30 meters back from watercourses
Can you spot the beavers?
The best time to spot the beavers at Greathough Brook is during the spring and summer months during early mornings or evenings when they emerge from their lodges. Visitors can also visit the site to see what habitat changes the beaver have made on the forest.