We don't stop playing because we grow old; we grow old because we stop playing.
Play for your wellbeing 
This summer we are all set to get you in the mood to play! We want everyone, young and old, to be guided by their inner child.
Somewhere between childhood and adulthood, we stopped playing. As adults, many of us focus heavily on work and other commitments that we never seem to have time for pure fun, especially like we used to. 
So build a fort, run a race, play catch, chase the kids or your dog and give yourself the chance to connect with nature in a fun way. 
Remember, you're never too old to play!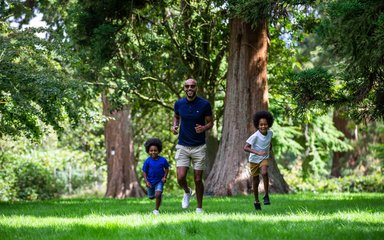 Why is play good for adults too?
Play helps us relieve stress by releasing endorphins, the body's natural feel-good chemicals. 
It helps us improve our connection to each other (and trees). Sharing fun creates trust and closeness with others. Play doesn't have to be an activity; it is a state of mind. 
It encourages creativity! Children often learn best when they are playing— this applies to us big kids too. You might learn something better when it's fun or when you are feeling relaxed. 
Keeps us young Play can boost your energy and vitality and even improve your resistance to illness and disease!