What's looking good
Our Window on Westonbirt Volunteers have explored the Arboretum this week to inform our visitors of the following not to be missed seasonal highlights.
Use Arboretum Explorer to help you discover more tree locations around the arboretum.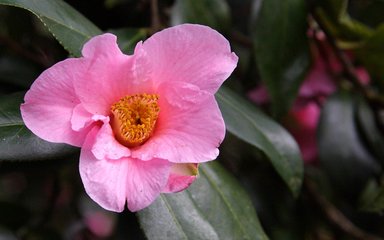 Camellia
Despite the cold winter days there are still lots of interesting specimens to be found in the arboretum.
This week's show-stopper is 'Bow Bells', one of the earliest flowering camellias of the year (Camellia x williamsii 'Bow Bells'). Its masses of cheerful pink trumpet-shaped flowers can be seen in Savill Glade in the Old Arboretum and Sand Earth in Silk Wood.
Map grid ref: 18G 21M, 18F
Witch hazel
There are several Witch hazels flowering at the moment. A hybrid (Hamamelis x intermedia cv) has red-orange flowers and will flower from now until early spring. You can find it at the start of Circular Drive, behind the Great Oak Hall.  
Map grid ref: 18G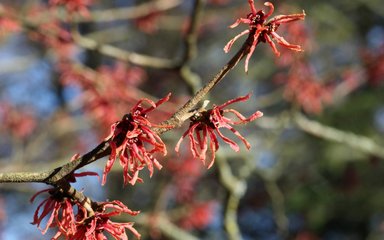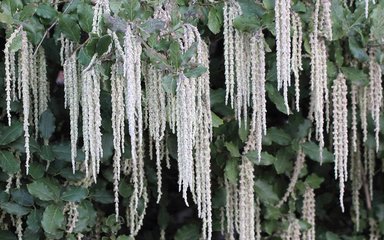 Silk tassel bush
Cascades of long soft grey-green catkins adorn the superb winter-flowering Silk tassel bush (Garrya elliptica 'James Roof') from January to March. The intensely bitter leaves have been used as a substitute for quinine. It can be found off Loop Walk in the Old Arboretum.
Map grid ref: 25C