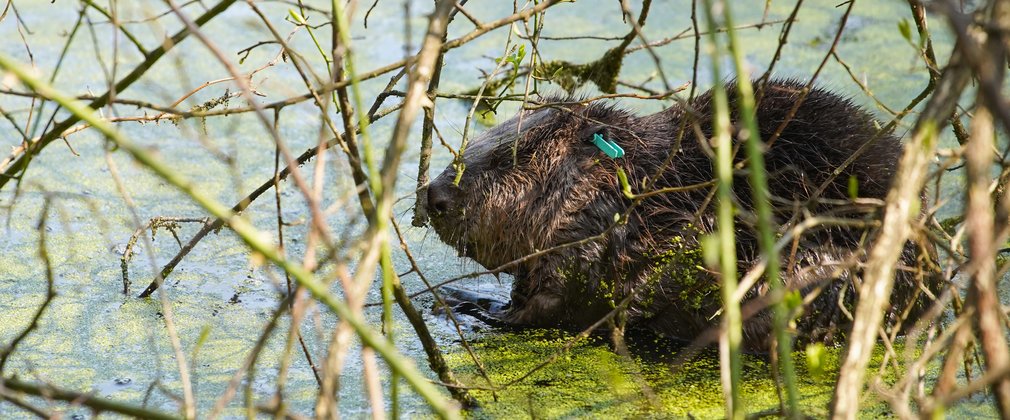 Body
Project Information
Forestry England and Natural England are working together with experts at the Beaver Trust, to bring beavers to Wyre Forest. The project is currently in its early stages, so check back here for updates.
Plans are in place to introduce two adult beavers into a fenced enclosure in Spring 2024. This enclosure will be approximately five hectares in size, and will be located along a tributary close to the Dowles Brook, to the north of the disused railway.
This autumn, there will some tree felling to make space for the enclosure fence. We are aiming to install the fence towards the end of 2023.
Tree felling is dangerous, so please follow all safety signage and any instructions.
Why introduce beavers?
Beavers are well known for their ability to fell trees which they commonly use to dam shallow watercourses to create pools to make them feel safe.  The associated wetlands, interconnecting beaver canals, coppiced woodland, glades and deadwood provides rich and diverse habitat for numerous species of wildlife.
The beaver's dam building behaviour also help to alleviate this flooding by holding larger volumes of water in the natural pools. The dams are permeable allowing water to be gradually released downstream so the dams will slow the flow of water.  
This is important for our woodlands, slowing the flow of water at times of heavy rainfall can help with flowing downstream, and holding water in woodlands high in the catchment could help in times of drought.
They were once hunted to extinction but we are now working to reintroduce them across the country. After successful projects in the Forest of Dean and Yorkshire, Wyre Forest has been identified as a perfect place for beavers.
If you have any questions about the project, please contact: wyre@forestryengland.uk