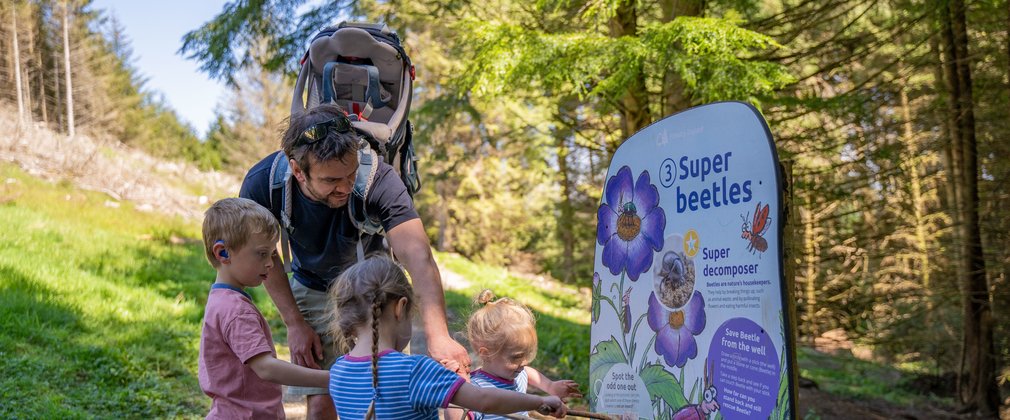 Frequently asked questions
We are excited to introduce a new national membership offer to sit alongside our existing membership offer. You can choose between a local and national membership depending on your preference.  Follow the below links to answer some of the questions you may have.
I have a different question which isn't covered here
We have other FAQs about more general members queries, please visit our other FAQs page here. If these still don't help you, you can email us at membership@forestryengland.uk and we'll be happy to help.
1. What is the Forestry England national membership?
Forestry England national membership expands on the existing membership offer that Forestry England already runs with individual forests. Alongside other benefits, national members have the opportunity and freedom to use all of our paid for car parks for free.
National membership also helps members understand and feel closer to our wider work managing and supporting England's breath-taking forests through frequent and personalised communications across email, a welcome pack and through special and exclusive member events.
2. How does it differ from the existing membership scheme?
Local membership is perfect for those who love and wish to visit only a specific forest, usually local to them, and therefore build a closer connection with that specific forest. National membership is for people who not only visit their local forest but would like to explore forests further afield in their region and across the country.
As a member of your local forest, you'll receive emails and communications designed to help you connect with and enjoy that specific forest. As a national member, while we will occasionally send you communications about the forest you've let us know is your most local/preferred forest, our aim is to help you feel closer to our wider work managing and protecting forests all over England, as well as letting you know what's on and how you can explore other forests.
3. What forests can I visit as a national member?
Forestry England manages well over a thousand forests across the country. Most of these are free to visit and have varying levels of access, depending on factors such as their function as more recreational spaces or spaces for harvesting timber.
34 sites across the country, including some of the most well-known forests, require visitors to pay for parking in order to visit. As a national member, you can avoid the charges for parking your car at all of the forest car parks we manage across the country. If you'd like to see a map of the forests for which you would otherwise need to pay a car parking charge, please visit our local membership page. And for further information about car parking for members, please visit our other FAQs page here.
4. Are there any exceptions or special rules for visiting certain forests?
Westonbirt, the National Arboretum, Gloucestershire
The only Forestry England site that has special access restrictions for national members is Westonbirt Arboretum in Gloucestershire. We have an arrangement with this site that enables members to enjoy a one-day 'family pass' to visit the Arboretum during your membership year. This visit must be pre-booked online ahead of your visit (can be booked up to 7 days in advance).
If you are someone who visits Westonbirt Arboretum regularly or you wish to support Westonbirt's conservation, education & participation work and access FoWA benefits including unlimited access, we would recommend joining the Friends of Westonbirt Arboretum membership scheme instead of the Forestry England national membership. While we are aware that Friends of Westonbirt Arboretum members might also like to visit forests further afield, unfortunately we currently don't have an arrangement that would enable unlimited access to both Westonbirt Arboretum and other Forestry England sites under a single scheme.
Forest car parks that are not free for national members
There are a select few car parks near Forestry England sites at which national members will still need to pay to visit. This may be because of some car parks being under ownership of a third-party operator, such as a local council. The following forest car parks are not free to park at for any of our members:
Guisborough Forest, Teeside/North York Moors
Rosliston Forestry Centre, Swadlincote
Thames Chase, Essex
5. What other benefits are there for national members?
Beyond offering members the opportunity and freedom to visit forests all across the country, Forestry England national membership is all about getting to know and feeling closer to our amazing forests. As a national member, you will receive a beautiful welcome pack that will help guide you over what's on offer and some highlights we recommend across England, including a fabulous map and seasonal calendar that you can put on your wall.
You will also receive regular emails and updates from Forestry England, helping inspire you to go out visiting, while also helping you become an expert on forest life – from what to see in bluebell season, to the life cycle of a tree, to what changes are happening to our forests as the climate warms.
We are also looking to launch an annual programme of online talks and exclusive digital and in-person events for members in 2023 that will allow you to meet our frontline staff managing and protecting our forests and giving you the chance to find out all the weird and wonderful facts about the forest as a community of people who love and support them.
6. When will national membership be possible to purchase?
National membership is now available to purchase. Find out more information and links to purchase it here.
7. How much does national membership cost?
Forestry England national membership is priced at £94 for the year. Please remember that this price covers membership for your household, not a single 'member', so you can think about it more as a family membership, rather than an individual membership. This is because, as with local forest membership, your membership enables free car parking access to Forestry England sites, rather than something to scan per individual visiting.
8. Will I be able to move from local membership to national membership at any point in the year?
No, unfortunately our membership system isn't capable of letting you make this change mid-membership. It is advisable to wait until your current membership expires and then move to national of membership. If this really isn't feasible for you, then you can contact us directly to seek further advice and we'll do our best to assist you.
9. Can I give national membership as a gift?
You can. As with local membership, you can purchase a national membership gift voucher for a friend or family member to apply whenever they wish to start their membership year, making Forestry England national membership the perfect Christmas or birthday gift for anyone who adores exploring and learning about nature, taking on new skills (such as cycling), or simply wishes to find regular places to escape from all the noise and bustle of their everyday lives.
10. I have a gift voucher for a specific local membership, but want a national membership instead, can I still use my voucher towards this?
Yes you can, but you will need to contact us by phone to make the arrangement rather than trying to redeem your voucher on-line. Voucher redemption via our website will only work for a membership specific to the voucher type and location purchased for you. Prices of local membership vary by location, so the value of the voucher will match the local membership selected for you. You will still need to pay the balance between the local membership price and the national of membership.