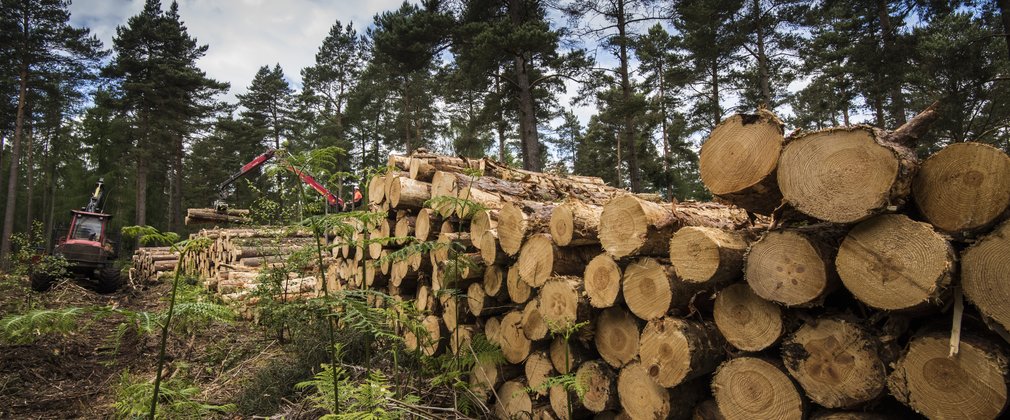 Buy sustainable Forestry England timber
We sustainably harvest about 1.2 million tonnes of wood every year from England's public forests. The timber provides low-carbon materials for construction, packaging, paper production and energy.
The UK relies on imported wood for 80% of our needs and our timber production helps our resilience to changing international circumstances. It also supports rural employment with well paid jobs.
We encourage the development of healthy and competitive timber harvesting and wood processing industries in England. Our policy is to market our timber to give every customer an equal opportunity and to optimise our financial return as the income helps offset the costs of managing forests sustainably.
Marketing plan
The Marketing Plan shows how we intend to allocate our total yearly volume production between the six Forestry England national online sales events and the annual Hardwood Auction organised by Newland Rennie Auctioneers.
The volumes we plan to market at each sale event are also split between the Direct Production of round timber products and Standing Sales.
Due to Storms Arwen and Eunice, and the resulting damage to the forests and woodlands, actual volumes offered in some national sales events may be less than originally planned as we re-organise harvesting programmes. The volume shortfall will be made up throughout the course of the year in a series of local online sales.
Proposed volume (m3obs)

Sale date
District
Standing sales
Direct production
5 May 2022

Central
East
North
South
West
Yorkshire

30711
2073
47131
4428
17500
12000

18000
2693
12524
2950
2000
3600

7 July 2022

Central
East
North
South
West
Yorkshire

29000
4600
26015
6696
36000
10000

10000
5414
12524
1420
2000
4200

1 September 2022

Central
East
North
South
West
Yorkshire

16100
1500
26015
7688
15000
13500
13800
7543
12524
2750
2000
3300
3 November 2022

Central
East
North
South
West
Yorkshire

10900
0
26015
8732
10000
8300
2250
3729
13764
1100
2000
1800
12 January 2023

Central
East
North
South
West
Yorkshire

0
12500
26015
7388
10000
2500
2800
4331
12524
1280
2000
2100
2 March 2023

Central
East
North
South
West
Yorkshire

11450
0
26015
0
15000
8300
6300
5650
12524
1040
2500
3000

Hardwood Auction

24 November 2022

Central
East
North
South
West
Yorkshire

0
100
0
0
500
0
0
0
0
700
500
0