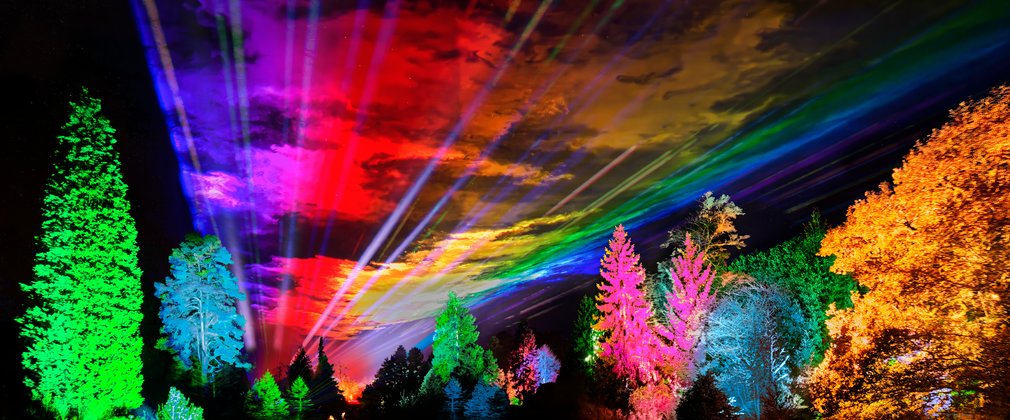 A magical trail with new lights for 2023 – an after-dark stroll through

an

iconic, illuminated

tree collection
Firmly positioned as unmissable within the UK's seasonal calendar, Christmas at Bedgebury has everything you need for an unforgettable time with friends and family, including a magical glimpse of Father Christmas along the way. Discover softly-lit doves delicately balanced on branches, reed-like neon structures, sparkling tunnels of light and the Pinetum filled with all the colours of the rainbow as you walk under Liquid Sky, just one of the new displays to see this year. 
Grab a seasonal snack from the Bedgebury café at the visitor centre or one of the hand-picked street food vendors who bring an indulgent twist to tempting treats on offer. Complete your walk under the stars with a perfectly festive *spiced winter warmer, *hot chocolate or *toasted marshmallow and share it with someone special.
Your very merriest Christmas starts here. Limited capacity with timed entry.  Book now to secure the date and time of your choice. 
*separate charges apply
Dates
Friday 17 - Sunday 19 November
Friday 24 - Sunday 26 November
Wednesday 29 November - Sunday 10 December
Tuesday 12 - Sunday 24 December 
Tuesday 26 - Sunday 31 December 
Trail entry time slots
To avoid overcrowding and ensure the enjoyment of all visitors on the illuminated trail you will need to select a time slot during the booking stage.
Time slots vary depending on the date, but generally take place every 15 minutes between 4.15pm to 8pm. Please ensure you arrive at the trail entrance promptly for your allocated start time. Advanced booking is essential. 
Prices
Tickets are priced according to the date and time slot as peak, standard and off peak. Please select the time slot you wish to book and the relevant prices will be shown. Peak, off peak and standard times vary by date. Off-peak tends to apply to mid-week and later timeslots. Peak pricing tends to apply to weekend, closer to Christmas and earlier timeslots.  
| Admission ticket type  | Peak | Standard  | Off peak |
| --- | --- | --- | --- |
| Adult | £24 | £21.50 | £19 |
| Child (3-16 years old) | £17 | £14.50 | £13 |
| Infant (0-2 years old) | Free* | Free* | Free* |
| Family (2 adults, 2 children) | £79 | £69 | £61 |
| Personal assistant | Free* | Free* | Free* |
 *there is no charge for infant or personal assistant entry but they must be booked in conjunction with a full price ticket.
All orders subject to £2.50 transaction fee.
Parking
There is a charge for parking at this special event. If you plan on arriving by car, a parking space must be purchased in advance along with your trail entry tickets online.  
Parking costs £8 per car. Accessible spaces for Blue Badge holders are available in the Visitor Centre car park. We are offering Bedgebury and National Forestry England Members one free parking space, this must be booked in advance, see below for details. 
Offer for Bedgebury & National Forestry England Members
We are offering all Bedgebury and National Forestry England Members one free parking space, when booked in advance. Make sure that you are logged in to your membership account and purchase an 'adult trail entry' and 'parking' ticket, our booking system will automatically change the price to a trail only ticket at checkout and allocate your free parking space.   
Please note, this is only available when booking tickets via Forestry England and not available in conjunction with any other offer. 
Relaxed Session
This session is for adults and young people, with additional needs, who would love to experience Christmas at Bedgebury without the usual high volumes of people. For Christmas at Bedgebury 2023, this will be held at 4pm on Wednesday 6 December.
More information & book 'Relaxed Session'
Ride Tokens
We will have two traditional fairground rides for children:
Swing boats (age restriction of 2-12 years old)
Children's toy ride (Maximum height restriction of 1.3m)
Ride Tokens are an add-on product and should only be purchased by trail ticket holders. We advise you to only pre-purchase if the age and/or height requirements are met as stated above.
Each token is priced at £2.50 and is sold in multiples of 2. Single tokens will also be available to purchase on the night on-site. 
Essential information
Bedgebury National Pinetum and Forest, Lady Oak Lane, Goudhurst, TN17 2SJ
In addition to our standard terms and conditions the following terms also apply:
*Dogs are permitted but must be kept on a short lead and under control. Please be a responsible dog owner.
*A post trail survey will be sent to the email address provided. You are under no obligation to complete the survey but doing so will help in planning future activities.
*The sale of any articles in the gangways or anywhere within the illuminated trail is strictly forbidden except with the written permission of the Organisers. The Organisers reserve the right at their absolute discretion to confiscate any such articles for infringements of the condition.
*Please check all your tickets on purchase, as mistakes cannot always be rectified