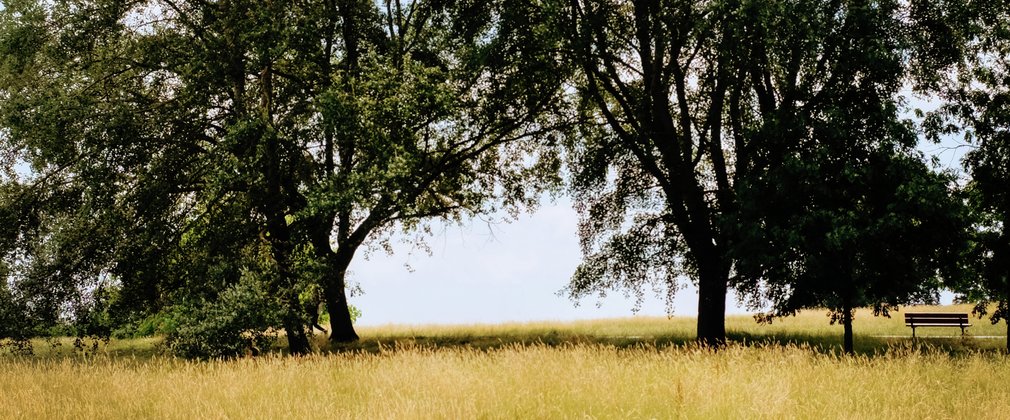 Impromptu barbeques in the park, Pimms, Wimbledon, open-air theatre, catching a tan on your lunch break! Summers in London can be fantastic but when the sweltering heat of the city becomes too much the cool shade of a forest is just what the doctor ordered.
We've pulled together our favourite forest spots within an hour of London that are ideal for an afternoon of open space and fresh air with friends or family.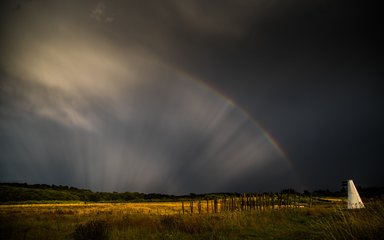 Jeskyns Community Woodland, near Cobham, Kent
27 miles from Central London
Home to 360 acres of newly planted woodlands, meadows and orchards, this beautiful location is not far from Dartford in Kent and offers activity trails, shaded walks and even a spot for the dogs to paddle. Visiting with little ones? Don't miss the Fairy and Elf Village where the kids can explore Mushroom Manor and The Old Boot Inn, whilst you enjoy a cool drink from the cafe nearby.
We recommend:
Fancy a longer walk? Take on the Darnley Trail, a 6.5m loop with stunning views of the North Kent Downs and lots of woodland to keep you cool. 
Did you know? Trees can help us to adapt to a changing climate. They provide shade, alleviate flooding, and create a valuable wildlife habitat. They also 'lock in' some of the estimated 3000 gigatonnes of carbon dioxide in the air. 
Thames Chase Forest Centre & Broadfields near Upminster, east London
23 miles from Central London
Formerly called Broadfields Farm, this wonderful forest centre is set amongst a landscape of woods, meadows, ponds and paths - perfect for staying cool this summer and adventuring out of the city. The cafe is a great little lunch stop or there are lots of picturesque picnic spots for your packed lunches.
We recommend: Feel the wind in your hair by hiring a bike on arrival and exploring the area on two wheels!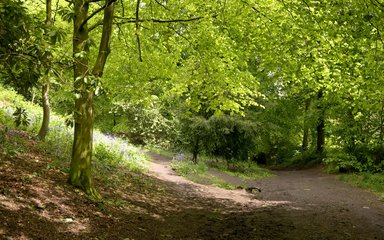 Did you know? To combat climate change, we are ambitiously planting more trees. Last year our nurseries produced nearly 16 million new trees to replant and create new areas of woodland. In the same year, we harvested 7.75 million trees for use in everything from home-building to furniture-making.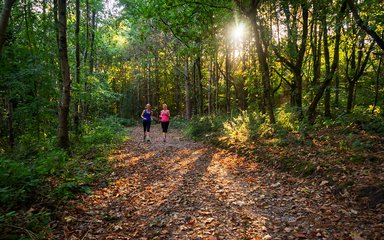 Hodgemoor Woods, South Bucks
26 miles from Central London
Much of this enchanting woodland is of ancient origin, with records of its existence dating back to the 13th and 14th centuries. Permits are available for horse riding but if you're just looking for an easy summer walk and a picnic spot, there are lots of covered trails and bridleways ready to be explored.
We recommend: Keep your eyes peeled for wildlife, this woodland has a strong population of muntjac deer that you might spot grazing on tree shoots and bark.
Alice Holt Forest, near Farnham, Hampshire
46 miles from Central London
For an action-packed day out in the forest, Alice Holt is well worth the extra journey time. With scenic walking trails, bike hire, a Go Ape Tree Top adventure course plus barbeque and picnic areas on offer, you certainly won't be short of things to do on arrival. Be sure to check their events page to see what's going on at their brand new activity centre. 
We recommend: Check out the Lodge Pond trail for 2.4 miles of scenic woodland and mature pine forest - perfect for cooling down on a summer's day.