The nation's forests are open, but please read our coronavirus guidance before you visit
-
read our guidance.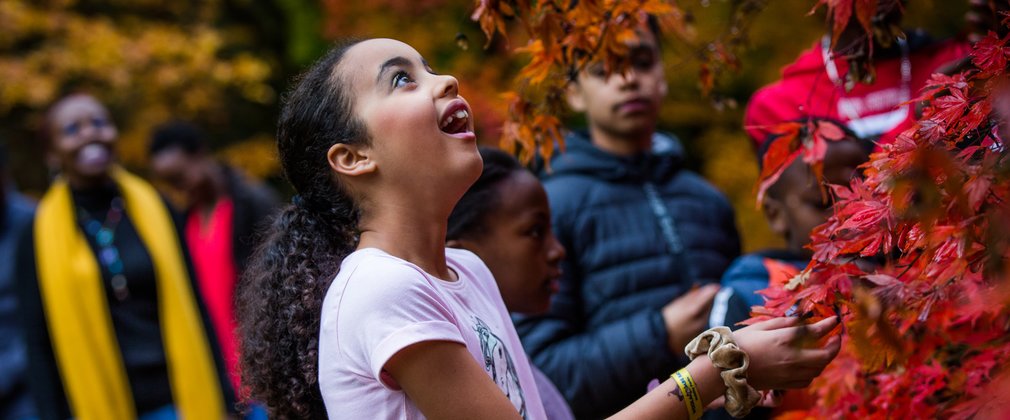 With our forests displaying a breath-taking array of colours, autumn is a beautiful season to visit the forest with your family. Hoping for some autumnal activities to do when you get here? Look no further, we have pulled together a list of the top 7 things you can to do on your autumn walk.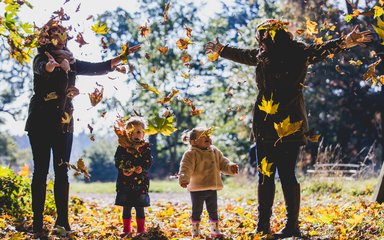 1. Stomp through leaves 
In autumn deciduous trees lose their leaves. Try gathering as many fallen leaves as you can, and have a competition to see who can build the tallest pile. Roll, jump and play in them!
Ever wondered why leaves change colour in autumn? Uncover the science behind the changing season and discover why leaves change colour in this magical season.
2. Look out for the weird and wonderful
Try looking for different coloured fungi on your walk.
Fungi like the damp conditions among the fallen leaves, which create a wonderful rich earthy smell in the forest. Remember they don't all look like mushrooms and they don't all grow on the ground – some grow on tree trunks or fallen branches.
Did you know that trees and plants talk to each other through mushrooms? Most of a mushroom's body is made up of thin threads underground. It's recently been discovered that these threads link up, acting "as a kind of underground internet", linking the roots of the trees and plants nearby and allowing them to share nutrients.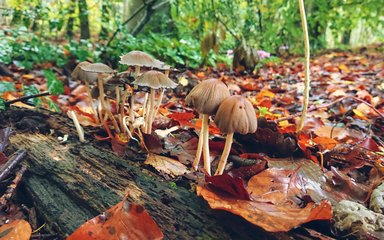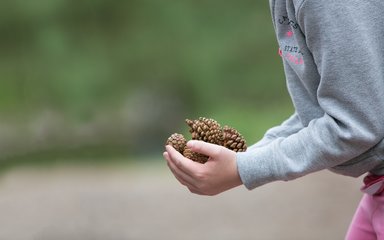 3. Become a cone collector
During the autumn, trees produce hundreds of seeds in the hope that a few will find the perfect place to land and grow into a tree.
Look under the conifer trees, and see how many cones you can find. Can you see the seeds inside? 
4. Download the autumn activity pack
Get your hands on the autumn activity pack. Inside you'll find some great activities to bring sights, sounds and smells of the forest to life for your children:
Forage for forest fruits to taste and make into blackberry art
Explore the spectrum of autumn colours and create leaf fireworks
Hunt for seeds, conduct a helicopter race and make a bookmark
Reflect on how autumn makes you feel with Mind, the mental health charity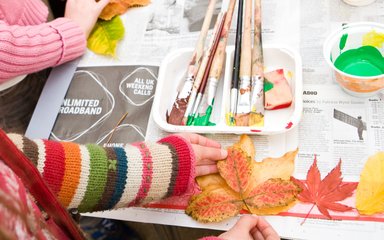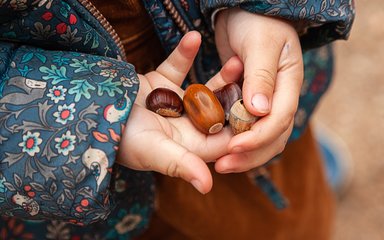 5. 

Explore your senses
Autumn is a fantastic time to look, listen and reflect on the things all around you. Did you know that simply taking time to be mindful can be beneficial for children's health and wellbeing? 
Download our forest bathing activity sheet, find a quiet spot where your kids feel safe and relaxed and start practicing the art of forest bathing with our downloadable activity sheets.
6. Take photos as a family
When everything around us is more colourful and there's a lovely autumn light in the woods, it can be a great time to get some memorable snaps.
Try teaching your kids the basics of lighting and the "rule of thirds", or simply set up the timer and line up a seasonal family portait!
Don't forget to share your autumnal photos using #AutumnLeafWatch on Twitter and Instagram or by posting them directly on to our Facebook page. We want to see how autumn captivates your senses. Photos can be landscapes, macros, portraits, selfies, wildlife - if it's autumnal, we want to see it! If it's good, you're in with a chance of winning some pretty slick prizes too.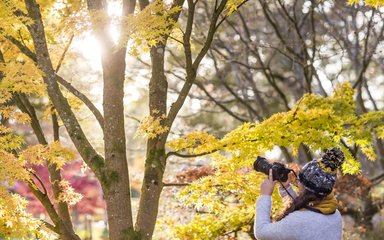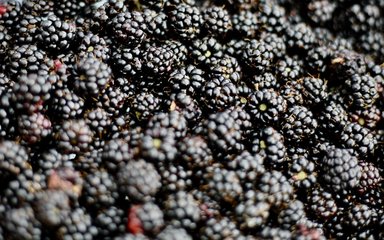 7. Pick some blackberries
Eating blackberries is a great way to make your autumn walk even healthier – they are one of your five-a-day after all.
These juicy morsels have  been a popular snack for many years. In fact, archaeologists found blackberries in the stomach of a Neolithic man!