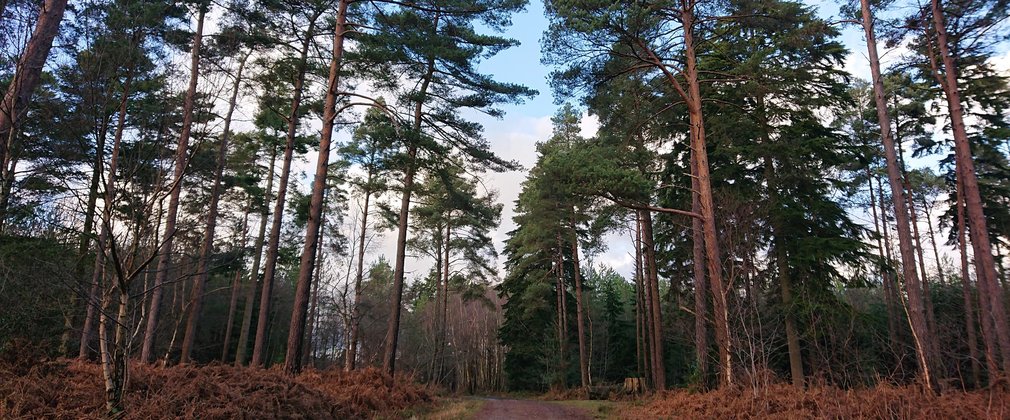 Conifers are excellent trees for growing quality, sustainable timber. But did you know these trees are wonderful, ancient plants that play a critical role on our planet? 
Bedgebury National Pinetum and Forest is home to the largest collection of conifers in the world. Based in Kent, it is a globally important site for the conservation and scientific understanding of conifers.
We spoke to Liz Randall, Tree Database Officer at Bedgebury, to find out more about these unique trees. 
1. Conifers were dinosaur food!
Did you know these magnificent plants date back over 300 million years? Conifers are a group of ancient plants that include cedars, firs, cypresses, junipers, kauri, larches, pines, hemlocks, redwoods, spruces and yews. They are our oldest living trees and were a favourite dish for plant-eating dinosaurs.

Conifers flourished in the Triassic period, millions of years before many plants we know today had evolved. They existed in many forms and were the dominant plant species, before the rise of flowering plants and trees caused many to become extinct. The conifer species that remain today are living fossils of ancient times, having survived whatever our planet has thrown at them.

Bedgebury plays a vital role in the conservation projects to preserve these important trees.
2. One in three face extinction
Of the 615 different species of conifer in the world, 211 are listed as threatened by the International Union for Conservation of Nature. Serbian spruce is one of these, which is at risk from deforestation and devastating wildfires. It is found growing in fragmented forests on steep slopes and ravines within Serbia, and Bosnia and Herzegovina. Although now protected by legislation, that might not be enough to conserve them for future generations. 

Through conservation efforts at Bedgebury, staff have collected Serbian spruce seed in the wild. This involved abseiling down cliffs and using a lasso to pull the tree towards them to grab the cones. Seeds from this collecting trip are now stored in the Millennium Seed Bank in Wakehurst by the Royal Botanic Gardens, Kew. We also grew over two hundred trees and have planted them at Bedgebury as a living gene bank.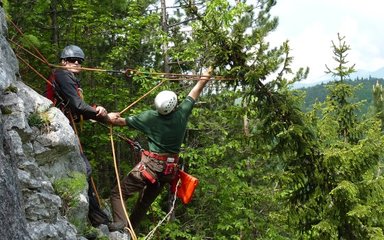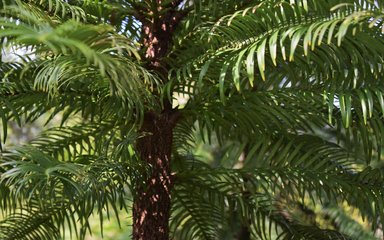 3. We're still discovering new species!
In 1994, a wildlife ranger in Australia discovered a stand of ancient trees in a remote canyon unlike anything seen before. Named after the national park where it was found, Wollemi pine trees would have been common across Australia 40 million years ago. This story takes another dramatic turn in 2020, when raging wildfires spread in the region close to the Wollemi National Park. Specialist firefighters launched a successful operation to save the world's last remaining Wollemi pines.

With only a tiny wild population, a conservation programme planted specimens across the globe. Forestry England arboreta are protecting this species for future generations. You can check out this unusual conifer, with curious multi-stemmed growth and bobbly stem, at Bedgebury National Pinetum in Kent and Westonbirt, The National Arboretum in Gloucestershire. It truly is a relic from times past.
4. They don't all have cones but can save lives
The word conifer suggests a cone, but not all conifers bear their seeds like firs or pines do. Junipers have tiny round fleshy, berry-like fruit that turn from green to a bluish-black colour when ripe. The fleshy fruit has many different health benefits and a sharp citrus flavour. They're perfect for cooking with, and the main flavouring in a favourite tipple, gin.

Yew tree seeds are also enclosed in a fleshy fruit, known as an aril. This small red fruit has a distinctive open end revealing the small seed in the middle. Don't be tempted to eat this fruit though. The seed inside is highly toxic! However, the yew tree has a wonderful hidden secret. In the 1960s researchers found the bark contains a lifesaving natural compound, which later became the cancer drug Taxol. It has since gone on to save many lives.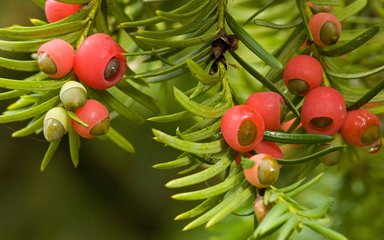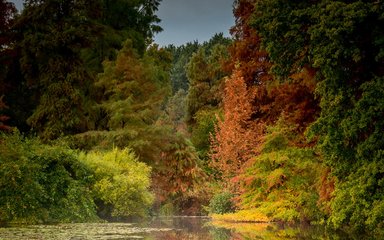 5. They're not all evergreen!
When you think of a conifer, many imagine a tree that looks green all year round. But not all conifers are evergreen! Deciduous conifers lose their needles in the autumn, such as the larch. You are likely to see this growing throughout the nation's forests turning a beautiful golden colour in the autumn. Larch is an important tree for timber. It is great for building with due to its tough and durable properties and often used for cladding as it is naturally rot-resistant. 

You can see other deciduous conifers at Bedgebury. The swamp cypress (Taxodium distichum) gives a magnificent display of autumn colour as the needles turn bronze, which produces a beautiful reflection on Marshal's Lake where it grows.
6. They come in all shapes and sizes
Not all conifers are as big, bold and beautiful as the Leyland Cypress, known for leylandii garden hedges. Its distinctive conical shape is perfect if you have the space to showcase a large tree, but most of us have smaller gardens. Some species have been selectively bred for certain desired traits, creating cultivated varieties instead. These 'cultivars' can grow low as ground cover, in tall and thin columns, and some even grow in a cute little ball shape! 

If this blog has tickled your fancy for conifers, pop down to a good garden centre and take a close look at the array on offer. Many are small, sensible and sublime so you are sure to find one that fits that awkward spot in your garden. If you choose an evergreen, it will look good and provide cover all year round and live for many years.