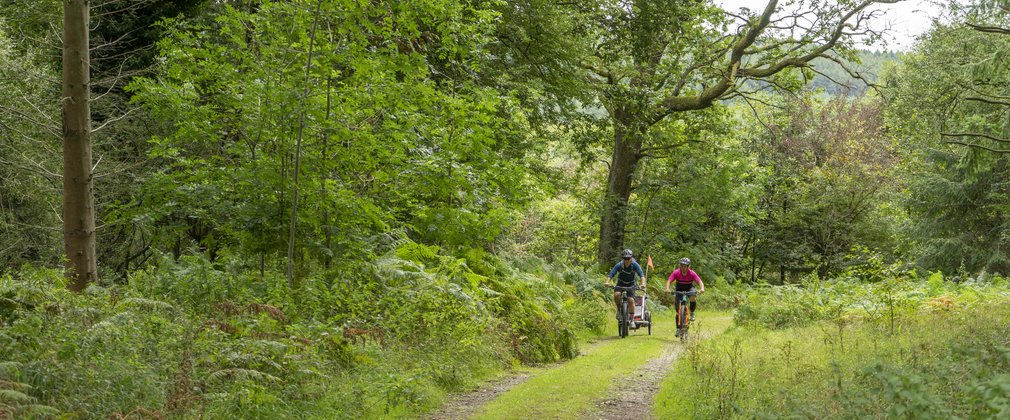 Unlocking the power of trees
In recent years, it has become fashionable to talk about how good trees are for people. It's about time. 
Forests and woodlands are essential to human existence on earth. They are our past, present and future. From pumping out oxygen to creating jobs, forests keep us in good health, improve our wellbeing and are a vital source of livelihoods around the world. 
It is our duty to look after them, just like they take care of us.

"There is something truly special about spending time in the forest. When I was diagnosed with multiple sclerosis, I was frightened, angry and terrified my life as I knew it would end right there. But over time, I became used to new ways of doing things.

Going to the forest helped me to heal. The combination of sounds, smells and abundance of life doesn't exist anywhere else. I'd be lost if it wasn't for the woods."

Penny Thomas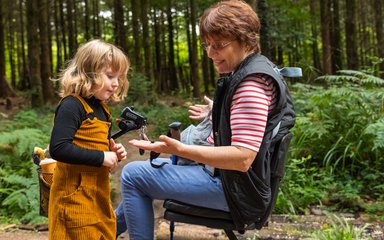 Stories like Penny's are far from uncommon. As part of the Forestry Commission's centenary in 2019, we asked people how woodlands make them feel. We were blown away by the response.
A great number talked about experiencing a sense of freedom. Others reminisced about childhood memories. Almost everyone mentioned feeling relaxed and stress-free. 

How we feel after visiting the forest is unique - and the science backs that up.
"The forest is my sacred space. I feel connection between myself and all living things around me. I am centred and calm, part of everything and yet detached from the chaos of modern life." ~ Sharon, a forest wanderer
"I visit the forest with my daughter. She has adventures and realises the value of the wilderness, getting mucky, pond dipping and exercising while we are having fun. It's all of our happy place. We feel closer as a family." ~ Rebecca, Dalby Forest
"I have a hearing condition that causes sensory overlaoding anxiety. When the world fills my head, I escape to the forest. The forest makes me feel rejuvenated and connected to everything that is good, balanced and part of the cycle of life." ~ Ali, Wendover Woods
"Time is suspended and serene in a forest. It gives you time to appreciate the beauty and wildness that engulfs you." ~ Francisco, a forest wanderer
Spending time in forests reduces the stress hormone, cortisol, which makes us feel calm and relaxed. This also lessens the prospect of experiencing high blood pressure, skin conditions and problems with the heart.
Dr Alan Kellas is a psychiatrist interested in nature-based approaches to mental health.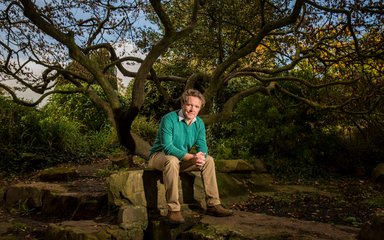 "When we visit forests, our senses are engaged differently and our attention changes. We naturally become more mindful, our mood can settle if we're anxious, or lift when we're feeling low. Our imagination can be sparked and we gain a different perspective on our lives, projects and problems."

Dr Alan Kellas
In today's tech-dominated society, sometimes it feels like the world is moving too fast. Forests can provide the antidote, with ample opportunities to slow down, rest and escape.
As well as reducing stress, forests help the immune system in other ways. 
When in woodlands, we breathe in phytoncides, which trees emit to protect themselves from germs and insects. Those same natural chemicals give our bodies a huge boost on the frontline.
A lot of medicines also come from trees. Aspirin and acne medication, for example, are both made using willow bark.
Forests have always had healing qualities. In the 1800s, physicians in Germany and America established forest centres to treat people with tuberculosis. They all reported on the benefits of forest air to treat the infection.
As populations migrated towards urban centres during the 20th century, people began spending less time in the countryside and less time in forests. The tides are now turning again.
Underpinned by science, we recognise the importance of nature in our lives. We believe in the significance of places that are important to us, and appreciate the truly restorative power of the forest.
More people are visiting forests today than ever before.
Source: Monitor of engagement with the Natural Environment Survey
Forestry England, which looks after 1,500 woodlands across England, welcomes over 24 million visitors each year. Many of those are regular visitors to their local forest.
Organisations including the Woodland Trust and National Trust also welcome people to woodlands in their care, while a lot of private forests allow public access as well.
Around half of UK woodland area is identified as being publicly accessible.
From camping to concerts, tree top adventures to stargazing, people enjoy time among trees in lots of different ways. This reinforces the notion; there really is something for everyone in the forest.
Forest Research's pioneering research programmes have shown that spending time in woodlands helps people feel more connected to the natural world.
Not only does this benefit individual wellbeing, it also encourages pro-environmental behaviour.
The message is getting through. Since 2000, it is estimated that volunteering with conservation organisations has increased by 46%, with young people in particular flying the flag for the natural world.
"There is an intrinsic link between our own health and wellbeing, and that of the world around us. The more time we spend in nature, going for a walk, enjoying ourselves, the more likely we feel part of the world around us and inspired to do what we can to protect it."

Ellen Devine, Wellbeing Project Manager, Forestry England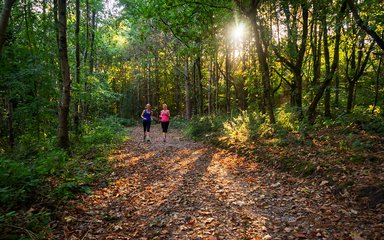 Forests are designed with people at the heart of the planning process.
Map of the nation's forests accessible to visitors
As governments, charities and landowners look to increase forest cover to tackle the climate and ecological crises, public access will be a key factor in how those plans come to life.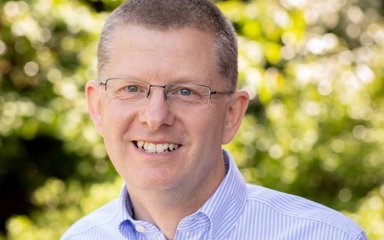 "Ensuring public access is huge part of what we do, but it needs to be done with care.

Whether it's putting in mountain bike trails, creating a family play area or choosing the location of a car park, there are lots of things to consider before any work can begin.

This includes assessing any possible impact on wildlife, ensuring any planned work meets health and safety standards and how new infrastructure works alongside forestry operations."

Mike Seddon, Chief Executive of Forestry England
By 2050, almost 70% of the population is expected to live in urban areas. Our social landscape is changing rapidly and, while city dwellers will always escape the hustle for the serenity of the forest, we also need to bring the forest to them.
Cities of the future need to be clean and green. Trees and plants will have a central role to play in making that possibility a reality.
Trees are carbon sinks, filters for pollution and pleasing on the eye. They can encourage wildlife to populate our concrete jungles, improve water and air quality and provide space for recreation.
"All of the benefits we associate with the forest can be realised in and around urban areas.
It's important not to see people here and the forest there. They can and must be interlinked so that we can live alongside nature and make our cities greener and healthier places to live."

Jim Smith, Urban Forestry Advisor, Forestry Commission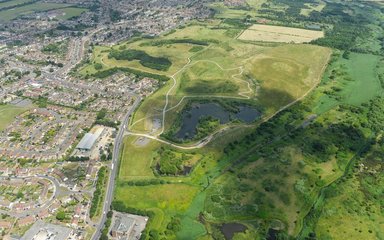 An ambitious initiative in and around Manchester is transforming the Irwell Valley into a forest haven for people and wildlife.
The City Forest Park aims to create a 300 hectare network of green spaces through Salford, Bury and Bolton.
The project aims to connect the city to the country, bringing together the area's rich cultural heritage while supporting biodiversity, encouraging volunteering among the local community and providing areas for recreation.
The City Forest Park, which is being supported by Forestry England, City of Trees and other partners, includes woodland, meadow heath and wetland habitats, and is home to over quarter of a million trees.
Forests for the next generation
"The future will belong to the nature smart – those young people with hybrid minds, who become leaders by developing both ways of knowing the world, the virtual and the natural", said author Richard Louv in a foreword to a report for Outdoor Classroom Day in 2018.
He's right. Outdoor learning and play are essential ingredients in the daily lives of children, while the benefits are vast.
Learning outside can help children develop social skills, improve creativity, imagination and focus, and improve engagement with education.
Nature is a classroom without walls that truly brings learning to life. Teachers share the sentiment; 97% of educators believe that time to play outdoors is critical for children to reach their full potential.
Forests in particular have been recognised as inspiring settings for all-round child development, which is epitomised by the approach of forest schools. The success and ongoing celebration of these programmes could - and perhaps should - help to shape curriculums of the future.
We need more forests and we need to encourage people to spend more time enjoying them.
Collectively, we can protect forests for wildlife, grow and harvest sustainable timber, help businesses grow and improve people's health and wellbeing along the way.
Woodlands are awe-inspiring places that offer limitless opportunities for people. Let's get out there and explore.