Our forests will remain open for outdoor recreation and exercise. For our coronavirus guidance please follow this link
-
view now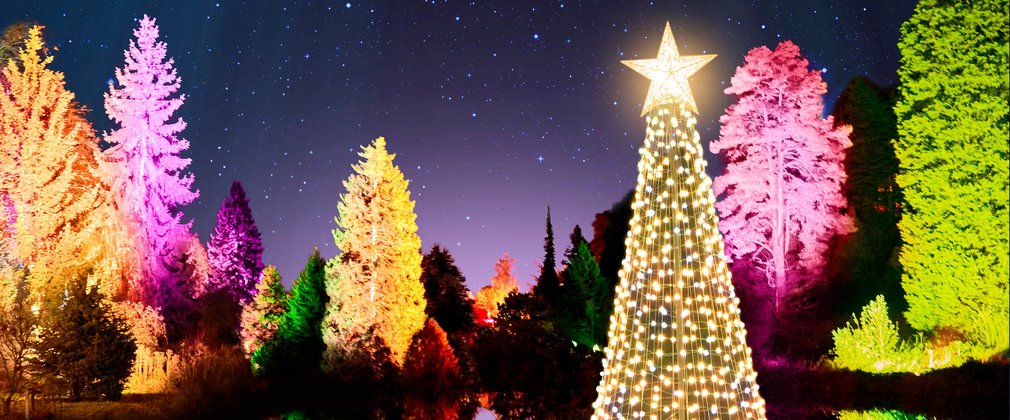 Following the recent government announcement regarding the month-long national lockdown in England from Thursday 5 November, we are have changed the dates for Christmas at Bedgebury and the trail will now begin on Friday 4 December.
Surround yourself with sparkle this Christmas as the after dark trail at Bedgebury lights up for it's third year in 2020. You'll find new moments to share with friends and family and brand new magical lights for winter nights.
Enter a world festooned with seasonal cheer enhanced by a soundtrack of festive classics. Wander beneath unique tree canopies drenched in Christmas colour. Immerse yourself within woodland neon strings as bouncing lines glow in the moonlight. Discover singing trees rising high into the night sky and a forest saturated in ever-changing beams of colour. Stroll beside colour-changing water-side reflections and under trees dripping with silvery shards of light, snowflakes and stars.
Explore the light maze and look out for giant baubles and snowflakes where you least expect them. The tunnel of light returns with twinkling splendour and this year, why not pause for a moment of quiet reflection at the fire garden, aglow with hundreds of flickering flames.
Have a holly, jolly Christmas and complete your walk under the stars with spiced cider, mulled wine or hot chocolate*.  
Don't forget to glimpse Father Christmas and his elf amongst the pines, spruce and firs along the way.
For all details and to book your time slot please visit
christmasatbedgebury.co.uk
*separate charges apply
Please note: Due to the national restrictions the trail dates have changed. See Tickets have been in touch directly with ticket holders to offer different options if their booking is affected (for dates from 20 November - 3 December).
Essential information
Bedgebury National Pinetum and Forest, Lady Oak Lane, Goudhurst, TN17 2SJ
Christmas at Bedgebury dates
📅 Friday 4 - Sunday 6 December
📅 Tuesday 8 - Thursday 24 December
📅 Saturday 26 December - Sunday 3 January 2021
📅 Thursday 7 - Sunday 10 January 2021
Advance tickets only, limited availability

Opening times from 4.30pm until Wednesday 9 December.
First time slot at 4.15pm from 12 December - 10 January 2021.
Last entry onto the trail 8.15pm
Except: Thu 24, Sat 26 & Thu 31 Dec 7:15pm
Wed 9 & Thu 10 Dec, Fri 1 Jan, Sun 3 Jan, Thu 7 Jan & Fri 8 Jan 7:45pm
Quiet access session 4pm on Wednesday 16 December.