Forest Art Works: contemporary art in the nation's forests
Woodlands and forests are vital places for artists to engage with, to make and present new work. Since 1968 the nation's forests have played host to a wide range of artworks and art forms.
Contemporary arts in our forests include installations, trails, exhibitions, live performances and more from the artists of today. Come and discover, engage with and enjoy our inspiring artworks. Find out more about the pieces in our forests below. 
Sign up for Forest Art Works newsletters
Keep up to date with our latest events, exhibitions and opportunities as well as inspiring stories and exclusive giveaways. You can also follow us on Twitter @ForestArtWorks.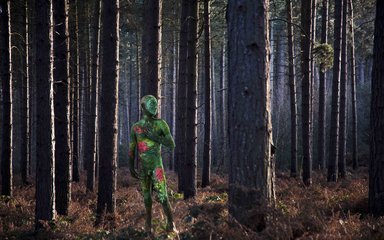 Future Forest
High Lodge, near Brandon, Suffolk
See this dramatic sculptural installation that reflects the role forests play in protecting our future environment. 
Tom Piper MBE and Lisa Wright's work will be available to view at Thetford Forest from 4 October 2019 to 30 May 2020.
Earth Photo 2020
This innovative photography competition and exhibition aims to stimulate conversations about our world and its inhabitants and our treatment of both. 
Submissions are now open for the 2020 competition. Deadline for entry is Tuesday 7 April 2020.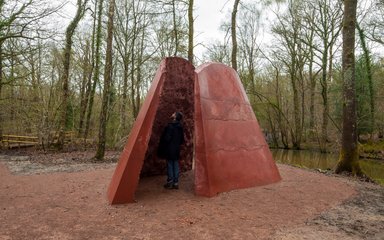 Threshold by Natasha Rosling 
The Forest of Dean Sculpture trail 
Come and see the new permanent sculpture by artist Natasha Rosling. 
Inspired by the ancient history of mining beneath the surface of the Forest of Dean, Threshold's large interlocking walls have a crevice-like form that visitors can walk through and immerse themselves within.
Resources
Forest Pathways - Family Audience Development Guide
Our Past Projects
We have created and supported a rich variety of artworks in the nation's forests. Discover our past projects here.