The nation's forests and facilities are open, but please follow government coronavirus guidelines when planning your visit
-
read our coronavirus guidance.
Forest Art Works: contemporary art in the nation's forests
Woodlands and forests are vital places for artists to engage with, to make and present new work. Since 1968 the nation's forests have played host to a wide range of artworks and art forms.
Contemporary arts in our forests include installations, trails, exhibitions, live performances and more from the artists of today. Come and discover, engage with and enjoy our inspiring artworks. Find out more about the pieces in our forests below. 
Sign up for Forest Art Works newsletters
Keep up to date with our latest events, exhibitions and opportunities as well as inspiring stories and exclusive giveaways. You can also follow us on Twitter @ForestArtWorks.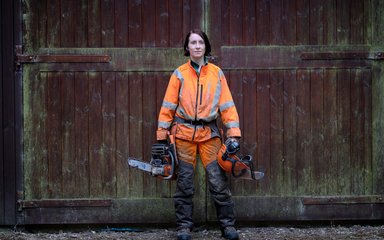 Forest 100: a year in the life
Featuring the photographs of Scarborough-based editorial photographer Tony Bartholomew, Forest 100: a year in the life is a stunning online exhibition which celebrates last year's centenary of Forestry England.
Earth Photo 2020
This innovative photography competition and exhibition aims to stimulate conversations about our world and its inhabitants and our treatment of both. 
 See all 54 photos and videos shortlisted in a virtual exhibition online now.
Resources
Forest Pathways - Family Audience Development Guide
Our Past Projects
We have created and supported a rich variety of artworks in the nation's forests. Discover our past projects here.