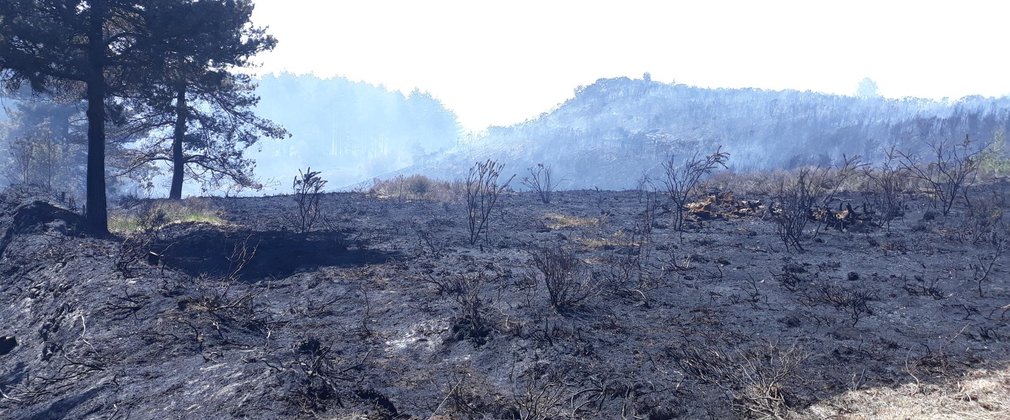 In May 2020 large areas of Wareham Forest were destroyed by a ferocious forest fire.
This land was home to important wildlife, including rare birds, plants, reptiles and insects. 
Please help us to restore this precious habitat by donating to our appeal. 
Heathland scorched and woodland destroyed
The fire burnt for over two weeks destroying an area the size of 350 football pitches. This area will take several decades to fully recover  from the damage and was home to rare bare-ground invertebrates as well as ground nesting birds such as the woodlark and native reptiles, in particular sand lizards and smooth snakes.
Our task is to restore the lost habitats and protect the forest against future destructive fires.  To do that, we need your support.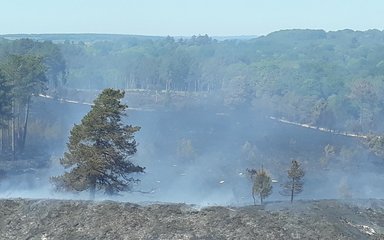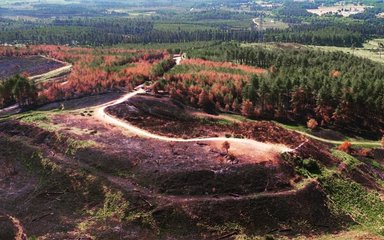 Your donation will support
Planting thousands of new trees, to replace those burnt in the fire

Recreating suitable breeding sites for rare reptiles

Installing bat boxes to provide them with new homes

New machines to create fire breaks and help replenish the heather

Reinstatement of gravel track infrastructure, to protect from future forest fire 
The serious threat of wildfires
The Wareham Forest fire is believed to have been started by disposable BBQs.
Every year, fire destroys thousands of hectares of our nation's forests and wider countryside. They are a threat to people, wildlife, forests, woodlands and trees. Although some are started deliberately, most of them are due to carelessness.  We urge everyone to take care all the time, not only during dry spells. It's vital for everybody to stay alert and report any incidents as soon as possible.
We urge members of the community to avoid using barbecues and lighting fires of any kind and always ensure cigarettes are safely extinguished.
Lizards and snakes you can help 
The smooth snake and sand lizard are extremely rare and under severe threat due to the destruction of their habitats. The heathlands managed by Forestry England around Wareham in Dorset are now one of the very few places across the country where they can still be found and are a stronghold for both species. 
For over twenty years the Forestry England team have been dedicating large parts of the heathland to create special habitats for these reptiles.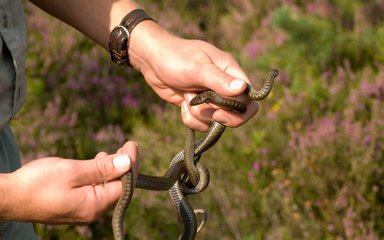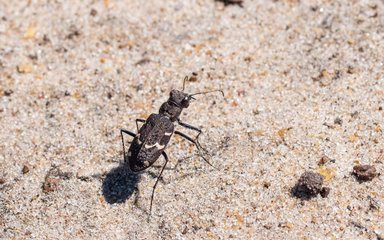 Restore habitat for the Heath tiger beetle
The Heath tiger beetle, Britain's largest tiger beetle reaching up to 18 mm in length, is also under threat. The loss of heathland habitat and a decline in the quality of surviving heathlands have led to over half of the population disappearing in the last 25 years. Dorset is one of the few places it is still surviving.
Your donation will help restore the habitat for this beetle.
Corporate partnerships
We are looking for corporate partners to support this urgent appeal.
This is an opportunity for a business passionate about supporting the environment to make a real difference. You will help us make a lasting impact on this special landscape, and there will beplenty of opportunies to celebrate your involvement via our extensive communications networks. We will engage with your staff through hands-on volunteering opportunities, tree planting and other activities on the ground.
If this sounds like something you'd be interested in supporting, we'd like to hear from you. Email us – corporate.partnerships@forestryengland.uk