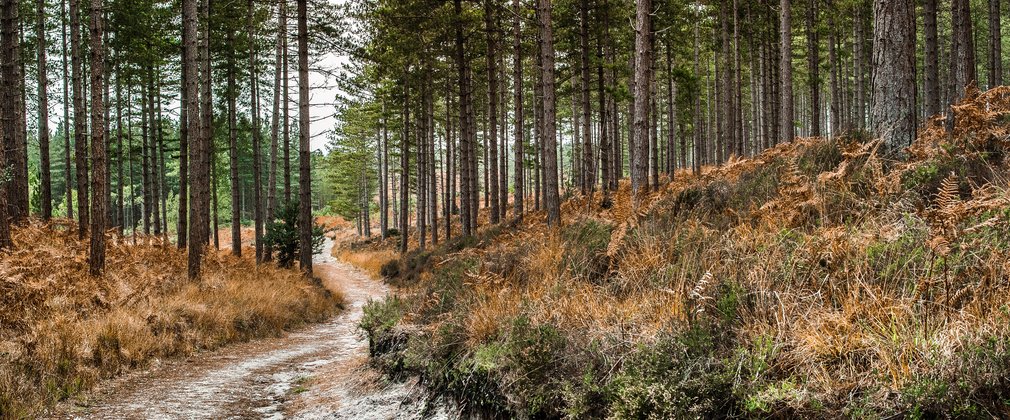 Fresh air and open spaces
Forestry update
Growing trees for home-grown timber means that they have to be managed all year round. From 13 November we'll be removing some trees nearby, in Gore Heath. It's vital that our gateways are kept clear for forestry vehicles working on site and emergency vehicles. Warning signs will be in place around the area and it's important that you pay attention to signs your own safety, that of others. Work is only taking place Monday - Friday, and will be carried out as safely and as quickly as possible, in order to keep disruption at a minimum.
Wareham Forest is a great place to explore and discover the famous heaths and woods of the Dorset countryside.
Many miles of tracks take you through beautiful and ancient landscapes, where if you are lucky, you'll see some of its special wildlife. The cycle trail takes its names from the famous Sika deer and the walking trail is named after the rare ground-nesting birds, Woodlarks, who's lovely song you may hear on your walk.
Wareham Forest is patchwork of different habitats, including open heathland and woodland - it's home to lots of very special plants and animals. Bogs and streams provide vital habitats for many creatures and support a wealth of rare and diverse plant life. They also play an important role in maintaining the health of the Forest and absorbing carbon.
Parts of Wareham Forest are grazed in a way that's sensitive to its plants and wildlife. This traditional practice is helping to create a varied habitat for wildlife. Please do not approach the cattle too closely and keep your dogs under close control and close gates behind you.
 
Forest Plans
All the forests we look after have a forest plan which provides descriptions of the area and shows the process Forestry England goes through when deciding what is best for the woodlands in the long term. We aim to protect, improve and expand our forests through active management, so that we can protect our woodlands against pests and diseases, support our wood processing industries, maintain and improve the biodiversity of forests and make them attractive places for people to visit.
The Forest Plan for Wareham is due to be reviewed again very soon and we will welcome the opportunity to work with local people, neighbours and nature charities to frame the future landscape for Wareham Forest.
Further information about the current Forest  Plan
Please give cattle a respectful distance
17/05/2022 13:53
Well behaved dogs are welcome
17/05/2022 13:54
Close the gates behind you
17/05/2022 13:52