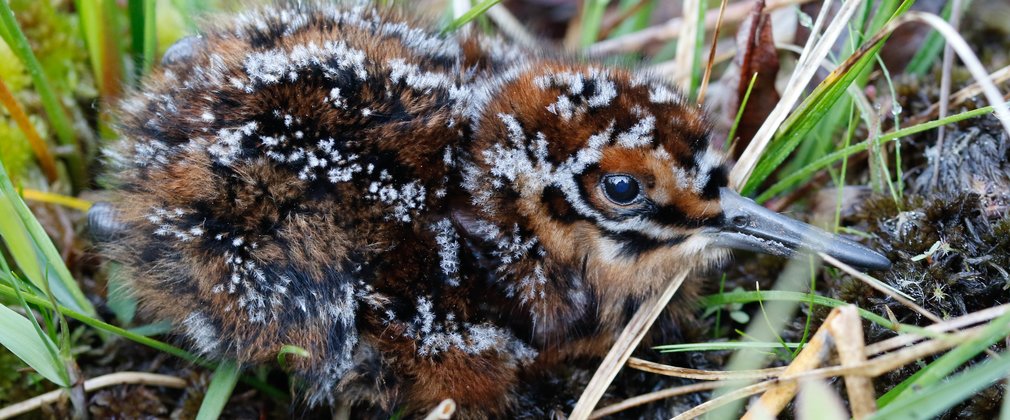 Body
Stay on track to help New Forest's rare birds
Local community groups and businesses are pledging their support to "stay on track" when visiting the New Forest during this year's Ground Nesting Bird season. It is hoped that many more people using the Forest this spring will join them and take a few simple measures to help these rare and vulnerable birds.
People are asked to stick to the main tracks and not to venture onto open, heathland areas where birds will be nesting. Those with dogs are asked to lend their support by keeping dogs with them on the tracks and where necessary using leads to keep them under close control.
Heather Gould, Chair of New Forest Dog Owners Group, said: "The New Forest is a really special place for bird life. It's really simple for everyone who spends time here to help protect them by obeying the signs which are put out. Even better please avoid any sensitive area all together. We'd advise all dog walkers to avoid the protected heathlands if they can walk elsewhere during the nesting season. One suggestion is to use Forestry England's robust tracks map which is on their website. In general, these paths steer clear of sensitive sites, although if a walker does come across any signs clearly they should be obeyed. Walkers with their dogs under control, should stay on tracks."
Richard Taylor, Chair of the New Forest Cycle Working Group and Vice Chair of the New Forest Access Forum, said: "The New Forest is a haven for wildlife, making it a magical place to cycle and tune into the sounds of so many different types of bird song. To keep this place special it's vitally important to cycle on the way-marked cycle routes, especially during the ground nesting bird season, and not to veer off across open areas and heathlands. When planning your route, know where the quiet breeding zones are located and which car parks are closed, so you can avoid these areas."
Hannah Marsh, British Horse Society Regional Manager for the South of England, said: "In spring and summer, many birds make their nests on the ground on heaths and open areas of the Forest. Making small adjustments to where we ride during this time can make a big difference to their survival. We encourage all horse riders to stick to the main tracks." 
This year local businesses are also supporting the campaign by displaying and sharing information about the rare birds with their customers.
Matthew Lawson, New Forest Business Partnership Chairman and owner of The Thatched Cottage, Brockenhurst, said: "We all have a collective responsibility to care for the special wildlife here in the New Forest, particularly rare ground nesting birds. Whether it's businesses, residents or visitors-alike we can all do our part. We are happy to be able to share tips with the local community to raise awareness of how best to look after these birds and would encourage other Forest businesses to do the same."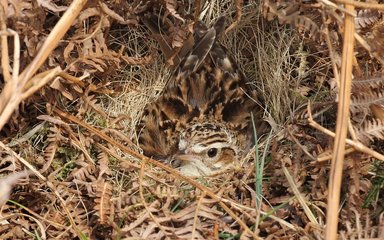 Disturbance can result in nests being abandoned and chicks exposed to predators
Unlike most birds, ground nesting birds build nests and raise their young on the ground around woodland edges and on the open heathland areas of the Forest. Special quiet zones will be set up from March until late summer at critical breeding locations to help reduce the likelihood of disturbance resulting in nests being abandoned and chicks exposed to predators.
Lookout for our signs around sensitive locations
Everyone spending time on the Forest whether on foot, wheels or hooves can join the campaign by staying on the main tracks and looking out for special signage in the most sensitive locations. Orange signs indicate areas very close to breeding grounds and can be seen in locations including car parks and on the main tracks. Red "stop" signs highlight nesting sites in the immediate vicinity and ask the public to avoid these areas.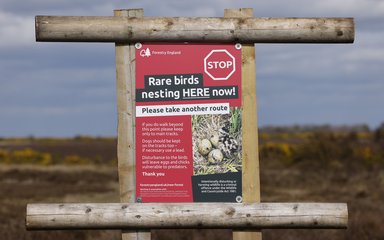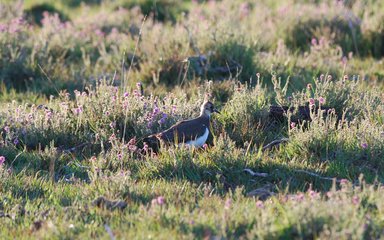 Car parks closed near nesting sites
A small number of car parks near nesting areas will be closed: Clayhill, Crockford, Crockford Clump, Hincheslea, Hincheslea Moor, Ocknell Pond, Ogdens, Shatterford and Yew Tree Heath.
A Special Protection Area for Birds
The New Forest is a Special Protection Area (SPA) for Birds and a critical breeding location for endangered ground nesting birds. Key species here include curlew, lapwing, around 15% of the UK's visiting population of nightjar, and a third of the nation's breeding population of Dartford warbler. Under pressure in many parts of the UK, helping them breed successfully in the New Forest has a key role to play in their overall survival.