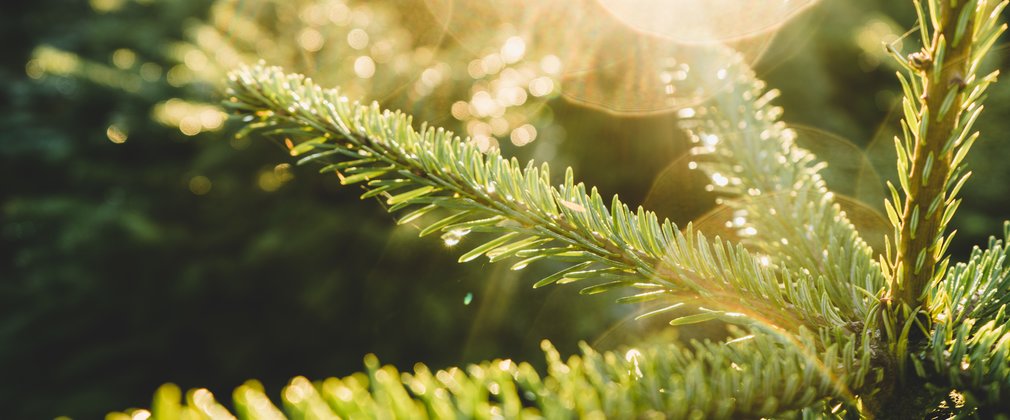 Top tips for more sustainable Christmas – starting with your tree
Struggling to be sustainable over the holidays? Whether you want to avoid waste, give plastic the cold shoulder or just want to get a bit creative over the festive period, Forestry England has put together some of our top tips to make your Christmas tree even greener this year.
Choose a Grown in Britain certified tree
A new report published by Grown in Britain says new tree pests and diseases could be hitchhiking their way into the UK on some of the tens of thousands of Christmas trees that are imported every year.  By choosing a Grown in Britain-certified tree, you'll be sure you are getting tree grown in the UK and you'll also be helping reduce the risk of unwanted pests spreading to this country.  Forestry England sells Grown in Britain certified Christmas trees in forests across the country – visit forestryeng.land/real-xmas-trees to find your nearest forest.
If you want to go that little bit extra, opt for a potted tree
Grown to around 3 to 4 feet tall, potted trees may be smaller than your typical Christmas tree but they can literally last a lifetime. Once they've been the focal point of your living room for the holiday season, potted trees make fantastic patio plants with a little love and care. Or, if you have enough garden space, plant your tree to grow and thrive after the holidays– it'll also help provide food for wildlife like siskins, who love to eat seeds from spruce trees. You can pick up a potted Christmas tree at the following Forestry England forests: Dalby Forest, Whinlatter Forest, Bedgebury Pinetum, Moors Valley Park Country Park & Forest, Queen Elizabeth Country Park, New Park, Wyre Forest, Cannock Chase Forest, Delamere Forest and Sherwood Pines.
Re-use Christmas decorations and avoid single-use tree decs
For many, unboxing and dusting off Christmas decorations marks the start of the holiday season. It's also a great time to get the whole family involved by making your own decs. If you do need to top up your collection, choose sustainably sourced decorations and avoid lametta (single thread) tinsel which isn't recyclable, can be difficult to remove from branches, and can pose a hazard to pets who might get tangled in it or swallow it.
Choose FSC or PEFC certified Christmas cards and wrapping paper
A sustainable Christmas tree doesn't have to stop at your family's tree, it's also about the many trees around the world that have gone into making Christmassy products like wrapping paper, as well as Christmas cards – a whopping 1 billion of which are sold in the UK each year. Look for the FSC logo or PEFC logo to be sure that your cards and wrapping paper have come from well managed forests that support local people, or give old newspapers a second life as Christmas wrapping paper – and make sure to recycle everything when you're done.
Recycle your tree
There's nothing sadder than the site of a real Christmas tree in a plastic bin bag on the curb ready to go to landfill after the holidays. After the last decoration has been taken down and thoughts of Christmas are a distant memory, visit your local authority website or Recycle Now to find out how to recycle your tree. Many local authorities offer a drop-off or curbside tree recycling service, and your tree will be put to good use by being chipped and used locally.
Notes to Editor
Photos are available to download. Please credit: Forestry England/Crown Copyright
Forestry England manages and cares for the nation's 1,500 woods and forests, with over 230 million visits per year. As England's largest land manager, we shape landscapes and are enhancing forests for people to enjoy, wildlife to flourish and businesses to grow. For more information visit forestryengland.uk. Forestry England is an agency of the Forestry Commission.

Forestry England sells Grown in Britain certified Christmas trees across the country. Many of our sites will have a range of activities for the kids, and a chance to enjoy a festive workshop. You may even get to meet Santa in his grotto!
Christmas tree sale centres:
Sherwood Forest, Nottinghamshire

Cannock Chase, Staffordshire

Delamere Forest, Cheshire

Dalby Forest, North Yorkshire

Guisborough Forest, North Yorkshire

Hamsterley Forest, Durham

Whinlatter Forest, Cumbria

Rothbury Forest, Northumberland

Bedgebury Pinetum, Kent

Queen Elizabeth Country Park, Hampshire

New Park, Hampshire

Moors Valley Country Park, Dorset

Wyre Forest, Worcestershire
Media Contact:
Hayley Coristine, Media Relations Officer
e: hayley.coristine@forestryengland.uk