Stay home, protect the NHS, save lives - the nation's forests and essential facilities are open for people to exercise once-per-day, if they live locally
-
read our coronavirus guidance.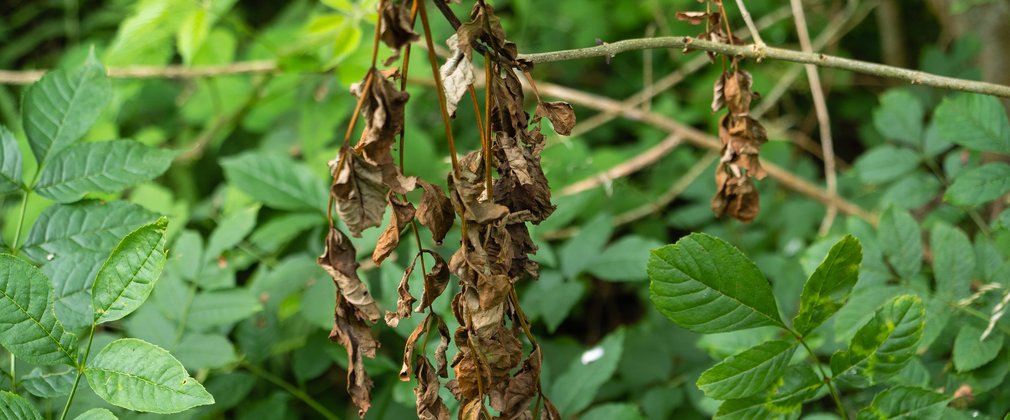 Chalara ash dieback is a serious disease of ash trees, caused by a fungus called Hymenoscyphus fraxineus, which is infecting ash trees across Europe and the UK. The disease affects ash trees by blocking the water transport systems, causing leaf loss, lesions in the wood and on the bark. This leads to the dieback of the crown of the tree. Trees become brittle over time with branches breaking away from the main body of the tree. If they are not dealt with, trees are at risk of collapsing, presenting an immediate danger to the surrounding area.
We have now reached a pivitol moment in our management plan that will ensure the future health of this ancient woodland. This next phrase will involve clear felling infected ash trees to make way for new plantings of various species, which will help to create a resilient woodland. Clear fell work of infected ash trees will begin in Silk Wood on Monday 08 February and is anticipated to last 4 weeks. Due to the nature of the work and to ensure visitor safety, it is necessary to close a significant amount of Silk Wood beyond Broad Drive.
Watch our videos below to learn more about how we are managing Chalara ash dieback at Westonbirt Arboretum.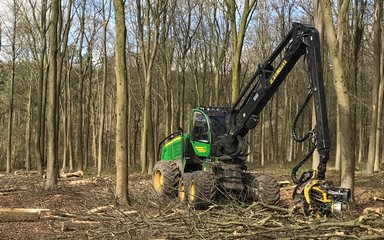 Check the signs!
Due to the scale of these works, a specialist forestry contractor has been appointed. Using purpose built forestry equipment they will harvest, process and extract nearly 2000 infected ash trees during February 2021. Please be mindful that large areas beyond Broad Drive will be closed off for your safety and for the safety of the tree management team. 
If you are local and considering a visit during February please take care to follow all signage and not cross any barriers in place. Please be extra vigilant with any dogs not on leads. Hopefully for this short period of time while the works are taking place it may encourage you to explore and enjoy alternative routes through the specimen trees of Silk Wood.
Chalara ash dieback at Westonbirt Arboretum video
Chalara ash dieback has now infected ash trees throughout Silk Wood at Westonbirt Arboretum, and in order to ensure the future health of this ancient woodland, Forestry England is now faced with having to respond to this threat to maintain the health of Silk Wood for future generations. This will involve removing infected ash trees to make way for new plantings of various species, which will help to create a resilient woodland.
Video credit: Heliexperts The Drone Company
Want to find out more about Chalara ash dieback? Visit the pest and disease resource from Forestry Research.
The Silk Wood Project video
In 2019 some initial work was done to remove infected ash trees from main pathways in the arboretum, to ensure the safety of visitors and staff. In February 2021 work will begin to remove infected ash trees from Silk Wood. This will mean that there will be significant changes to Silk Wood over the coming years as we work to ensure the continuing health and resilience of the whole woodland. In some areas, we may be removing large numbers of trees, and replanting different species. In other areas, we may try a non-intervention approach.
You can help the Forestry Commission Report monitor the spread of the Chalara ash dieback by reporting any trees that you suspect are in ill-health to the Forestry Commission using Tree Alert.
Monitoring tolerance to Chalara ash dieback video
This does not mean that the ash tree will be disappearing from Silk Wood all together – in some areas Fraxinus excelsior (known as European ash or common ash – which is the disease most affected by Chalara ash dieback) will be retained to monitor the progression of the disease. We have 23 other exotic species of ash which will remain and be carefully monitored for tolerance to the disease. We'll also monitor native ash specimens that show signs of tolerance.
Discover how Forestry England are safeguarding trees from pests and diseases and protecting their future.
Silk Wood Management map
Red: Clear fell and replant (6.74ha)
This involves the large scale removal of infected ash trees. In certain areas there are too many infected ash trees to leave some standing. By clear felling now, we have the best possible chance to replant these areas for a more resilient woodland to face future climate challenges.

Amber: Thinning (22.78 ha)
Where possible we are looking to only remove dead or dying ash trees, aiding natural regeneration allowing healthy species to grow.

Green: Non-intervention (3.51 ha)
Areas away from visitors will be left, allowing us to monitor and research how the disease develops within ash trees.

Blue: Coppice
We have 22 hectares of actively managed coppice coups.
We all have a part to play in the prevention of the spread of pests and diseases. Though Chalara ash dieback spreads on the wind-borne spores of the fungus Hymenoscyphus fraxineus, and so there is little we can do to prevent the spread of the disease, the spread of other threats can be slowed or stopped by: