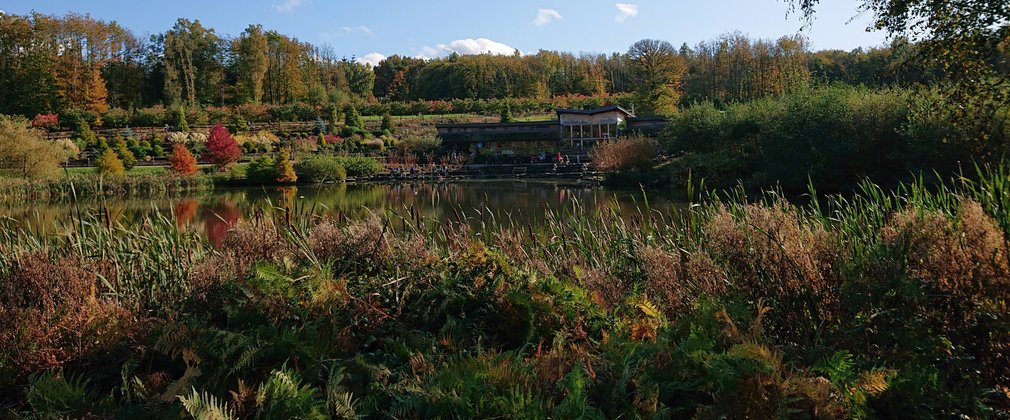 Bedgebury National Pinetum and Forest is open every day from 8am except Christmas Day. There's no need to book in advance to visit; except for a Go Ape experience or one of our special events. Closing times change with the seasons and range from 3.30pm during Christmas at Bedgebury, 5pm at Easter and as late as 8pm in summer. Please check before you travel or look at the closing time signage on arrival.
If you're planning to visit Bedgebury for a commercial activity such as filming, photography or professional dog walking - or any event where you're receiving payment from participants - you'll need our permission. You can apply for a permission or contact us on bedgebury@forestryengland.uk. Furthermore, the National Pinetum at Bedgebury is a special place protected by byelaws that prohibit specific activities by anyone, for example the use of drones and other activities like swimming and fishing. If you're in any doubt please contact us on bedgebury@forestryengland.uk.
Staying safe and biosecurity
We're busier at weekends and we know people are keen to get out and about. Please be  aware that you need to  be  prepared to make the  decision  to  turn around  if the car park is closed,  and come another time. 
We are cleaning high touchpoints throughout the day but for your own safety please bring hand sanitiser with you or use our hand washing facilities at the Visitor Centre or in the National Pinetum toilets. Our pay station machines are cashless and only accept contactless or chip and pin card payments. You can also pay for vehicle admission using the Glide app on your mobile phone once you arrive. Alternatively, become a Forestry England Bedgebury member, which includes annual vehicle admission.
Please follow the latest government coronavirus guidelines when visiting and plan ahead using our coronavirus visitor guide. You must stay at home if you have coronavirus symptoms or are self-isolating. 
Keep it clean
Pests and diseases pose a threat to our internationally significant tree collection at Bedgebury. Think about bikes, boots and buggies when you visit, and watch this short video for biosecurity tips.
Walking, running and climbing trees 
Whether you're planning a short walk or a longer hike, off-road running or a day out for the family there's plenty of ways to get active at Bedgebury. 
Walking routes cover both the National Pinetum and the forest, and change periodically. Download a walking map or simply pick up a leaflet on arrival, and you can purchase a pocketguide map of the National Pinetum and the forest at the Visitor Centre or our bike hire shop, Quench Cycles. You can also choose from a variety of waymarked running routes, from 2km up to 10km trails, or orienteering trails.
The National Pinetum includes rare and endangered tree species, we kindly ask you not to climb on any tree except fallen ones or logs. Children can enjoy climbing walls, giant ropes and high slides on our Play Trail, located close to the boundary of the Pinetum. Or you can book a high ropes experience at Go Ape to see the trees from the canopy!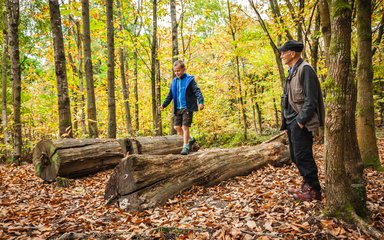 Dogs
Dogs are welcome at Bedgebury National Pinetum and Forest! Please keep them on a lead when you are in the car park, the National Pinetum and the play areas.
Only assistance dogs are allowed inside the Visitor Centre, information point and cafe.
Dogs can be taken off the lead in the wider forest but please be mindful of other visitors and take extra care near our bike trails. Dogs aren't allowed on the singletrack mountain bike trails.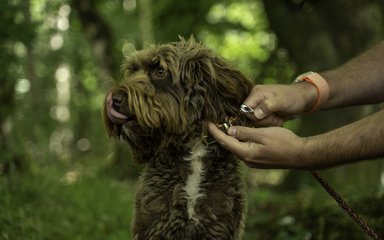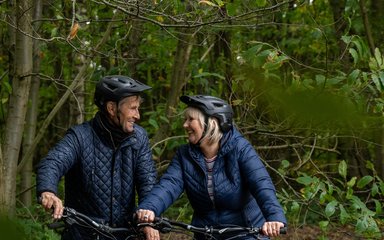 Cycling in Bedgebury Forest
Bedgebury Forest has miles of cycling trails, including singletrack for mountain bikes. Bedgebury National Pinetum is a special tree collection and we ask that you do not cycle in this area including the play areas, or around the Visitor Centre and car park.
Children may ride bikes and scooters in the National Pinetum, as long as the bike/scooter measures 70cm or less from the ground to the top of the handle bars. Parents and guardians should ensure that children ride carefully throughout the National Pinetum and keep distance from other visitors.
Please take care with electric bikes and scooters and do not cycle them in the National Pinetum, around the Visitor Centre, and in the play areas.
Food and drink
Bedgebury cafe offers refreshments daily from 8:30am at the Visitor Centre and there's no need to book ahead.
The family-run cafe serves a wide range of tasty hot and cold locally sourced food (including superb daily specials), delicious cakes and freshly baked pastries, as well as a range of hot and cold drinks. Bedgebury cafe caters for a wide range of tastes, appetites and diets including gluten free, dairy free, vegetarian and vegan! Just chat to a member of the team.
At weekends and during busier days Bedgebury cafe opens the Shipwreck cabin next to Go Ape for grab and go snacks, drinks and ice creams. You're welcome to bring picnics but please consider supporting Bedgebury by supplementing these with something from the cafe. Please respect the beauty of the environment and take all litter home or use the bins located around the visitor centre and car park.
Find out more about Bedgebury cafe below, including the menu and their commitment to sustainability and ethos.