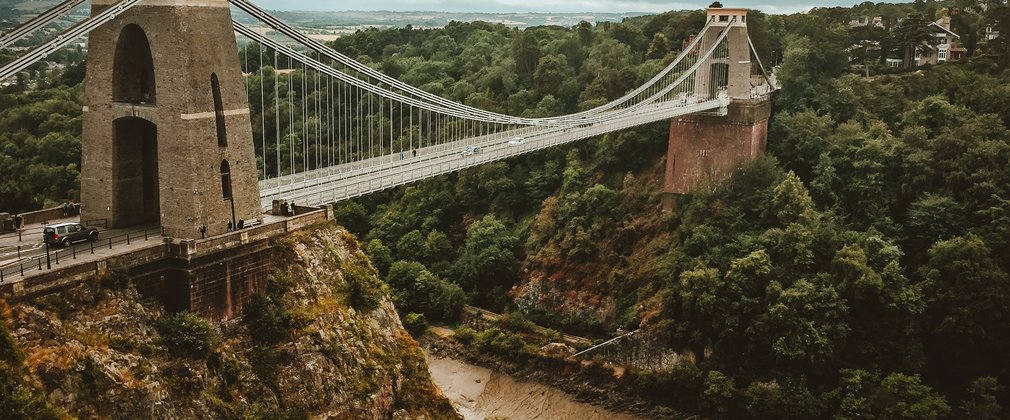 Looking for some shaded forests to explore near you in Bristol? Look no further in your quest for shaded woodlands, we've got the ultimate guide to beating the Bristol city heat.
With the climate tragically heating up, there are a number of increasingly hot summers ahead. Cities become significantly warmer than surrounding rural areas due to the 'urban heat island effect', so escape Bristol and find a secret spot under the trees of a nearby woodland. 
No need to reach for your car keys - you can reach forests near Bristol by bike or bus and do your bit for the planet!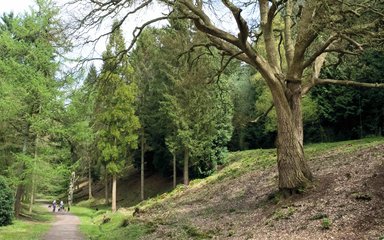 Leigh Woods, Abbots Leigh, Bristol 
2.5 miles from central Bristol
Tucked away to the west of the city, these beautiful woods are often overlooked by visitors venturing to the nearby Ashton Court. Offering beautiful views of Bristol suspension bridge and the Avon gorge from a unique angle, Leigh Woods offers challenging mountain biking, quiet shaded spots for a walk, and high-quality refreshments in the car park. 
The best bit? Leigh Woods is totally accessible by public transport or bike, so you don't need to worry about contributing to the climate emergency by using a car. By bike - A link, 41, runs through the site to the National Cycle Network Route 4 along the River Avon. Bike parking is available in our car park. By Bus - the X3, X3a and X4, services run past the woodland entrance from Bristol to Portishead. 
We recommend: Venture down to 'Paradise Bottom' and enjoy the stream, the flora and the fauna. Spotting new species and resting in the dappled shade, you'll feel a world away from the chaos of Cabot Circus. 
Did you know? Trees can help us to adapt to a changing climate. They provide shade, alleviate flooding, and create a valuable wildlife habitat. They also 'lock in' some of the estimated 3000 gigatonnes of carbon dioxide in the air. 
Beechenhurst, Forest of Dean, Speech House Road, Coleford
25 miles from central Bristol
The perfect picnic spot, with wide open lawns, shaded benches in the trees, and a wonderful café - it's no wonder Beechenhurst is so popular with Bristolians.   
There are even barbecue areas if you're feeling adventurous. 
We recommend: Experience the jaw-dropping Forest of Dean sculpture trail. Keep your eyes peeled for a giant stained-glass window hanging from the trees. The sculptures on this trail are inspired by the forest - its trees, wildlife and industrial past. It features pieces by famous artists set in the beautiful surroundings of the Forest of Dean. 
The sculptures are mostly constructed from natural material from the Dean - wood, stone and iron. They are interspersed along the trail through majestic oaks and towering Scots pine trees. 
You can get to Beechenhurst car-free from Bristol too (so shake that fossil-fuel guilt). Just jump on the train to Gloucester, then catch the Stagecoach bus 30. More details on the Good Journey website. We've got no entry charge at our sites, so if you come without a car, it's a cost-effective day out. 
Did you know? To combat climate change, we are ambitiously planting more trees. Last year our nurseries produced nearly 16 million new trees to replant and create new areas of woodland. In the same year, we harvested 7.75 million trees for use in everything from home-building to furniture-making.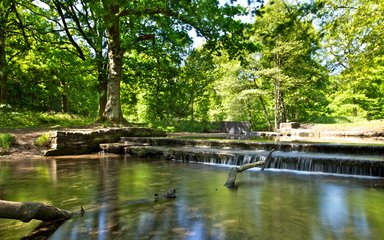 Wenchford, Forest of Dean, New Road, Blakeney
23 miles from Bristol
Wenchford offers the perfect place to beat the Bristol heat. A popular picnic site with picnic tables, an easy access path and – for when it all gets a bit too hot – a paddling area. 
Blackpool Brook trickles through the site under the dappled shade of the large oak trees. An idyllic spot to come with family or friends, once you arrive you'll never want to go back to Bristol! 
During the summer toilets are open on-site, so you don't have to move! That said, we recommend stretching your legs – there's a walking trail running along a hard-surfaced path adjacent to the Blackpool Brook and then on to a track above the picnic site. 
Don't get trapped in the Bristol city heat this year – come and explore the cool shade of your nearest forests. 
Have you visited any of our top forest spots near Bristol? Share your pictures with #ForestFocus, and share your #MyForestMoment for a chance to win.